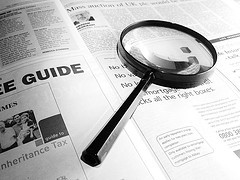 Either you have a small business already and haven't done any real market research yet, or you are looking to start a new small business and want to make sure you are making the right decisions. You may not be able to afford doing interviews, focus groups, and surveys, so here are some simple and mostly free ways to do market research for your small business.
Research your Market Competition
One of the first steps to take is to find the competitors in your market and make sure there is room for another business in the industry. Compare your prices of your products and services against there's.
If your price will be higher, is there something that makes your business stand out that gives a reason to the customer for paying the higher price? If yours will be lower, does your product look cheaper or does your service not have as many features?
Doing this also gives you a good idea of what you will make on a low to high-end. Find out what sets you apart from your competitors and concentrate on making sure your customers know that you have more to offer.
Reference USA is a great resource to research the industry, your competitors, and to help get a better idea of how successful your business plan could be. All you need to have is a public library card to be able to access the Reference USA database. Another great place to look at for small business start-ups is SBA.gov, which is the Small Business Administration.
Figuring Out the Potential Customer and Location
Try to figure out who your potential customer would be. Are they male or female, what age range, their education, interests, etc.? Look at their demographics and behavior patterns along with as much detail as you can and create a buying persona for your ideal customer.
You could use geographic information systems to determine the best location to start your business. This data would show you the average income of areas, age ranges, nationalities, education levels, female to male ratios, and so much more. While this could get costly depending if you outsource it or get software that has the information, you could use Zillow to look at home values in areas. If you are looking to sell luxury or high-end items you would want to move near an area where there are wealthy neighborhoods nearby.
For the Local Small Businesses
Be active in your community and get yourself out there at events around the area of your business, and give away sample products or offer a free or discount service in exchange for them filling out a survey. This is a much cheaper way then hiring a survey company to conduct it for you, and it also gets you out in front of your potential customers. This survey will allow you to tweak your marketing plan or prices depending on the responses of your potential customers.
You could ask family, friends, and neighbors to complete a quick questionnaire to answer some of the questions that you would need to know for your area. Just be sure that they answer them without any bias, so do not require a name when filling them out.
Be Prepared for Business Online
Currently, almost every business should have a website and be selling online or providing resourceful information about their information. Begin doing research so you can understand a little about internet marketing. Search engine optimization has been around for a while, and it is always changing, so it is important to find an SEO company that stays up to date with the current trends and tactics.
Hopefully by doing this market research, along with some more in-depth market research, you'll have a clearer direction moving forward. There are surely more ways to do market research on the cheap so drop a line below to add your tip!
Note: This post is a guest post from a member of our DMR Insider Community.
Photo by Jan Krömer