The invasion of gadgets and devices has occurred in just about ever segment of our homes at this point and a home's bar is no exception. Startups and established companies alike are developing cool and interesting bar accessories that make all of our lives a little easier, while starting a few conversations along the way.
Here are some of the more interesting Bar Gadgets and Accessories I have been able to dig up in my internet travels. As always, I will be adding to and updating this post regularly, so be sure to check back often.
Bar Gadgets and Accessories
(Click on each image for more product details including purchasing information)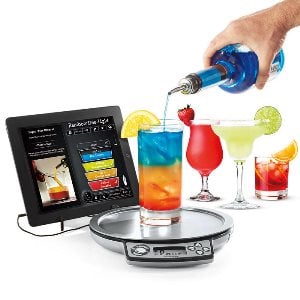 Enjoy world-class cocktails at home with Perfect Drink Smart Scale and App! The Smart scale connects to your phone or tablet. The included iOS/Android app guides you step-by-step to make your drink. Smart, easy, and fun. With Perfect Drink, you know your cocktail will be perfect. Every. Single. Time. Wired scale connects via headset jack to Apple devices running iOS 6.0 or higher and Android devices running Jellybean 4.1 or higher with a headset jack. Wired scales do not work with Amazon Kindle fire.
---
Note: Some of these links may be affiliate links. For a list of the programs I belong to, please visit my disclosures page.