Here are some of the more interesting and cool biking accessories and gadgets I have dug up in my web travels. As with all of my gadget posts, I will be updating this post as I stumble on more items.
It seems like biking today is more popular than ever. Whether you are strolling through a large city or taking a Sunday drive in the country, you will undoubtedly encounter more than a few bicyclists. Biking is great for staying fit and respecting the environment. It can also be very fun.
With this renaissance of the bicycle, it should be no surprise that digital gadget-makers have focused some of their efforts on making your next mike ride safer, more connected and entertaining.
Biking Accessories and Gadgets
(Click on each image for more product details including purchasing information)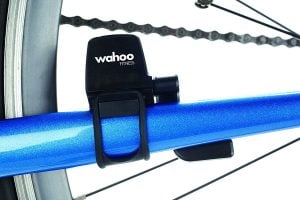 Wahoo Blue SC Speed and Cadence Sensor for iPhone, Android and Bike Computers
The Wahoo Blue SC Speed and Cadence sensor lets you capture the cycling data you crave. Pair this data hungry sensor with your iPhone, Android or ANT+ bike computer and collect speed, cadence and distance to help optimize your cycling performance. After the ride, upload data from your phone to your favorite training platform with just the touch of a button.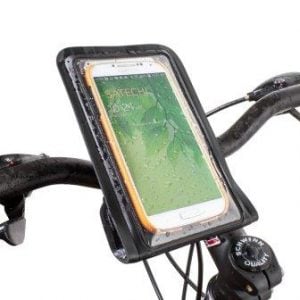 Satechi Pro RideMate Waterproof Smartphone Bike Mount
The Bikemate Slim Case 3 is the easy and secure holder for your smartphone when riding. Designed ideally for smartphones, touch screen operation is possible through the transparent protection which can be oriented either vertically or horizontally. Cables can be easily accessed through the top and bottom openings. With the Bikemate Slim 3 holder, you can enjoy using your phone when riding knowing that it is safely secured from any potential damage.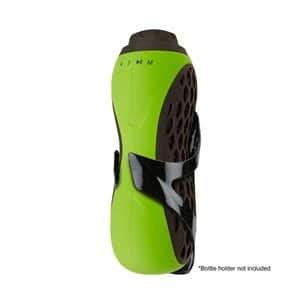 iwerkz Bottle Blaster Bluetooth Bike Speaker
Rock those trails with the iwerkz Bottle Blaster Bluetooth Speaker. Perfect for biking, hiking, camping, fishing, road trips – wherever you roam this speaker goes with you. Water resistant, with a rugged casing, the Bottle Blaster is built for adventures. Designed to fit inside a standard bike water bottle holder, this speaker also fits into most backpack water bottle pouches. The soft-touch case not only feels and looks great, but was designed to grip and sit securely in your water bottle holder as you ride and bounce through nature. The Bluetooth controls allow you to control your music even when your phone is safely tucked away, while the top volume control knob makes cranking your music a simple task while riding. Unlike other toy speakers, the Bottle Blaster is a truly stellar portable speaker. With two separate 3w high-quality speakers your music sounds great even when you're away from your home audio system. Soak up the jams while you soak up nature with the iwerkz Bottle Blaster Bluetooth Speaker!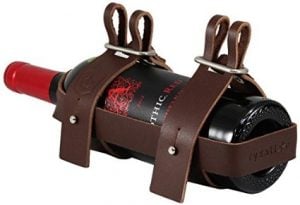 Fyxation Leather Bicycle Wine Carrier
Better than Bluetooth, this hands free bicycle accessory gets you and your Pinot to the party safely and in style. ur leather wine bottle holder securely fastens to your top tube and has secure leather straps that hold the front and the back of the wine bottle tightly in place. This will work with round 750ml wine or liquor bottles. Enjoy the ride and please bike responsibly.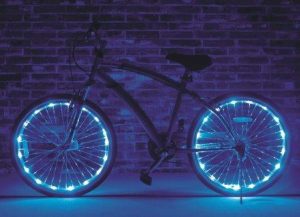 Wheel Brightz LED Bicycle Tire Lights
Wheel Brightzcreate a ring of brilliant color that is sure to turn heads and grab attention wherever you go! Available in 8 colors, there are plenty of choices to deck out your wheels! They can be cut to size or spiraled in the middle.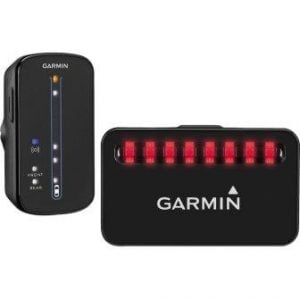 Garmin Varia Bike Rearview Radar Light
Vehicles approaching from the rear is the number one cause of bike/vehicle fatalities in the U.S. The revolutionary new Varia Rearview Radar from Garmin helps a create safer cycling environment by warning cyclists of vehicles approaching from behind up to 153 yards, and also warns approaching traffic of a cyclist ahead. Works independently and integrates seamlessly with select Garmin Edge cycling computers. Indicates the relative speed of approach and distance of one or more vehicles at a time. The tail light brightens and blinks when approaching vehicles are detected for an extra measure of safety.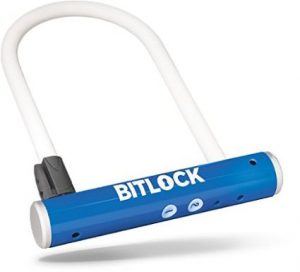 Bitlock (Bluetooth operated bike lock)
KEYLESS ENTRY Say goodbye to keys. Never again worry about losing your key, searching for them in your purse, pocket, or on your key ring. SHARE ACCESS Share the location and access to your bike with friends and family. With BitLock, you can create and set up your own bike share system. TRACK ACTIVITY BitLock can help you effortlessly keep track of your cycling activity such as trip length, duration and calories burnt.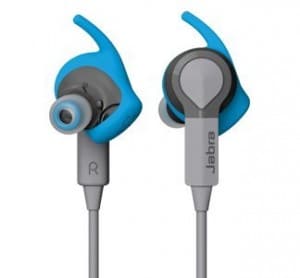 Jabra – Sport Coach Wireless Earbud Headset
Make every workout count with Jabra Sport Coach Wireless, the world's first wireless cross training solution with in-ear audio coaching and integrated Track Fit motion sensor. This portable in-ear training coach will be there to help you plan, track, coach, motivate and ultimately push you to perform – all while listening to your favorite workout music and being freed from wires and cables, allowing you to focus on your workout without distraction.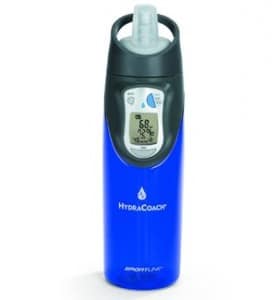 Sportline HydraCoach Intelligent Water Bottle
Known as the world's first interactive water bottle, the HydraCoach looks just like other water bottles, but with one notable difference–a built-in hydration monitor. This patented technology lets users program their own personal hydration needs into the integrated computer and track their daily water consumption sip by sip. It's the best possible way to achieve optimal hydration whether sitting at work or running on the treadmill. Among the measurable details are total amount consumed, total elapsed time since the computer started, average hourly and daily consumption, percent of daily goal, and total sips. And technophobes needn't fret, as all you have to do to calculate your personal hydration goal is enter your weight. Other features include a built-in clock and calendar, an easy-to-clean polycarbonate shell, a soft silicone mouth piece, and a finger ring.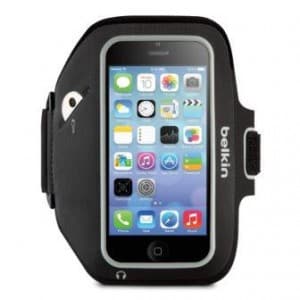 Belkin Sport-Fit Plus Armband for iPhone
The high-performance Sport-Fit Plus iPhone Armband doesn't just protect your phone while you're exercising -it's also incredibly comfortable to wear. The secure fit and slim design stays out of your way, so you forget you're even wearing it. Now you can concentrate on your workout, not your device.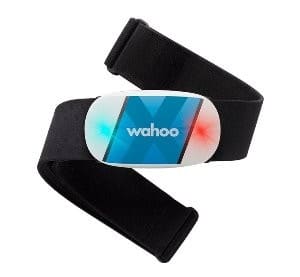 Wahoo TICKR X Workout Tracker with Memory for iPhone & Android
The TICKR X is the ultimate workout wearable that captures both motion and intensity to give you the most effective workout. Pair it with the Wahoo 7 Minute Workout app for a high-intensity circuit workout and automatic rep counting, or pair it with the Wahoo RunFit app for personalized heart rate training, cross-training, and additional high intensity strength training. Its built-in memory gives you the freedom to train without a phone – it captures heart rate, calorie burn, and duration from your workouts and syncs them to your phone later. TICKR X is compatible with most popular fitness apps, making it an incredibly versatile workout tracker for all of your activities.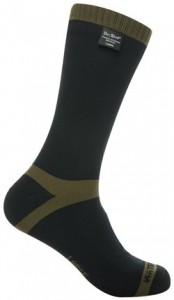 Dexshell Trekking Waterproof Socks
DexShell waterproof socks are developed for caual outdoor activities in cold wet weathers where you need to keep your feet dry. This new generation of waterproof socks is constructed using DexShell Best-In-Class lamination and composition technology thus improving on the existing bulky construction of classic waterproof socks.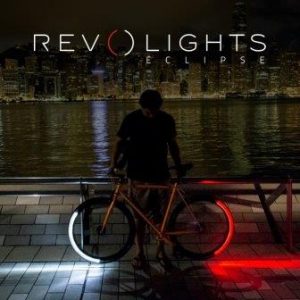 Revolights Eclipse Bicycle Lighting System
Most seat-post mounted taillights only provide a point source of light to be seen by road traffic. Revolights on the other hand are able to use the motion of the wheel to create a huge visual footprint while also establishing the rear most boundary of the bicycle. Revolights come with a first of a kind bicycle brake light feature. By synchronizing with the bicycle's speed Revolights' integrated sensors are able to detect a decrease in speed, triggering the brake light, which then alerts traffic through a series of unique blinks that your bicycle is changing speeds.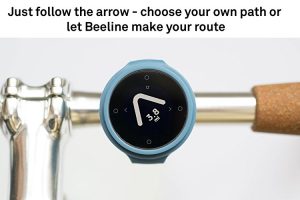 Beeline – Smart Compass Navigation for Bikes
Beeline is the connected navigation device for cyclists that puts you in charge and makes journeys fun again. Controlled through the free Beeline app for iOS and Android, Beeline simply gives you the distance and direction to your destination (or next waypoint), giving you the freedom to pick your own route. The beautifully designed strap system attached to any bike without additional mounts and protects the device when stowed. A crisp, sunlight reflective display and water resistant design ensure it stands up to the elements. Track, rate and share your rides with friends through the free Beeline app. Save favourite destinations and journeys. In the box: 1x Beeline device, 1x silicone case, 1x USB charging cable, 1x stainless steel keyring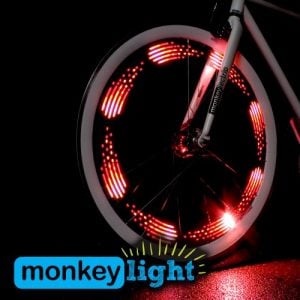 Monkey Light M210 – 80 Lumen Bike Light – 360° Visibility – Wheel & Spoke Light
The Monkey Light M210 is a rugged, practical, high performance bicycle light that keeps you visible in all weather conditions. The M210 straps to your spokes and displays brilliant patterns on your spinning bike wheel. Show your style with cutting edge themes designed by our electronic artists.
The Monkey Light provides great front, rear and side visibility at any speed. It creates full color patterns on your spinning bike wheel at 15 to 65 km/h. The 8-bit themes are instantly customizable – with on-board buttons you can choose the themes and colors to fit any situation.
The M210 is easy to mount on the spokes of nearly any bike – Road, City, Cruiser, Mountain and BMX bikes. The light is perfect for daily commuters, urban cyclists, casual evening riders – anytime you want to be visible after dark or in the rain.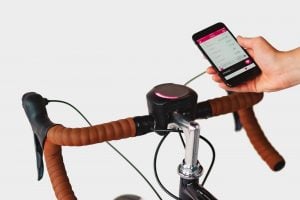 SmartHalo Smart Bike Accessory Cycling Computer With Light, GPS & Navigation, Anti-Theft Alarm, Fitness Tracker, Speedometer, Odometer, and Assistant
It's been called "A swiss army knife for bikes" (WSJ, 2017). SmartHalo was born out of the interlacement of sophisticated technologies and elegant simplicity. It's a device that provides advanced features without overwhelming cyclists who need to focus on the many stimuli of urban environments. With an overwhelmingly successful Kickstarter campaign as a launching pad, we are now more than 15 avid cyclists and geeks working on turning this idea into reality.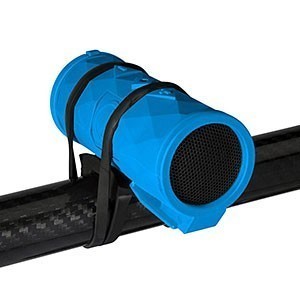 If you are on your lightweight bicycle barreling down the same road as two-ton SUVs and distraction-filled minivans, does it really seem like a good idea to have headphones in your ears? You have to be more aware than they are because, let's face it, sharing the road with cyclists is not top of mind for most drivers in this country. But just because you choose to be healthy and environmentally conscious doesn't mean that you should lose out on all of the Bluetooth(R) functionality of the average new vehicle, does it?
Thanks to the Buckshot 2.0 Bike Speaker, you don't have to. The Buckshot is a pint-sized portable, waterproof, shockproof wireless speaker that can be securely mounted to your bike's handlebars. With its 20-hour battery life, built-in microphone, and louder-than-ever sound quality this speaker will stream your tunes and answer all your calls on your longest of rides.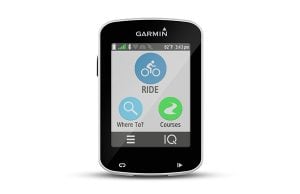 For your 2-wheeled adventures on the road or trail, know where to go with Edge Explore 820. This GPS bike computer features a built-in Garmin Cycle Map with points of interest, bike-friendly trails and more. It also has a high-resolution touchscreen that's easy to read, even in sunlight, and our new GroupTrack feature lets you and your friends know each other's whereabouts, even when the road forks. Now you can navigate with confidence.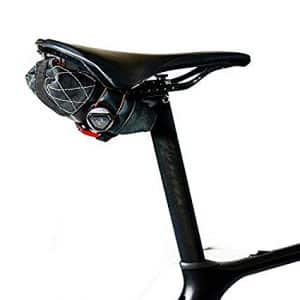 Seat Roll Premio is the world's first on-bike storage solution powered by the Boa® Closure System. The foundation of the Premio Seat Roll is a waxed canvas of SILCA's own creation. Heavyweight cotton canvas is first hot-melt waxed for water-proofing, and then computer quilted with reflective thread for improved visibility. Seat Roll Premio attaches effortlessly to your seat rails using the beautiful Boa® Closure System allowing for a lighter weight, more durable, more powerful and more adjustable attachment to the seat rails than traditional designs.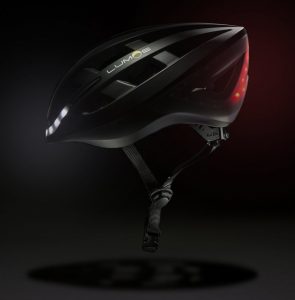 With 10 white LEDs on the front and 16 red LEDs on the back – drivers, pedestrians, and other cyclists alike are going to see you coming when you're wearing a Lumos Helmet. Now you can ride in increased safety without the need for a bevy of accessories.
OTTOLOCK Steel & Kevlar Combination Bike Lock
OTTOLOCK is designed for short-stay security and protecting against theft opportunists. It's more secure than a cable lock and much lighter than a U-Lock. Starting weight at just 120g and coiling to a compact 3 inch diameter, OTTOLOCK is truly portable and always there when you need it. .
Security is addressed with a patent-pending, multi-layer steel and Kevlar® band design, making it extremely cut-resistant. Under load, the bands slide upon one another and effectively reduce shear forces. Conventional theft tools like wire or bolt cutters will have a hard time against OTTOLOCK. It is not a replacement for a U-Lock. For maximum security, use a redundant locking method with both a U-Lock and a secondary lock.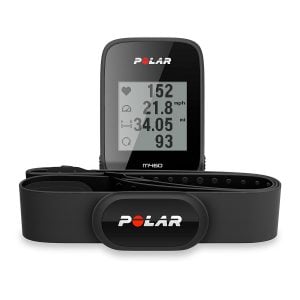 Packed with essential cycling features, the Polar M460 merges GPS, Strava Live Segments and improved 3rd party power compatibility to provide a best in class training experience for cyclists at all levels.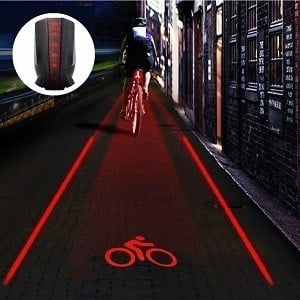 Super bright 5 LEDs have 260 degree visibility and 2 laser lights create a lane for your bike. The "bike" logo can be projected on road to keep others aware of a safe distance.It is so cool and most kids love it.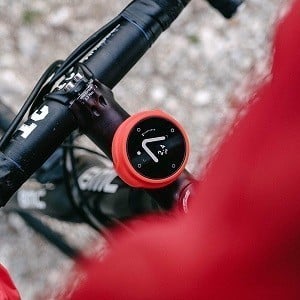 Beeline – Smart Compass Navigation for Bikes
Beeline is all about making journeys more enjoyable while effectively helping you get where you need to be. The smart compass concept simply gives you the as-the-crow flies direction and distance to travel, giving you the freedom to pick your own path.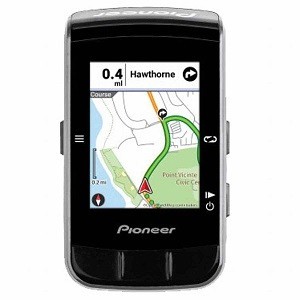 Pioneer Shimano Color GPS Navigation Cycle-Computer
The complete tool for any and every cyclist, this feature rich, GPS computer does it all: intuitive GPS navigation, power and pedaling metrics, smartphone app, Strava Live Segments, and connection to all of the popular ride share apps Map location tracking, turn-by-turn messaging, highlighted route navigation, cue sheet directions, corner scaling, with route downloading from Strava Routes and Rides. Plan adventures with course profiles, off-course alerts, and points of interest Power data, combined with a Pioneer power meter, provides real time power & pedaling metrics, stroke by stroke. Technique and efficiency can be improved on the fly Bike fitting tool that can identify bike fit & power loss issues in real time.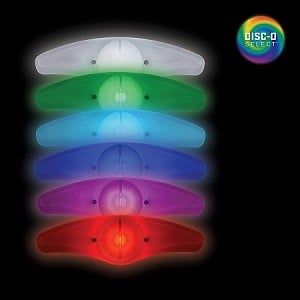 Nite Ize Spokelit LED Bicycle Spoke Light, Visibility + Safety Bike Light, 2 Pack, Disc-O Select
Instantly increase your visibility, safety, and cool factor while riding your bike in low-light or at night with the Nite Ize Spoke Lit LED Wheel Light with Disc-O Select choose-your-color LED technology. The fun Disc-O LED will automatically cycle through the spectrum of colors, or you can set it to your chosen color by pressing the button again during the second rotation of light. The light creates a bright ring of color when you turn it on and go.
>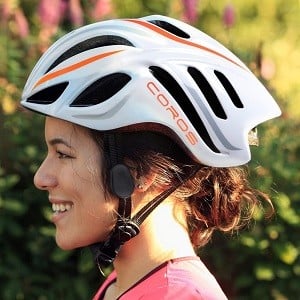 Coros Linx Smart Cycling Helmet w/Bone Conducting Audio | Fully Adjustable Sizing/Connects via Bluetooth for Music, Calls and Navigation
Stay connected while riding – Easily answer incoming calls; play, pause and skip your music w/ the included easy to install handlebar remote.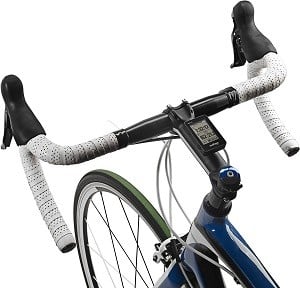 Wahoo RFLKT Bike Computer for iPhone & Android
The RFLKT turns your iPhone or Android phone into the most powerful bike computer on the market – all in a sleek, coin cell powered package. It takes the data from your favorite cycling apps on your phone and displays it directly on your handlebars. Allowing you to keep your phone safe in your jersey pocket.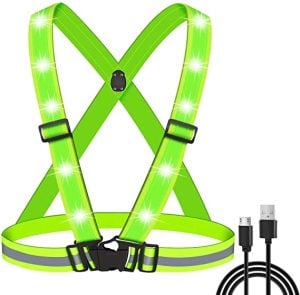 Reflective Running Safety Vest USB Rechargeable
High Visibility & Safety: Reflective vest is designed with 12 LED lights and 360° reflective tapes. Lighted safety vests has bright glowing LED lights on the front and back, making it very visible in the dark when the car is not fully switched on with the headlights. 360° full surround reflective tape can illuminate at any angle. Reflector vest has a high visibility of 1000 ft and provide extreme reflectivity and safety at night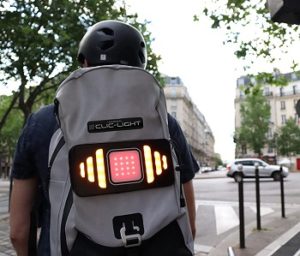 Clic-Light wearable smart LED bike signal
Clic-Light is a wireless light signaling device developed by Road-Light, a trusted brand in the bicycle and motorcycle safety market. This innovative product is the first system of its kind that can be used with a Motorcycle, Bicycle, Scooter, Segway, or Monowheel.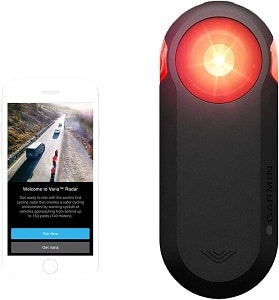 Garmin Varia RTL515 Cycling Rearview Radar/Tail Light
This rearview radar with tail light pairs with your Edge bike computer or compatible smartphone to alert you of vehicles approaching from behind.
Note: Some of these links may be affiliate links. For a list of the programs I belong to, please visit my disclosures page.