One really cool thing about swimming pools is the number of creative gadgets that have been developed over the years to make the owner's job a bit easier and their swimming pool even more enjoyable. In my quest to bring you the most creative and useful gadgets out there, I recently turned my focus to swimming pool gadgets and accessories.
Here are some of the more interesting swimming pool gadgets I was able to dig up. You can click on any image to bring up more information about the product, including how to buy it.
Swimming Pool Gadgets and Accessories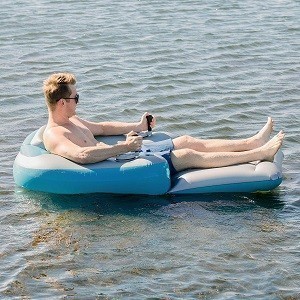 Poolcandy Splash Runner Motorized Inflatable Swimming Pool Lounger
Drive Forward, Backward, Left, Right – relocate to a sunny spot or propel over to the shade – the Splash Runner puts you in the driver's seat! With 360 degrees of complete freedom of movement, you will never want to leave the water.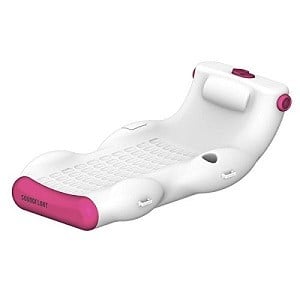 SoundFloat Bluetooth Single Lounger for the Pool and Lake 
SoundFloat will be your own personal oasis in the water! This water float has built in bluetooth speakers and beverage holders. Float around a pool or a lake, go tubing down a mountain, or set it up indoors when you need a restful place to sleep (or a great spot to sink in and play a video game). It's so comfortable you'll never want to get up!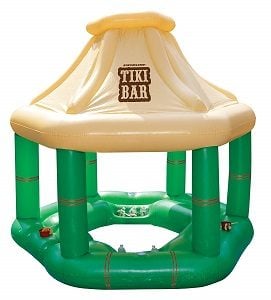 Swimline Floating Tiki Bar Pool Float
Yes! The Tiki Bar is Open! Swim up to your very own fun & tropical inflatable Tiki Bar. Complete with 6 drink holders, 2 ice storage bins, and a cool canopy, the Swimline inflatable Tiki Bar will get your party started and give you plenty of happy customers. Family owned and operated, Swimline Corp. has grown to be the largest manufacturer of above-ground swimming pool liners in the world. Swimline's products include an array of leisure pool supplies and equipment with everything from inflatable tubes and loungers to floating lights and pool organizers. If you're looking for products that combine fun with water, you've found it at Swimline.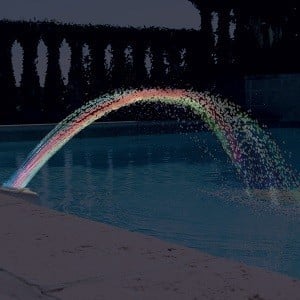 Doheny's LED Color Cascade Waterfall Fountain
Add some evening ambiance to your pool with Doheny's LED Color Cascade Waterfall Fountain. The fountain's spray height is adjustable and is powered entirely by the water force of your pool pump, day or night.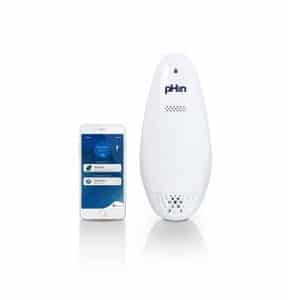 pHin Wi-Fi-Enabled Smart Water Care Monitor for Pools and Hot Tubs
pHin, the smart water care solution, is reinventing pool and hot tub care with a WiFi-enabled smart monitor and a mobile phone app to take away the guesswork. pHin monitors your water chemistry and temperature 24/7, and notifies your smartphone when you need to take action. Then, it gives you recommendations on how to balance your water so you can add only the exact chemicals needed. Depending on the chemicals you use, pHin will even provide you with specific dosing recommendations.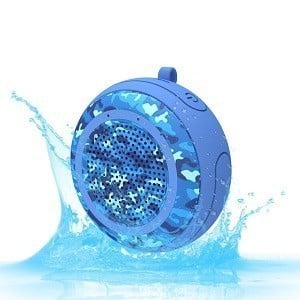 Waterproof Bluetooth Swimming Pool Floating Speaker
For Every Occasion,enjoy your music on the way, everywhere you go. It is pleasant enough to help you relax. Perfect for home, dorm room, kitchen, bathroom, car, beach, and parties. Rugged, buoyant, and portable size makes a worry-free experience that floats in any water environment for river rafting, swimming pools, and indoor showers. High definition dual 5W audio drivers with passive subwoofer for high quality audio.
BOOM Swimmer Waterproof Wireless Bluetooth Speaker
The Boom Swimmer Waterproof Wireless Bluetooth Speaker is IPX7 Rated, meaning it can be immersed in a meter of water for 30 minutes with the tail on. Feel free to take it with you in the pool, the ocean, or even the shower. Soak it. FLEXIBLE TAILOn the back of the SWIMMER is a R4A tail, that can be looped, twisted or snaked for endless mounting possibilities. Adapt it. SUCTION CUPSimply unscrew the SWIMMERs tail and attach the suction cup to any flat surface for upgraded bass. Bump it. LITHIUM ION BATTERY2 hour charge time gives you 8 hours of playback at maximum volume, or 16 hours at half volume.
Submersible to 2 meters for 1 hour
Take the plunge with your iPhone — LifeProof keeps your device dry when you're soaking wet. It's rated to survive hour-long dunks up to 2 meters, so you can dive deeper and stay down longer. From snorkeling trips to surfing safaris, LifeProof keeps you connected and protected in whatever watery adventure you find yourself.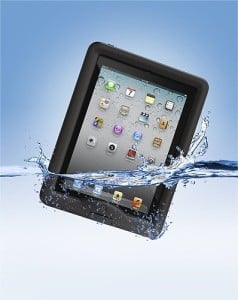 LifeProof Waterproof iPad Case
Get off the couch and get into the action with the NÜÜD iPad Air 2 case. WaterProof and DropProof, NÜÜD travels far and wide, keeping you connected all along the way.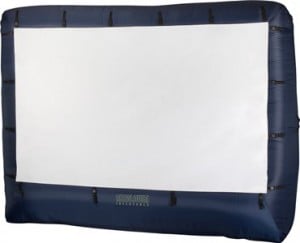 Inflatable Movie Screen-12 ft. Screen for Poolside Movies
Airblown Inflatable movie screens let you take your viewing entertainment to the great outdoors. From movie nights to sporting events to video games and everything in between our portable movie screens transform your backyard or outdoor location into an entertainment extravaganza.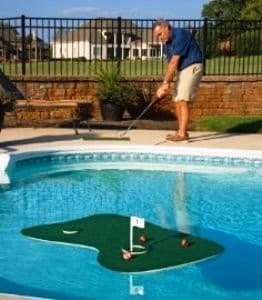 Putt-A-Bout Aqua Golf Floating Putting Mat, Green
A great game and practice aid for parties, poolside gatherings or by yourself. Play a round of golf in your swimming pool or backyard. Includes Pro-turf 1'x2′ Chipping Mat with rubber tee and 12 hook and loop plastic golf balls.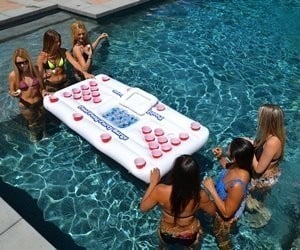 Floating Beer Pong Table with Cooler
The Pool Pong Party Barge is the first and only floating beer pong table to include a built-in cooler so ice-cold drinks are always within reach. The 6ft x 3ft table includes 10 cup triangles on each end for full size pool pong play. Each side of the raft is also lined with 4 cup holders for social floating, so you and friends can float and socialize around the table between pong games. The central cooler can hold up to 18 cans with ice. The Party Barge can also be used as a floating tanning lounge if you're ever able to get it all to yourself. The Party Barge includes 6 pong balls (cups not included) and is retail packaged.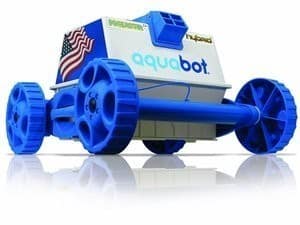 Aquabot Pool Rover Hybrid Robotic Pool Cleaner
Drop it in and push a button, it's that easy! Enjoy the ease of use, health benefits and total pool maintenance cost savings with the American made Aquabot Pool Rover HYBRID. The first robotic roving filter system that cleans most in-ground and all above ground pool floors. Pays for itself by reducing chemical, water and energy costs. Works without hoses or connections to your pool's filtration system. Ultra-safe and incredibly efficient. The patented SimplyReliable™ single onboard pump motor design frees you from the hassle and cost of wear and tear on parts.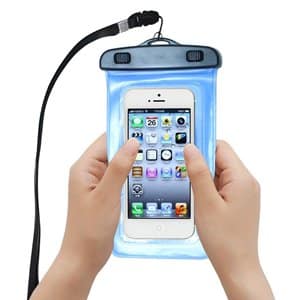 Waterproof Pouch with Touch Responsive Front for your Smartphone
When you need a raincoat to venture out into a storm why expose your expensive smartphone to the elements all by itself? The WISZEN Universal Underwater Case acts as a barrier between the phone and the environment protecting it from liquid spills and even preserving its functionality under water!  You can even use the touch screen and camera while your phone is in the case! Not only that, the WISZEN Waterproof case is high quality certified to 10ft so you can take your phone with you underwater while you swim, scuba dive or kayak…you'll even be able to take underwater photos and videos.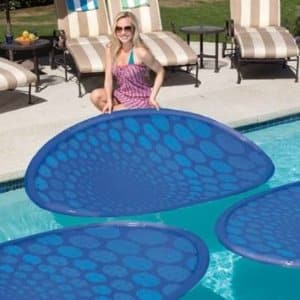 SwimWays Therma Spring Swimming Pool Solar Mat
Harness the sun's natural energy with the SwimWays ThermaSpring Solar Mat. The ThermaSpring Solar Mat maintains and raises pool temperature by reducing evaporation, keeping heating costs down. The twist-and-fold spring technology of each solar mat is easy to use, and the decorative oval shape is perfect for all pool shapes and sizes. For maximum effectiveness use multiple solar mats. The recommended coverage is 70-80% of your pools surface.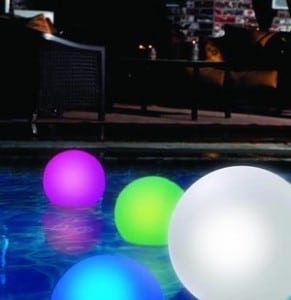 Floating Globe with Color Changing LED Lights
Whether you're planning a wedding, setting a formal event or throwing jamming party, the Good Times large LED globe is here to provide easy ambiance that's sure to be a conversation starter. Each globe has 4 easy settings. Simply press the button on the bottom to seamlessly scroll through a rainbow of colors; press twice to set on Red; three times for Blue; and four times for green. To turn the globe off, just press and hold the button. This large Globe is approximately the size of a floats in water and is perfect for pools, fountains, ponds or other water features.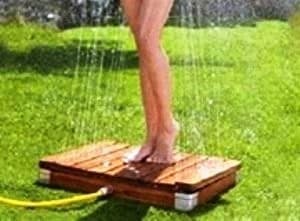 Outdoor Lawn Garden Beach Shower
Boasting concept in outdoor showers, the Adir Italian Designed Teak Wood Outdoor Portable Shower redefines convenience. Constructed using smooth, strong natural teak wood slats, this portable shower is built to last, seeing you through many years of cool, refreshing outdoor showers.
The Big Bobber Floating Cooler is designed to hold 12 cans with ice. Get everyone's attention with this "cool" and handy product. perfect for pool, lake, fishing, boating, float tubing and more. Anywhere there's water or fun!.
Floating step for frogs and other animals. Critter saving escape ramp. Easy set up critter escape system. Keeps water Cleaner. Saves time. Saves Money.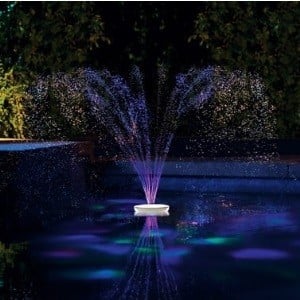 Floating Lighted Pool Fountain
This is the floating fountain that turns a pool into an effervescent light and water display. An integrated pump draws in water, sending the unit into a leisurely spin while it sprays vibrant, twirling plumes up to 31/2′ in the air. Ten upward-firing LEDs create red-, green-, blue-, and yellow-hued spouts while 15 downward-firing LEDs simultaneously project a kaleidoscope of symmetrical, alternating colored images on the pool floor.
This is the rechargeable pool vacuum that quickly collects underwater debris without bulky hoses, electrical cords, or requiring connection to a pool's filtration system. The untethered, submersible vacuum connects to any standard pool pole and weighs less than 6 lbs., providing optimal maneuverability. Its internal high-flow pump quickly removes detritus from pool walls and floors, cleaning up to 1,171′ sq. per hour.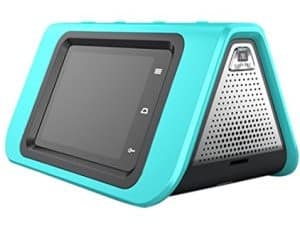 Drifter Waterproof Smart Speaker
Bring your music along with Drifter, the rugged waterproof speaker that can download & stream music without your phone. Drifter comes with a built in operating system that allows you to connect to wifi and stream music from the web's most popular platforms. Download that music on to the device right from Spotify, Beats, Apple Music, and others, to take it with you wherever in even the most extreme conditions.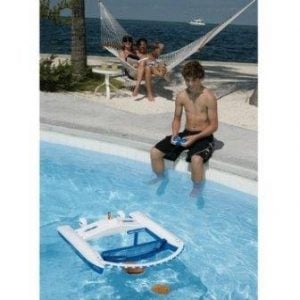 Remote Controlled Pool Skimmer
Remote controlled leaf and bag skimmer. Your kids will love to clean the pool with Jet Net. This speedy boat tools around your pool and picks up leaves, bugs, seeds and anything else on the surface and captures it in the enclosed net.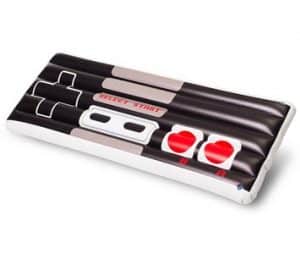 Nintendo Controller Pool Float
Retro Gamers Controller Pool Float is a must have for any gamer. Looks like an eighties game controller. Inflates to over 5 feet long. Made of heavy vinyl and includes a patch kit.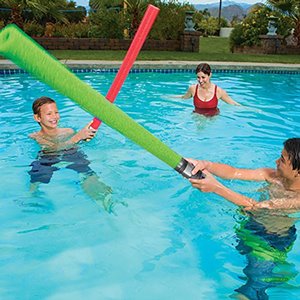 Star Wars Light Saber Pool Noodles
Wage an epic battle between good and evil with the Star Wars Noodle Lightsaber from SwimWays! These pool noodle toys have character-specific colors and lightsaber grips: blue (Luke Skywalker), green (Yoda) or red (Darth Vader).
This aquatic exercise apparatus takes advantage of water's natural buoyancy and resistance to deliver an effective low-impact workout that's gentle on joints and muscles. The unit rests in water at least 3′ deep, and users simply stand on its foot pads and glide back and forth in a motion similar to an elliptical machine.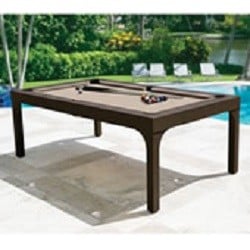 Outdoor Billiards To Dining Table
This is the billiards table that converts into a full size, eight-person dining table, providing a convenient switch from play time to dinner time. The 7′-long, tournament-regulation table uses a sealed, felt-covered 1″-thick slate surface for impeccably flat, professional-caliber play. Mother of pearl diamond sights are inlaid into its 4″-wide top rails, which are built with k-66 master speed professional-grade rubber bumper cushions that provide quick rebounds. Providing a streamlined look when converted into a dining table, its six hidden pocket baskets and playing surface are covered by three lightweight vinyl table pads laid over the rails
.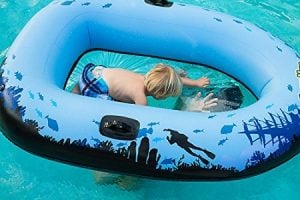 Sieco Design AQUAVUE Voyager, Clear Bottom Inflatable Raft, for Kids and Adults
Unlike other snorkeling rafts, the AQUAVUE Voyager gives the user a large, unobstructed view of the underwater world. Rather than a small porthole-like window, the AQUAVUE Voyager features a huge, flexible clear bottom that gives the sensation of walking on water. A truly unique experience that kids will love!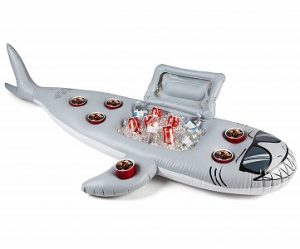 Keeps drinks close-by for in-pool entertainment
This is the inflatable tube that allows you to maneuver around your pool without paddling because it has a joystick-controlled electric Kort nozzle—the same shrouded propeller used in tugboats—to provide vectored thrust that moves tube in any direction, including 360º spins.
Note: Some of these links may be affiliate links. For a list of the programs I belong to, please visit my disclosures page.