Today's showcase features a number of BBQ grill accessories and gadgets that are sure to change how you cook outdoors forever…
As the temperature rises and the days get longer, many of us are in the midst of transforming our patios or decks into outdoor kitchens. Gadgets have made our lives easier and more automated in a number of ways and backyard grilling is no exception.
From ingenious grilling baskets to flameless smokers, here are a few of the more ingenious grilling accessories and gadgets that I've seen recently. As always, you can click on any image for more product details.
Happy Grilling!
BBQ Grill Accessories and Gadgets
(Click on each image for more product details including purchasing information)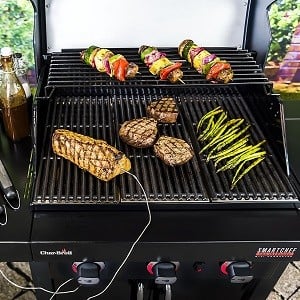 Char Broil SmartChef Smart Grill
The Char-Broil TRU-InfraRed 3-Burner Gas Grill with SmartChef technology is a wifi connected grill that syncs to your compatible smart device and delivers 'real-time' alerts and monitors your grill while you spend more time entertaining your guests. With the Char-Broil Grill App, the user receives updates on grill and food temperatures, fuel levels and burner status. And, it will let you know when your grill is ready for cooking or cleaning. The SmartChef technology allows you to control pre-heat settings, grill temperatures and provides a vast array of controlled & manual cooks. Also features Char-Broil's TRU InfraRed technology which cooks food evenly with less flare-ups, resulting in juicier more flavorful food every time. All that, along with porcelain-coated cast iron grates, stainless steel burners, a stainless steel firebox and Surefire ignition system for fast and reliable startups. The end result- Grilling Freedom and delicious results.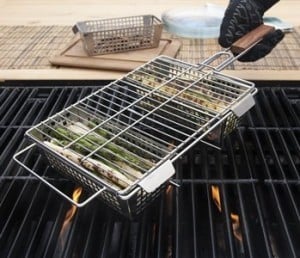 Stainless Steel 3-Compartment Grill Basket
This stainless steel 3-compartment basket with locking lid and rosewood handle enables you to grill a whole meal at once. Differing cooking times do not matter; remove each compartment as food finishes cooking. The compartments go conveniently from grill to tabletop.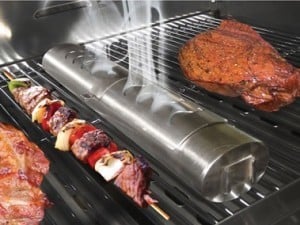 The only wood chip smoker box that produces savory smoke flavor without catching fire. The custom ventilation allows just enough oxygen to produce smoke without generating flames, allowing the wood chips to slowly smolder and producing a nicer smoke flavor than other smoker boxes. The Smoker in smoker box is made from a durable heavy gauge stainless steel made for placement directly on hot charcoal, gas burners or an electric grill and can hold up to 8 oz. of wood chips. Also includes a removable handle to safely and easily place the smoker box on your heat source or remove it from the grill to replace the wood chips.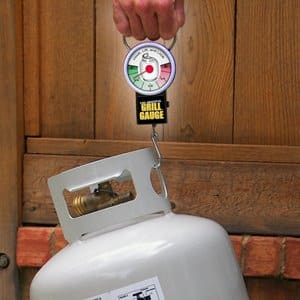 The Grill Gauge accurately measures the propane in your tank, without batteries or any other power sources required. It uses the most reliable method of measuring propane, which is by weight.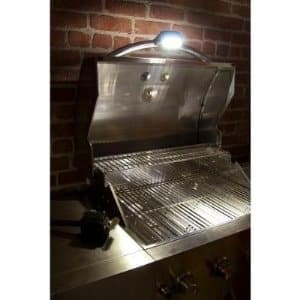 Charcoal Companion's weather resistant LED Grill Light attaches easily to most grill lid handles. The light features five powerful LED bulbs provide a wide field of light across the grill grate.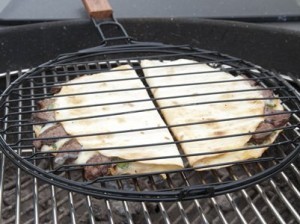 Non-Stick Quesadilla Grill Basket
Who doesn't like melty, cheesy quesadillas? Making quesadillas on the grill is easy and mess free with the Charcoal Companion's Non-Stick Quesadilla Basket. Cooking quesadillas on the grill top imparts more flavor than cooking them in a pan indoors while the quesadilla basket protects the tortillas and holds the form of the quesadilla while they are cooking.

Napoleon Portable Propane Grill
The Napoleon TravelQ TQ285 Portable Gas Grill has set a new standard in portable grilling excellence. Don't let the small size fool you; this grill boasts 285 square inches of total grilling area. That means you can grill up to 18 large hamburgers at once. Be the star of your next tailgate with this bad boy. Two, individually controlled burners provide up to 12,000 BTU's of flame power. That means you can have perfectly powerful grilling anywhere you go.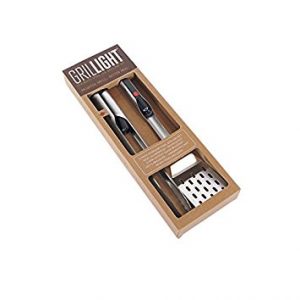 Grillight LED Grilling Spatula
Relight grilling tools designs and manufacturers innovative grilling products incorporating cutting edge LED lighting technology. Relight tools incorporate high power, waterproof LED light directly into the handle for perfect lighting for grilling any time of day. Our custom lights use Ideal Illumination technology, which perfectly replicates the color of sunlight, not that artificial blue hue that many low-grade lights have.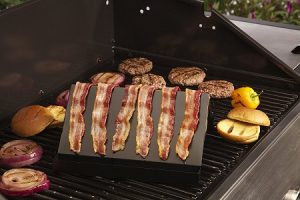 Bacon is one of the most irresistible foods known to man. The sizzle of bacon on the pan or the first whiff in the morning is enough to induce powerful cravings. But, cooking bacon on the grill is hard. The grease drops down causing flare ups burning your precious bacon. The grilled bacon rack solves that by providing a smooth non-stick surface and grease troughs. It even folds to store away until the next bacon graving hits.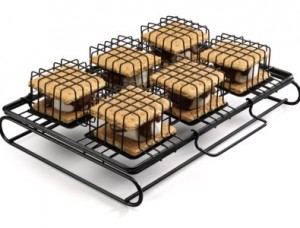 The S'More To Love S'More maker offers you a fast, easy way to make that delicious marshmallow, chocolate and graham cracker treat right in your oven, toaster oven or on your grill. No more dirty campfires and burnt marshmallows – this innovative treat-maker allows you to make 6 tasty S'mores in just minutes. Sweet creamy marshmallow, crunchy toasted Graham Crackers and soft melted chocolate. Mmmm. Simply stack, lock and place on your grill or in your oven and be the hit of any barbecue, picnic or party.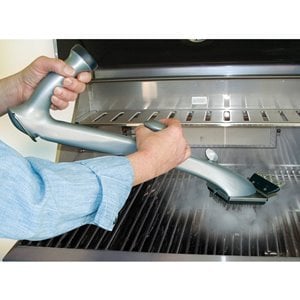 Grill Daddy Pro Grill Cleaning Brush with Steam
Be the grill master, and clean your grill with the power of steam. Grill Daddy Pro Steam Brush delivers a chemical-free easy clean for any grill type, gas, infrared heat and charcoal. Just preheat the grill and let the steam clean and sterilize the grates as you brush, without dousing coals. Keep hands safe with 22 inch extra-long ergo handle, it's great for cleaning large grills.Keep it handy with a built-in hook. The steam brush includes an attached Scraper Brush head for tough-duty scrubbing of anything on the grill from ketchup to barbecue sauce. Grill Daddy brush heads are replaceable and additional heads may be purchased for corner reach, stubborn spots, and more. They're perfect to safely clean any size or brand porcelain, steel, iron or ceramic grill grates.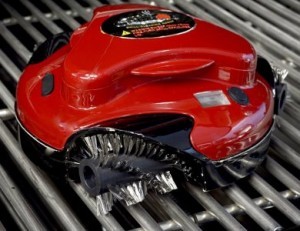 Grillbot Automatic Grill Cleaning Robot
The Automatic BBQ Grill Cleaning Robot tackles your charred, dirty grill, whether it's hot or cool. Simply press a button and a sophisticated computer directs the robot back and forth over your grill with three powerful motors. Three spinning brass wire brushes safely clean your grates without compromising the flavor of future meals. An auto timer shuts off the robot when the job is done (about 10-20 minutes) and the brushes pop off for cleaning in the dishwasher.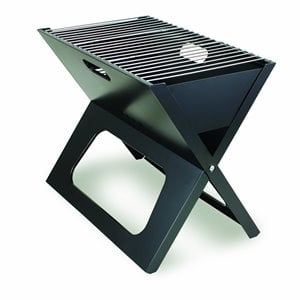 Portable Folding Charcoal X-Grill
Great for tailgating, days at the beach, picnics, or camping, this folding portable charcoal X-Grill by Oniva, a Picnic Time brand, features a compact, easy to assemble, slim line design in durable electro-plated iron. The X-Grill includes a chrome-plated tri-fold cooking grate that measures 18-1/2 by 11 inches, plus a charcoal grate, both of which store conveniently inside the folded grill. A durable 600D polyester carrying tote with strap that is included allows for easy transport. With the X-Grill, you can take the BBQ wherever you want to go. In tote measures 19 by 19.5 by 1.5 inches /open measures 19 by 16 by 12 inches.
Popcorn Popper for Grills and Stovetops
Introducing 365 indoor/outdoor products designed to inspire culinary creativity indoors and out, 365 days a year. Discover the versatility in our line that brings outdoor flavors to indoor cooking, and indoor convenience to outdoor grilling. Crafted with the all-american chef in mind, 365 is the only full line of indoor/outdoor grill cookware. The great outdoors has no electricity. Make popcorn over a fire or grill, or go old-school and use this versatile popper on the stovetop. Mesh lid doubles as a serving bowl; the base as a cooking vessel. Coil-grip handle stays cool and provides firm control.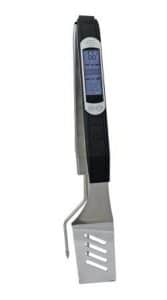 Flame King Hybrid BBQ Temperature Tongs
Tired of using and cleaning multiple utensils every time you barbecue? The new Hybrid TempTongs combines two of the most important tools used in barbecuing; Barbecue Tongs and a Temperature Fork. The large and convertible design of the stainless steel spatula makes the meat easy to grab and flip. The built in temperature tines are designed for assisting in measuring the "doneness" of the meat being grilled. Select the meat type you are grilling; Beef, Veal, Lamb, Pork, Chicken or Turkey. Set the taste option preference; Rare, Medium-Rare, Medium or Well-done. The display will read the appropriate internal temperature of the meat type and "doneness" you have selected. Squeeze the tines into the meat to read the actual internal temperature of the meat. Once the appropriate temperature is reached the alarm will beep indicating that the meat is done to perfection. Product Features: Meat-types with various taste options, Stainless Steel Temperature sensors measures the internal temperature of the meat, Alarm sounds when your meat is ready, Built-in backlight for Barbecuing when it's dark.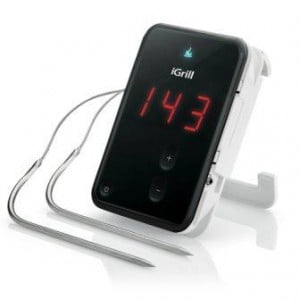 Whether you're an award winning pit-master or a novice backyard griller, the iGrill2 Bluetooth Smart Grilling Thermometer makes grilling and smoking easier, more convenient and a whole lot smarter. With a 150 foot Bluetooth Smart range, you can get back to your guests and keep a close watch on the temperature progression of your meat from your mobile device, using the free iDevices Connected app. You'll receive an alert once the meat is cooked to perfection. This iGrill2 is packaged with four Pro Meat probes so you can monitor multiple pieces of meat at once. You'll never want to cook any other way, and with the iGrill2, you won't have to. Now, you can grill and smoke meats with the precision you've always dreamed of.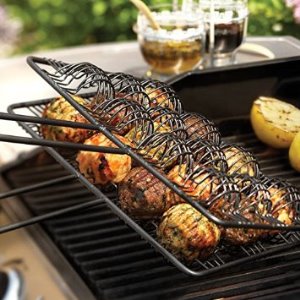 Nonstick Meatball Grilling Basket
Imagine cooking meatballs on the grill, keeping them in one-piece and cooking them evenly. With this Meatball Basket you can grill your meatballs while keeping them safely in place with the basket's locking mechanism. This will help you easily flip the meatballs over the open flames. With a weaved construction designed to drain excess fat, the basket grills up to 12 tasty meatballs without sacrificing any flavor. Features high quality nonstick coating that contains no PTFE's or PFOA's and long rosewood handles for easy and safe turning. A sure-fire way to add zest to your cookout.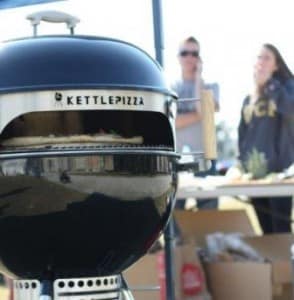 KettlePizza for 18.5-Inch and 22.5-Inch Kettle BBQ Grills
The KettlePizza Basic is a pizza oven conversion kit for 18.5 and 22.5 inch charcoal kettle grills. This product installs on top of your kettle grill transforming it into a charcoal or wood burning pizza oven.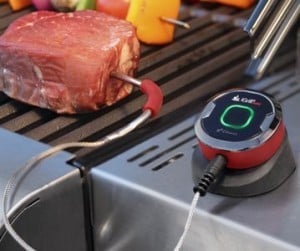 Using this Bluetooth Smart grilling thermometer you'll know when your food is ready from your mobile device. Choose from dozens of preset temperature alarms or create your own in the iDevices Connected app based on what you're grilling/smoking and head back inside while your meat cooks. Featuring a 150′ Bluetooth Smart range, 150 hour battery life (1 CR2032 battery required), a temperature LED indicator, magnetic mounting and two viewing angle positions, this is the ultimate gadget for any level griller.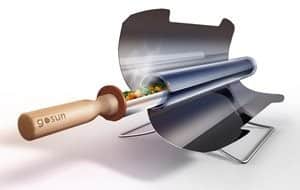 The GoSun Sport's award-winning patented design converts nearly 80% of all sunlight entering it's reflectors into usable heat, retaining if for hot meals with friends even in the most challenging conditions.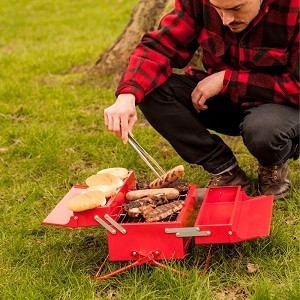 Cooking alfresco get the right tool for the job. Made from steel and coated in super high temperature Red paint, this BBQ looks like a classic metal toolbox but unfolds to reveal a warming rack and storage tray for those essential condiments. It features a whopping 8×15 inch stainless steel grill area, removable fuel tray for your charcoal and an adjustable vent to control the flow of oxygen over the hot coals. The ideal gift for an outdoorsy type (or that friend of yours who takes a beach BBQ just a bit too seriously).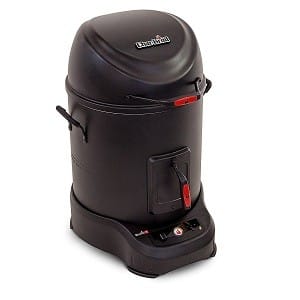 Char-Broil Simple Smoker with SmartChef Technology
Introducing the Char-Broil Simple Smoker with SmartChef Technology. The Char-Broil Simple Smoker is an intuitive and easy to use smoker that's great for both beginner and expert smokers alike. The simple smoker electric smoker also features a versatile cooking system that allows you to smoke meats at low temperatures or roast at high temps. The Simple Smoker with SmartChef features Char-Broil's SmartChef Technology- an internet connected technology, syncing with any compatible smart device to enhance your outdoor cooking experience. SmartChef Technology enables you to consistently create superior tasting food and enjoy an effortless smoking routine. The WiFi connected Simple Smoker gives you more convenience and freedom than ever before.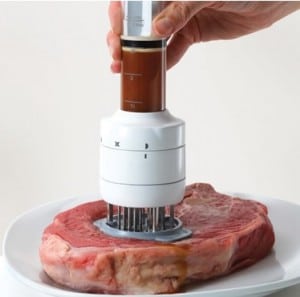 Marinade Infusing Meat Tenderizer
Tenderize and flavor at the same time with the Chef's Planet Flavor Enhancer. With a white body, the stainless steel blades pierce meat while the three flavor needles inject your desired marinade. With two depth settings for different thicknesses of meat, this is great for use on roasts, steaks, chops, poultry and even whole birds. With a lock for safety, it is also dishwasher safe for an easy clean up.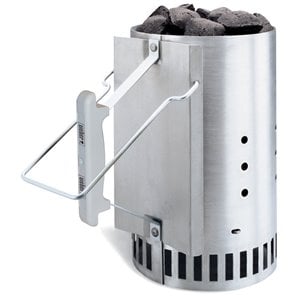 Weber Charcoal Chimney Starter
The quickest way to crackling briquettes and the nostalgia of charcoal grilling starts with one simple, yet amazing, tool. Every griller's essential sidekick, the Rapidfire Chimney Starter, is the fastest and easiest way to get grilling and start eating.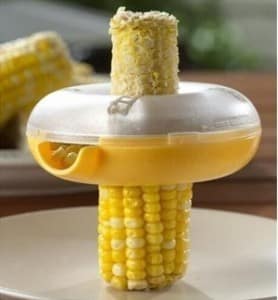 Enjoy fresh corn without the mess of eating from the cob. With our Corn Kerneler, you can easily remove corn kernels from the cob in one quick motion. Just place the Kerneler at the narrow end of the cob and push straight down. Stainless steel blades quickly and easily remove the kernels, which then collect neatly in the basin of the Kerneler. Pour kernels out and start again. Corn Kerneler basin holds about two ears' worth of kernels.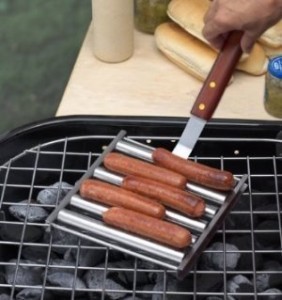 Chefs Basics Select BBQ Hot Dog Roller easily makes great flavorful hot dogs or sausages on your grill for family and friends any time. This stainless steel hot dog roller rotates up to five hot dogs or sausages continuously to ensure fuss free, even cooking, every time. Its long detachable wooden handle is used to easily slide the roller over, preventing your hot dogs and sausages from overcooking.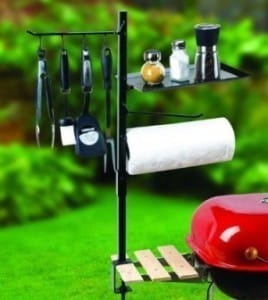 The perfect gift for the aspiring grill chef in your family, or for yourself. Grilling like a pro means having everything at hand so you won't miss a beat. Our accessory organizer is made of steel construction for strength and the large 3-1/2-Inch clamp secures the holder to any grill or table. The stand has four double-sided hooks for hanging all your grill accessories, a paper towel holder for easy clean-up of spills, and a shelf that not only holds food, spices and cooking gadgets, but doubles as a cover against the weather for your paper towel holder. Your sure to appreciate the convenience and design of this superior organizer.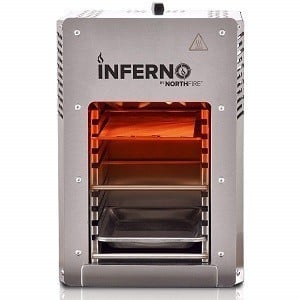 NORTHFIRE Inferno Single Propane Infrared Grill
The INFERNO is the latest innovation in backyard grilling, giving your steak the perfect sear in just seconds. Our high temperature, propane fueled BBQ's instantly climb to 800°C (1,500°F) and are easy to move. Perfect for backyard grilling, cottages, tailgating, or camping. Not limited to steak, you can also cook fish, shrimp, pork, burgers, chicken, and desserts. Begin with a simple push-to-start ignitor and finish by loading all stainless-steel interior components in the dishwasher.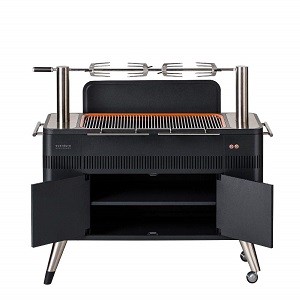 Everdure Hub Freestanding Charcoal Grill and Rotisserie 
The Hub Freestanding Charcoal Grill with Rotisserie, 53.75-Inch by Everdure offers a premium grill that's perfectly suited for large gatherings and an authentic grilling experience. The contemporary porcelain enamel constructed firebox and charcoal tray ensure durability and longevity while the Fast Flame Ignition System with an electric element creates a grill-ready environment in 10 minutes, thanks to the set & forget control. With 4 legs and 2 lockable castors, the Hub is easy to set up and transport. The patented Rotiscope Technology system features adjustable, retractable rotisserie poles for awesome slow-cook functionality along with the rotisserie rod and ClipLock forks (4) to keep your food secure. This grill includes 1,307 square inches of cooking area, 2 double-lined doors to house a storage/warming area, an easy to clean interior and hinged chrome grill grates for easy charcoal replacement. With a functional, modern design meant to create a powerful grilling experience, the Hub by Everdure could very well be the perfect charcoal grill for satisfying you and your guests.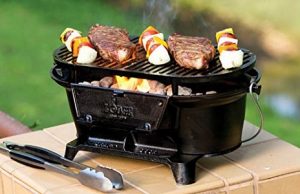 Lodge Cast Iron Sportsman's Grill
The hibachi style cast iron sportsman's grill from Lodge is an ideal addition to your RV or tailgating gear. The hibachi grill's compact size means you can easily bring your kitchen outdoors. Lodge's timeless dependability makes this grill an instant heirloom. Sportsman's Grill Cover, elastic shock cord, heavy duty black polyester with PVC backing, cast iron.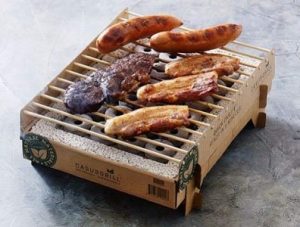 CasusGrill Instant Biodegradable Grill
This eco-friendly instant grill does the same job as its aluminum counterpart, but in a completely natural and biodegradable design. The cardboard frame, bamboo grill grates, and lava stone lining (to help retain heat) quickly assemble, and bamboo charcoal briquettes heat up in about five minutes and stay hot for around an hour. When you're done cooking, you can toss the grill into a campfire or in a trash bin knowing it will naturally decompose.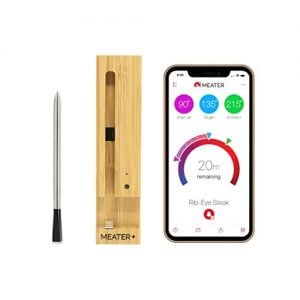 MEATER Plus Smart Wireless Meat Thermometer
165ft Long Range Model: 100% WIRE-FREE that's perfect for outdoor cooking. The first truly wireless smart meat thermometer. Monitor your cook using the FREE app available for iOS (10.3 and later) / Android (5.0 and later) smart phones and tablets.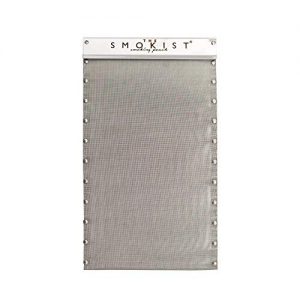 Smokist Smoking Pouch for Grill
The Smoking Pouch by The Smokist infuses delicious smoke flavor into food while it's grilled. Each pouch is made of durable, fine mesh 304 stainless steel that limits the airflow into the pouch so the wood smolders slowly. Our smoking pouch allows the smoke to be steady and long-lasting, while evenly smoking everything in your grill or smoker. This allows you to perfectly smoke any food including meats, fish, poultry, and vegetables.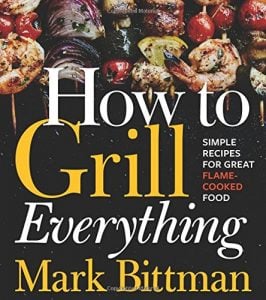 Here's how to grill absolutely everything—from the perfect steak to cedar-plank salmon to pizza—explained in Mark Bittman's trademark simple, straightforward style. Featuring 1,000 recipes and variations, plus Bittman's practical advice on all the grilling basics, this book is an exploration of the grill's nearly endless possibilities. Recipes cover every part of the meal, including appetizers, seafood, meat and poultry, vegetables (including vegetarian mains), and even desserts. Plenty of quick, high-heat recipes will get dinner on the table in short order (Spanish-Style Garlic Shrimp, Green Chile Cheeseburgers); low and slow "project" recipes (Texas-Style Smoked Brisket, Pulled Pork with Lexington BBQ Sauce) are ideal for leisurely weekend cookouts. You'll also find unexpected grilled treats like avocado, watermelon, or pound cake, and innovative surprises—like cooking meat loaf or from-scratch Rosemary Olive Oil Bread on the grill—to get the most out of every fire.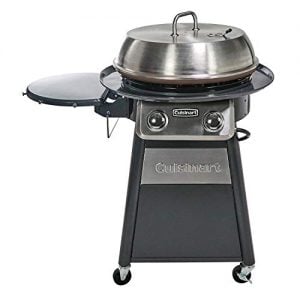 The exciting Cuisinart 22-inch Two-Burner Griddle is ideal for cooking restaurant-quality food at home. It features a cold-rolled steel cooking surface, and two burners that give maximum control for managing cooking zones with temperatures ranging from 200° to 550°. A grease pan with a removable grease cup surrounds the perimeter, and it sits on heavy-duty caster wheels that can be locked for more stability. The handy fold-away side prep table has an integrated paper towel holder that makes it's easy to keep the prep area clean, and the vented cover lets you fry, steam, roast, smoke, or keep foods warm.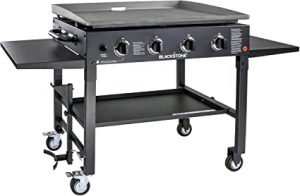 Blackstone 1554 Cooking 4 Burner Flat Top Gas Grill Propane Fuelled Restaurant Grade Professional 36" Outdoor Griddle Station with Side Shelf
Replace your grill or BBQ with a Blackstone griddle and never look back! This grill is simple to use and easy to assemble, so you'll be cooking in no time. Eliminate the hassle of kerosene, charcoal and matches; This grill includes an easy start, battery powered push button ignition. With the simple push of a button your griddle is ready to go! Take the headache away from outdoor cooking and spend more time enjoying the outdoors.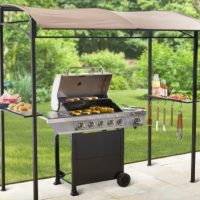 This is gazebo protects an outdoor grill from the sun, rain, and snow as you cook. It's constructed from all-weather aluminum and steel and has an arched polyester canopy that resists water and has a UPF 30+ rating. A pair of 33″ L x 8″ W glass shelves on either side of the grillzebo provide surface space for food plates, sauces, and seasonings while five mounted hooks hold grilling tools.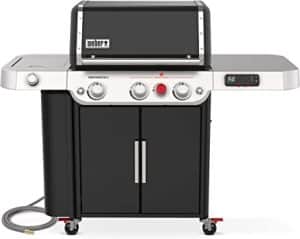 Weber Genesis EPX-335 Premium Smart Gas Grill
The Genesis EPX-335 smart grill – the biggest grilling innovation in decades, that creates a full backyard culinary experience. Roast, bake, steam, or even stir-fry by replacing the cooking grate with custom-fit Weber Crafted grillware, inspiring food never thought possible on the grill. And with Weber Connect smart technology, you'll receive real-time food temperature alerts, so that whatever you're making turns out perfect every time.
Note: Some of these links may be affiliate links. For a list of the programs I belong to, please visit my disclosures page.