Here are a bunch of amazing Facebook statistics, facts, history and demographics that illustrate just how popular the social network is in 2020 and how much it is still growing.
The story of Facebook is legendary; A group of Harvard University students, led by Mark Zuckerberg, got together in 2004 to create a social network to create a social network within the Harvard community. It quickly proved to be a success and spread to other colleges across the northeast and then from coast to coast. Finally, in 2006, it was opened up to the world and its unprecedented, exponential growth began, continuing to this day.
Facebook is now unquestionably the largest social network in the world with over two billion monthly active users and over a billion daily active users. With a platform as feature-rich and widely visited as Facebook's there are countless stats that can be collected and tracked.
I have spent the past seven years identifying every measurable aspect of and facts about Facebook, starting with basic info like how many people are on the platform and then expanding and listing out each Facebook stat as I find them in an organized series of posts. You will find everything from average number of friends per user to users per country and everything in between. I hope you find some of these tallies as interesting and amazing as I do.
Get the full Facebook statistics report in one of our industry reports:
Facebook History
Year Facebook launched: 2004 (as TheFacebook)
Year TheFacebook was changed to Facebook: 2005
Year News Feeds were introduced: 2006
Year Facebook opened up to everyone over the age of 13: 2006
Year pages were introduced: 2007
Year that Facebook Chat launched: 2008
Year that Facebook became the most-used social network globally: 2009
Year that usernames were introduced: 2009
Year the Like button was introduced: 2009
Year that Timelines were first introduced: 2011
Year that Facebook Chat became Facebook Messenger: 2011
Year the Bug Bounty program launched: 2011
Year of Facebook's IPO: 2012
Year the App Center launched: 2012
Year Facebook bought Instagram: 2012
Year Facebook joined the Fortune 500: 2013
Year Facebook joined the S&P 500: 2013
Year that Graph Search launched: 2013
Year that Facebook Home launched: 2013
Year that clickable hashtags were introduced: 2013
Year Facebook bought WhatsApp: 2014
Year Instant Articles launched: 2015
Year that Reactions were introduced: 2016
Year that Deep Text was announced: 2016
Year Workplace was announced: 2016
Year Facebook Spaces was announced: 2017
Year Facebook Stories launched: 2017
Facebook Facts
Facebook
Website:
www.facebook.com
Birthplace:
Cambridge, MA
Creators:
Mark Zuckerberg, Eduardo Saverin, Andrew McCollum, Dustin Moskovitz, Chris Hughes
Current Headquarters:

Menlo Park, CA

Top Executives:
CEO: Mark Zuckerberg
 
COO: Sheryl Sandberg
 
CFO: David Wehner
 
CTO: Mike Schroepfer
Mobile Apps:
| Android
Top Facebook Competitors:
Facebook Statistics and Demographics
How many people use Facebook?
2.498 billion monthly active users (MAU) global
248 million users in the US and Canada
394 million users in Europe
1.038 billion users in Asia-Pacific
Last updated
Facebook daily active users (DAU):
1.657 billion Facebook users global
190 million users in US & Canada
294 million users in Europe
641 million users in Asia-Pacific
Last updated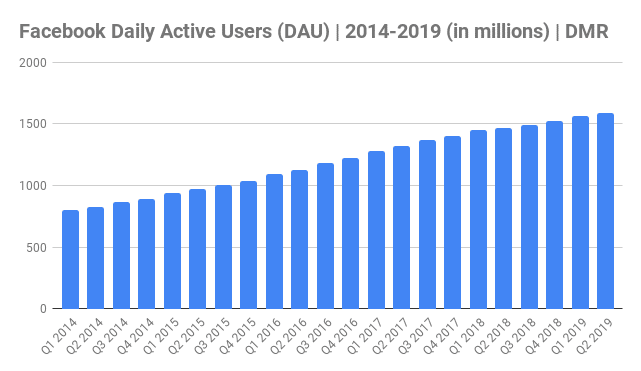 ---
How many people work for Facebook?
25,105
Source: Facebook
Last updated
---
Percentage of Facebook monthly users that use it daily:
Last updated 7/24/19
---
Percentage of all US adults over the age of 50 that use Facebook:
Last updated 4/21/18
---
Percentage of all US adults aged 25-49 that use Facebook:
Last updated 3/5/18
---
Average number of Facebook friends for women:
Last updated 1/20/16
---
Number of Facebook friends that the average user has in 2016:
---
Percentage of drivers that admit to checking Facebook while operating their vehicle:
Last updated 5/19/15
---
Percentage of all digital time that is spent on Facebook each day:
Last updated 4/11/18
---
Degrees of separation between every Facebook user:
Last updated 2/4/16
---
Percentage of Facebook friends that users consider to be close friends:
Last updated 1/20/16
---
Percentage of US Internet users, aged 14-17 (teens) that use Facebook:
Last updated 1/18/17
---
Percentage of US teens, ages 13-17, that use Facebook:
---
Percentage of US residents, ages 12-34 that use Facebook:
---
Percentage of US residents, ages 35-54 that use Facebook:
---
Percentage of US residents, age 55+ that use Facebook:
---
Percentage of all US social media users that use Facebook:
Last updated 1/9/15
---
Percentage of online US adults that use Facebook:
Last updated 3/1/18
---
Percentage of internet users, age 16-64, that log onto Facebook more than once a day:
Last updated 3/1/18
---
Number of Facebook users, aged 12-17, in the UK:
Last updated 2/12/18
---
Number of Facebook users, aged 18-24, in the UK:
Last updated 2/12/18
---
Number of monthly active Facebook users in Africa:
Last updated 4/6/17
---
Number of Facebook 'users' that are fake:
Last updated 5/23/19
---
Percentage of Facebook users that are fake:
Last updated 5/23/19
---
Number of people that use Facebook Groups: 
Last updated 5/1/19
---
Percentage of Facebook users that connect with co-workers on it:
Last updated 6/24/19
---
Average amount of time per day that American's spend on Facebook:
Last updated 5/28/19
---
Number of Facebook users by geography:
---
City with the largest number of Facebook users in the world:
Bangkok (35 million users)
---
Percentage of news images that appear on Facebook that include images depicting just men:
Last updated 5/23/19
Percentage of news images that appear on Facebook that include images depicting just women:
Last updated 5/23/19
---
Lines of code for Facebook:
Last updated 8/15/19
---
Facebook Revenue Statistics
Facebook Annual Revenue:
Facebook Quarterly Revenue:
---
Facebook net income (quarterly):
Percentage of Facebook revenue that comes from the US & Canada:
48%
Last updated 7/24/19
---
Percentage of Facebook revenue that comes from Europe:
24.3%
Last updated 7/24/19
---
Percentage of Facebook revenue that comes from Asia-Pacific:
17.8%
Last updated 7/24/19
---
Average Facebook revenue per global user:
Q4 2019: $8.52
Q3 2019: $7.26
Q2 2019: $7.05
Q1 2019: $6.42
Q4 2019: $7.37
(source)
---
Average Facebook revenue per user in the US and Canada:
Q4 2019: $41.41
Q3 2019: $34.55
Q2 2019: $33.27
Q1 2019: $30.12
Q4 2019: $34.86
(source)
---
Average Facebook revenue per user in Europe:
Q4 2019: $13.21
Q3 2019: $10.68
Q2 2019: $10.70
Q1 2019: $9.55
Q4 2019: $10.98
(source)
---
Average Facebook revenue per user in the Asia-Pacific:
Q4 2019: $3.57
Q3 2019: $3.24
Q2 2019: $3.04
Q1 2019: $2.78
Q4 2019: $2.96
(source)
---
Size of the Facebook FTC fine in their July 2019 settlement:
---
Get the full Facebook statistics report in one of our industry reports: