Here are a bunch of amazing Facebook statistics, facts, history and demographics that illustrate just how popular the social network is in 2019 and how much it is still growing.
The story of Facebook is legendary; A group of Harvard University students, led by Mark Zuckerberg, got together in 2004 to create a social network to create a social network within the Harvard community. It quickly proved to be a success and spread to other colleges across the northeast and then from coast to coast. Finally, in 2006, it was opened up to the world and its unprecedented, exponential growth began, continuing to this day.
Facebook is now unquestionably the largest social network in the world with over two billion monthly active users and over a billion daily active users. With a platform as feature-rich and widely visited as Facebook's there are countless stats that can be collected and tracked.
I have spent the past seven years identifying every measurable aspect of and facts about Facebook, starting with basic info like how many people are on the platform and then expanding and listing out each Facebook stat as I find them in an organized series of posts. You will find everything from average number of friends per user to users per country and everything in between. I hope you find some of these tallies as interesting and amazing as I do.
Facebook History
Facebook Facts
Facebook
Website:
www.facebook.com
Birthplace:
Cambridge, MA
Creators:
Mark Zuckerberg, Eduardo Saverin, Andrew McCollum, Dustin Moskovitz, Chris Hughes
Current Headquarters:

Menlo Park, CA

Top Executives:
CEO: Mark Zuckerberg
 
COO: Sheryl Sandberg
 
CFO: David Wehner
 
CTO: Mike Schroepfer
Mobile Apps:
| Android
Facebook User Statistics and Demographics
How many people use Facebook?
2.375 billion monthly active users (MAU)
Last updated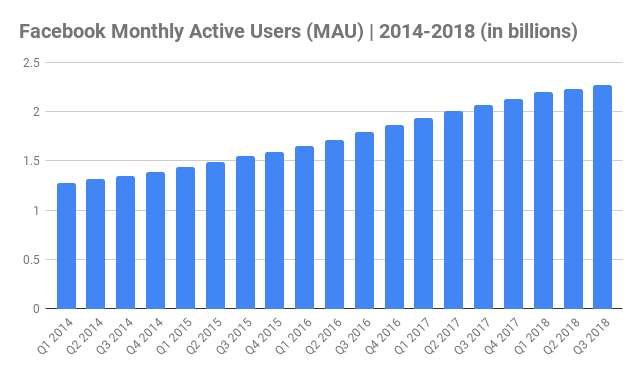 Facebook daily active users (DAU):
(Source: Facebook)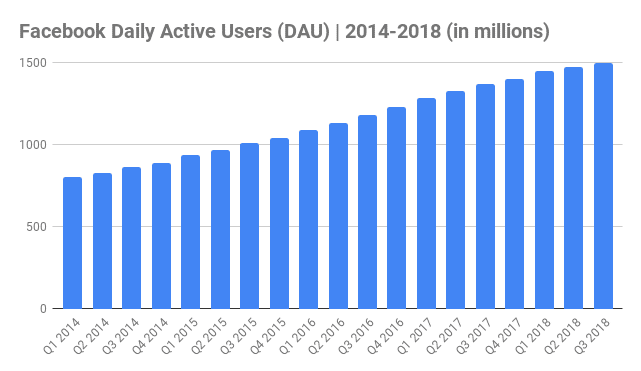 ---
How many people work for Facebook?
25,105
Source: Facebook
Last updated
---
Percentage of all US adults over the age of 50 that use Facebook:
Last updated 4/21/18
---
Percentage of all US adults aged 25-49 that use Facebook:
Last updated 3/5/18
---
Average number of Facebook friends for women:
Last updated 1/20/16
---
Number of Facebook friends that the average user has in 2016:
---
Percentage of drivers that admit to checking Facebook while operating their vehicle:
Last updated 5/19/15
---
Percentage of all digital time that is spent on Facebook each day:
Last updated 4/11/18
---
Degrees of separation between every Facebook user:
Last updated 2/4/16
Percentage of Facebook friends that users consider to be close friends:
Last updated 1/20/16
Percentage of US Internet users, aged 14-17 (teens) that use Facebook:
Last updated 1/18/17
Percentage of US teens, ages 13-17, that use Facebook:
Percentage of US residents, ages 12-34 that use Facebook:
Percentage of US residents, ages 35-54 that use Facebook:
Percentage of US residents, age 55+ that use Facebook:
Percentage of all US social media users that use Facebook:
Last updated 1/9/15
Percentage of online US adults that use Facebook:
Last updated 3/1/18
Percentage of internet users, age 16-64, that log onto Facebook more than once a day:
Last updated 3/1/18
Facebook users in the UK:
Last updated 2/12/18
Number of Facebook users, aged 12-17, in the UK:
Last updated 2/12/18
Number of Facebook users, aged 18-24, in the UK:
Last updated 2/12/18
Number of monthly active Facebook users in Africa:
Last updated 4/6/17
Number of Facebook 'users' that are fake:
Last updated 5/23/19
Percentage of Facebook users that are fake:
Last updated 5/23/19
Number of people that use Facebook Groups: 
Last updated 5/1/19
---
Get the full Facebook statistics report in one of our industry reports:
Please share this post if you enjoyed it:
---