With the popularity of wine arguably at an all-time high and digital technology infiltrating just about every aspect of our lives, it was only a matter of time before the two were matched up and we started to see some pretty awesome wine gadgets. Here are some of the more interesting and cool wine accessories and gifts I have dug up in my web travels. As with all of my gadget posts, I will be updating this post as I stumble on more items.
See also: 10 Things You Didn't Know About Wine (Wine Stats)
Wine Accessories and Gifts
(Click on each image for more product details including purchasing information)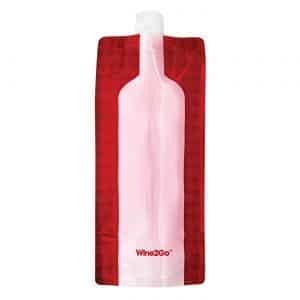 Wine2Go – The Foldable Wine Bottle
Wine2Go is a foldable, reusable, disposable,100% recyclable, leakproof wine bottle to easily take wine and other beverages on the go. Made from BPA-free plastic with no metal parts. Wine2Go wine bottle holds a full 750-milliliter bottle of wine.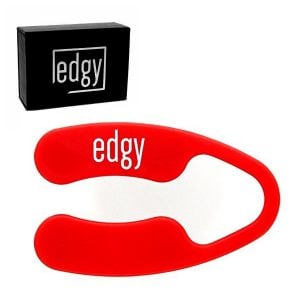 EDGY Wine Foil Cutter Accessory
Made with a durable cover, the blades are surgically sharp, allowing the EDGY to make a clean, crisp cut each and every time. You won't get any unwanted foil pieces and scraps all over the place with this baby. The foil will remove neatly and easily. Plus, the blades will never wear out! They stay sharp.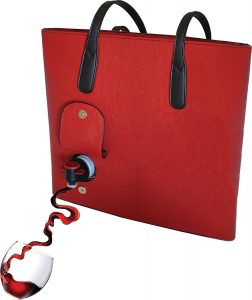 Bring your wine along with the PortoVino Wine purse that secretly holds a removable and replaceable wine bladder with pouring spout.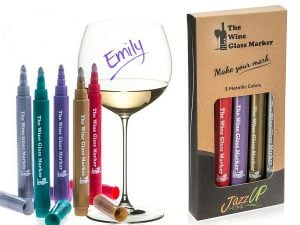 Wine Glass Markers – (Set of 5 Wine Markers)
Personalize your wine glass at a party, write messages on mirrors, windows or picture frames, or use the Wine Glass Markers for nearly any other creative project.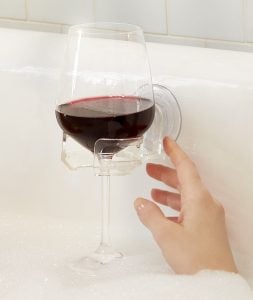 SipCaddy Bath & Shower Portable Suction Cupholder Caddy for Beer & Wine
Attach it to any smooth surface for an instant drink butler for your beer or wine vessel of choice, or for many other household items. It uses the highest quality suction cup available, American made, and rated at 7 lbs strength when applied correctly to a nonporous surface.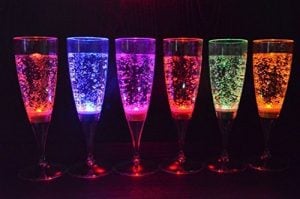 Signstek 6 Set LED Light Wine Flute Light Up Liquid Activated Champagne Glasses
Each glass is liquid activated and will turn off automatically after the liquid is emptied form the glass.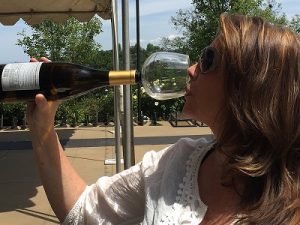 Guzzle Buddy It Turns Your Bottle of Wine Into Your Wine Glass
The Guzzle Buddy fits in most bottles like red and white wine, beer, soda, and hard cider. The silicone sleeve provides a tight seal, with no spills or mess. If you can drink from a cup, you can drink from the Guzzle Buddy. It has a wide diameter rolled rim for comfortable drinking and it's freezer safe to -20 Celsius or -4 Fahrenheit. With a size of 480ml it's your go to extra large wine glass.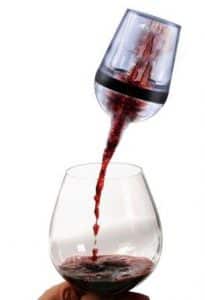 DeVine- AERATOR, Goblet Design Instant Wine Aerator
This wine aerator breather will stimulate the wine oxidation process. In a few seconds time, the 3 stage patented aeration process will highlight the taste and the aromas of your wine, allowing you to enjoy it to the fullest!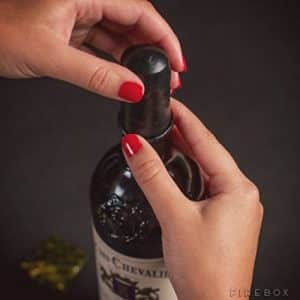 Wine Condoms Wine and Beverage Bottle Stoppers
WINE CONDOM(s) stow comfortably in your pocket, wallet, or purse. Pack and take 'em ANYWHERE! They can be tossed in the trash along with empty bottle so there's no hassle keeping track of a bulky bottle stopper away from home. But that doesn't mean you have to throw it away. WINE CONDOM(s) can be used as many times as you like!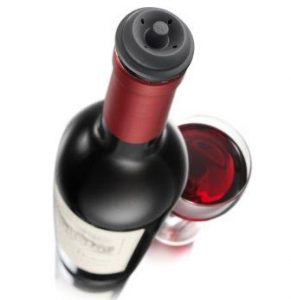 Vacu Vin Wine Saver Pump with Vacuum Bottle Stoppers
The Vacu Vin Wine Saver extracts the air from an opened wine bottle and re-seals it using a rubber stopper. The airtight vacuum inhibits the oxidation process that is responsible for the deterioration of wine. The vacuum is created by placing a stopper into the neck of the opened bottle and pumping it until you hear the patented "click". The "click indicates" when a sufficient airtight environment has been established. Simply pull stopper to break seal and remove, pour your favorite wine when ready to enjoy, reinsert stopper and remove air to seal again. Reusable stoppers last for years.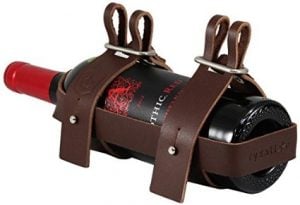 Fyxation Leather Bicycle Wine Carrier
Better than Bluetooth, this hands free bicycle accessory gets you and your Pinot to the party safely and in style. ur leather wine bottle holder securely fastens to your top tube and has secure leather straps that hold the front and the back of the wine bottle tightly in place. This will work with round 750ml wine or liquor bottles. Enjoy the ride and please bike responsibly.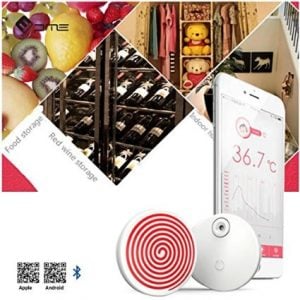 PME Smart Hygrometer Thermometer Temperature & Humidity Sensor with Alerts
Candy hygrothermograph is a new and special design which can monitor temperature, comfort level, the humidity of red wine storage and food storage; baby's diapers, outdoor and indoor humidity. It can help you to create a good environment in your daily life and prevent disease from the humidity. For the healthy and comfort of your family, especially for your baby, you need it!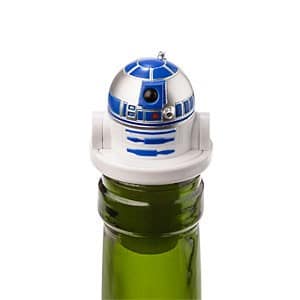 No more corkless bottles or split beverages. This R2D2 Bottle Stopper creates a tight seal, keeping your beverages crisp and fresh. This stopper inserts easily and can be removed with a single pull. Show off your Star Wars fandom by adding him into you dinner party!
(Click on each image for more product details including purchasing information)
Note: Some of these links may be affiliate links. For a list of the programs I belong to, please visit my disclosures page.