Home audio equipment sure has evolved over the past decade or so. Gone are the days of boomboxes and compact stereos ruling your office, dorm and den bookshelves. Now, thanks to Bluetooth technology, you can stream pretty much whatever you want from your mobile device or computer to tiny speakers that sound as good, if not better, than their clunky ancestors.
Speaker makers have been pretty creative in designing their various Bluetooth offerings. Here are a few of the best Bluetooth speakers I've seen so far. As with all of my gadget posts, check back in the future as I will be adding more to this gallery as I come across them.
Bluetooth Speakers
(Click on each image for more product details including purchasing information)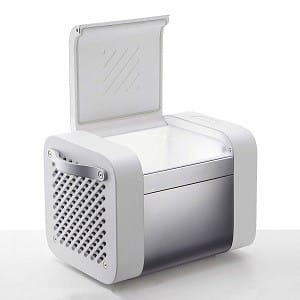 KUBE is a portable, wireless audio system that sounds like nothing else. Designed for taking great sound outdoors, it complements the space around you instead of competing with it. The result is a rich, full sound that makes any outdoor environment more inviting.
There are a lot of options out there in the world of Bluetooth powered speakers- some have flashing lights, some look like pharmaceuticals, and some are so small they could get lost in the couch cushions. What's been missing though is a seriously good sounding speaker for people who love music: Meet the deepblue2.Concealed in its understated cabinet is a truly excellent loudspeaker system capable of producing the sort of sound normally reserved for large component systems. It starts with the loudspeakers. Unlike many systems that ask a single speaker to handle the entire sonic spectrum, the deepblue2 uses a midrange and tweeter for each channel along with a shared 6.5″ subwoofer. Vocals sound clean and precise, and deep bass tones have a room-filling presence that will leave you smiling. Even great speaker can sound lackluster at low volumes though, so we included a very clever "loudness" curve for the deepblue2. At low volumes, the amount of deep bass and treble is increased slightly to compensate for the ear's relative lack of sensitivity to those tones. As volume increases, this added boost flattens out so that deepblue2 sounds more balanced at high volumes. Speaking of volume, the deepblue2 is capable of playing VERY loudly- over 102 dB in a typical room! More than enough to get a party on its feet.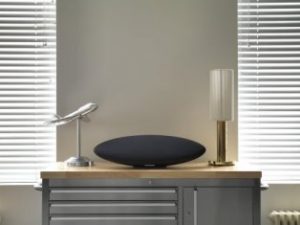 Zeppelin Wireless delivers a whole new standard in wireless home audio. Hi-Fi quality drive units, advanced digital processing, and a new, incredibly rigid body are combined with amazing connection options in the form of AirPlay, Bluetooth aptX, and Spotify Connect to ensure that Zeppelin Wireless is the best sounding, best looking, best built Wireless speaker available.
RIVA Turbo X delivers a new philosophy of sound with RIVA's patented Trillium audio technology for truly immersive sound and Trillium Surround for an enhanced movie and gaming experience. Packed with 45 watts of power, a 26+ hour battery playing time, Charge Out for your phone or tablet, a high performance echo cancelling speakerphone, Phono Mode for your favorite vinyl, TURBO Mode to turn it up to 11, and remotely control the Turbo X with the RIVA Ground Control app for iOS or Android.
Powerful portable water resistant Bluetooth Speaker with huge sound that is perfect for the outdoors, parties and events.
Make music social with Ultimate Ears BOOM — the 360-degree wireless speaker made to rage, riot, party and play the music you love, out loud.