Home audio equipment sure has evolved over the past decade or so. Gone are the days of boomboxes and compact stereos ruling your office, dorm and den bookshelves. Now, thanks to Bluetooth technology, you can stream pretty much whatever you want from your mobile device or computer to tiny speakers that sound as good, if not better, than their clunky ancestors. Speaker makers have been pretty creative in designing their various Bluetooth offerings. Here are a few of the best Bluetooth speakers I've seen so far. As with all of my gadget posts, check back in the future as I will be adding more to this gallery as I come across them.
Bluetooth Speakers
(Click on each image for more product details including purchasing information)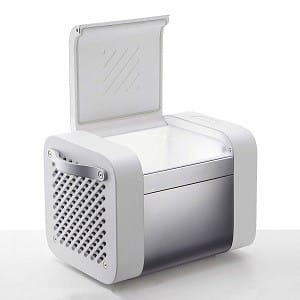 KUBE Bluetooth Speaker with 37qt Cooler Storage
KUBE is a portable, wireless audio system that sounds like nothing else. Designed for taking great sound outdoors, it complements the space around you instead of competing with it. The result is a rich, full sound that makes any outdoor environment more inviting.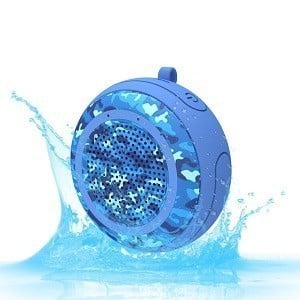 Waterproof Bluetooth Swimming Pool Floating Speaker
For Every Occasion,enjoy your music on the way, everywhere you go. It is pleasant enough to help you relax. Perfect for home, dorm room, kitchen, bathroom, car, beach, and parties. Rugged, buoyant, and portable size makes a worry-free experience that floats in any water environment for river rafting, swimming pools, and indoor showers. High definition dual 5W audio drivers with passive subwoofer for high quality audio.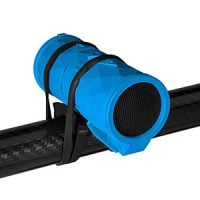 If you are on your lightweight bicycle barreling down the same road as two-ton SUVs and distraction-filled minivans, does it really seem like a good idea to have headphones in your ears? You have to be more aware than they are because, let's face it, sharing the road with cyclists is not top of mind for most drivers in this country. But just because you choose to be healthy and environmentally conscious doesn't mean that you should lose out on all of the Bluetooth(R) functionality of the average new vehicle, does it?Thanks to the Buckshot 2.0 Bike Speaker, you don't have to. The Buckshot is a pint-sized portable, waterproof, shockproof wireless speaker that can be securely mounted to your bike's handlebars. With its 20-hour battery life, built-in microphone, and louder-than-ever sound quality this speaker will stream your tunes and answer all your calls on your longest of rides.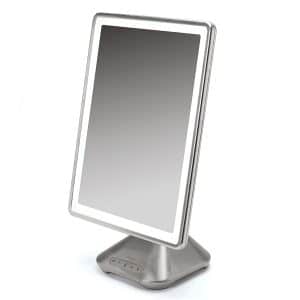 iHome Portable, Adjustable Vanity Mirror with Bluetooth Audio, Hands-Free Speakerphone, LED Lighting, Siri & Google Voice Assistant USB Charging
Look your best while enjoying your favorite music anywhere you like. The iCVBT10 distortion free mirror is ideal for the best beauty routine and detailed grooming. Bright accent LEDs with high and low settings provide natural looking light for a look that's right in any situation. Stream audio wirelessly via Bluetooth from your mobile device. iCVBT10 Built-in mic, digital voice echo cancellation and answer and end controls make speakerphone use a pleasure. Siri & Google Now support iCVBT2 to enjoy voice control features like playlists, weather, news and other requests. 1 Amp USB port to charge mobile devices. The bright LEDs and audio work independently while operating on the included AC adapter. Rechargeable Lithium Ion battery so it can be used on the go.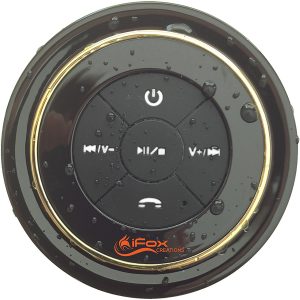 iFox iF012 Bluetooth Shower Speaker
rCertified Waterproof – Wireless It Pairs Easily To All Your Bluetooth Devices – Phones, Tablets, Computer, Radio.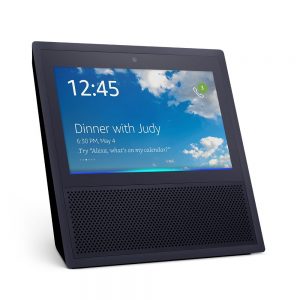 Voice responses from Alexa are now enhanced with visuals and optimized for visibility across the room. Call or message your family and friends that also have an Echo or the Alexa App, get the news with a video flash briefing, see your Prime Photos, shop with your voice, see lyrics with Amazon Music, browse and listen to Audible audiobooks, and more. All you have to do is ask.Echo Show has eight microphones and beam-forming technology so it can hear you from across the room—even while music is playing. Echo Show is also an expertly tuned speaker that can fill any room with immersive audio powered by Dolby. When you want to use Echo Show, just say the wake word "Alexa" and Echo Show responds instantly.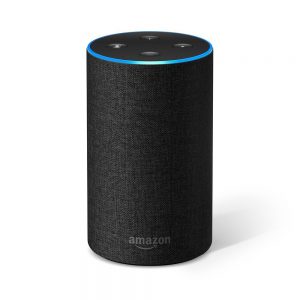 All-new Echo (2nd Gen) has a new speaker, new design, and is available in a range of styles including fabrics and wood veneers. Echo connects to Alexa to play music, make calls, set music alarms and timers, ask questions, control smart home devices, and more—instantly.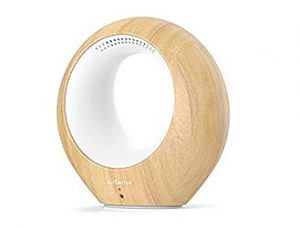 AirSense Smart Air Quality Monitor & Ion Purifier, Two-way Speakers, Millions of Light Colors, VOC, Temp & Humidity Detector
AirSense is especially useful for families with babies, young children, pets, or anyone with chronic illnesses and can help remove the allergens in the air. Track the room temperature, humidity levels along with any traces of VOC's and instantly act on information provided.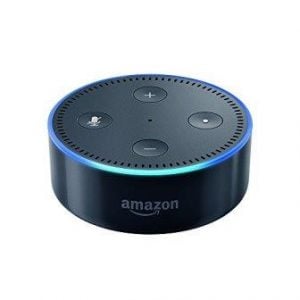 Echo Dot is a hands-free, voice-controlled device with a small built-in speaker—it can also connect to your speakers or headphones over Bluetooth or through a 3.5 mm audio cable to deliver stereo sound to the speakers you choose. Dot connects to the Alexa Voice Service to play music, make calls, send and receive messages, provide information, news, sports scores, weather, and more—instantly.Echo Dot can hear you from across the room, even while music is playing. When you want to use Echo Dot, just say the wake word "Alexa" and Dot responds instantly. If you have more than one Echo or Echo Dot, Alexa responds intelligently from the Echo you're closest to with ESP (Echo Spatial Perception).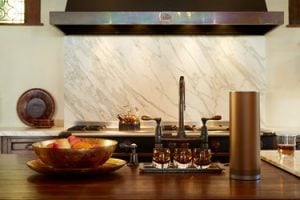 Stelle Audio Pillar Bluetooth Speaker
The Stellé Audio Pillar is the perfect union of stunning sound and chic style for the home, office or anywhere life takes you. Designed to bridge the gap between music, design and technology, the unique Audio Pillar complements an array of décor styles and provides unparalleled sound quality. Its features easy-to-use controls, dazzling 360-degree sound, a 15-hour rechargeable battery and a speakerphone for hands-free calls. The Pillar's reliable Bluetooth technology allows users to instantly connect with any Bluetooth enabled device, such as smart phones, tablet and computers.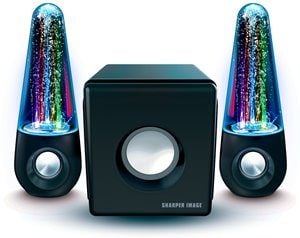 Sharper Image SBT5002 Water & Light Show Bluetooth Streaming 2.1 Speakers With Subwoofer & Beat Responsive Dancing Lights
Create a dazzling display of lights and music with the Lightshow Water Bluetooth Speakers from Sharper Image with built-in AC power to plug to any outlet. Also can be used as computer/Laptop speakers! Sync the subwoofer to any Bluetooth enabled device, and connect each water speaker to not only play the best music, but to put on a captivating light show right in the family room. The powerful subwoofer has adjustable bass levels, so each song can be fine-tuned for ultimate listening. Features: equipped with Bluetooth 4.0 technology for easy pairing. Multicolored LED lights reflect under water jets. Water Fountain effect performs a spectacular light show. Powerful subwoofer has adjustable bass levels.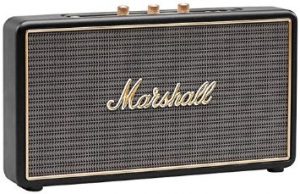 Stockwell Bluetooth Speaker by Marshall
Built for life on the road, the Stockwell is the smallest travel speaker made by Marshall today. This portable active stereo speaker will go wherever you want it to. Rechargeable lithium-ion batteries are built into the Stockwell, which give it 25 hours of playing time. The handy USB port also allows you to charge your devices when you're on the go. The Stockwell packs a sonic punch, with two 2.25" woofers and two Class D amplifiers, making it the loudest speaker in its class. Volume, bass and treble can be adjusted quickly and easily with the retractable analog control knobs located at the top of the speaker. Using the Stockwell to receive and end phone calls is a breeze, just tap the phone button on the control panel to answer, or tap it again to end a call. Bluetooth 4.0 technology and a 3.5mm input means connecting your listening device is super easy. Includes a multi-functional flip cover for added protection and a little extra style when you're transporting the Stockwell.

Peachtree Audio DEEPBLUE2 Bluetooth Powered Speaker
There are a lot of options out there in the world of Bluetooth powered speakers- some have flashing lights, some look like pharmaceuticals, and some are so small they could get lost in the couch cushions. What's been missing though is a seriously good sounding speaker for people who love music: Meet the deepblue2.Concealed in its understated cabinet is a truly excellent loudspeaker system capable of producing the sort of sound normally reserved for large component systems. It starts with the loudspeakers. Unlike many systems that ask a single speaker to handle the entire sonic spectrum, the deepblue2 uses a midrange and tweeter for each channel along with a shared 6.5″ subwoofer. Vocals sound clean and precise, and deep bass tones have a room-filling presence that will leave you smiling. Even great speaker can sound lackluster at low volumes though, so we included a very clever "loudness" curve for the deepblue2. At low volumes, the amount of deep bass and treble is increased slightly to compensate for the ear's relative lack of sensitivity to those tones. As volume increases, this added boost flattens out so that deepblue2 sounds more balanced at high volumes. Speaking of volume, the deepblue2 is capable of playing VERY loudly- over 102 dB in a typical room! More than enough to get a party on its feet.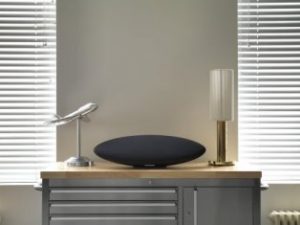 Bowers & Wilkins Zeppelin Wireless
Zeppelin Wireless delivers a whole new standard in wireless home audio. Hi-Fi quality drive units, advanced digital processing, and a new, incredibly rigid body are combined with amazing connection options in the form of AirPlay, Bluetooth aptX, and Spotify Connect to ensure that Zeppelin Wireless is the best sounding, best looking, best built Wireless speaker available.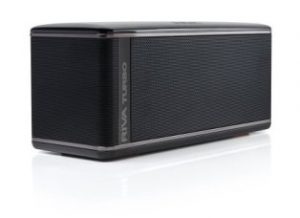 RIVA TURBO X RTX01B Premium Wireless Bluetooth Speaker
RIVA Turbo X delivers a new philosophy of sound with RIVA's patented Trillium audio technology for truly immersive sound and Trillium Surround for an enhanced movie and gaming experience. Packed with 45 watts of power, a 26+ hour battery playing time, Charge Out for your phone or tablet, a high performance echo cancelling speakerphone, Phono Mode for your favorite vinyl, TURBO Mode to turn it up to 11, and remotely control the Turbo X with the RIVA Ground Control app for iOS or Android.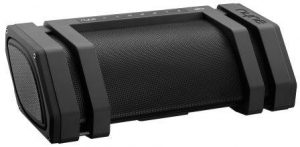 NYNE ROCK Splashproof Portable Wireless Bluetooth Speaker
Powerful portable water resistant Bluetooth Speaker with huge sound that is perfect for the outdoors, parties and events.


UE BOOM Wireless Bluetooth Speaker – Superhero
Make music social with Ultimate Ears BOOM — the 360-degree wireless speaker made to rage, riot, party and play the music you love, out loud.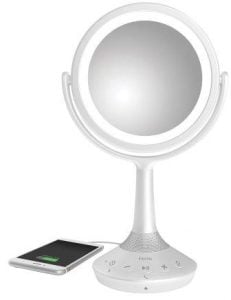 iHome Vanity Mirror with Bluetooth Audio Speakerphone and USB Charging
Look your best while enjoying your favorite music anywhere you like. The distortion free mirror has a 1x and 5x magnification for the best beauty routine and detailed grooming. Bright LEDs with high and low settings provide natural looking light for a look that's right in any situation. Stream audio wirelessly via Bluetooth from your mobile device (iPad, iPhone, iPod touch, Android, Windows smartphones). Built-in mic, digital voice echo cancellation and answer and end controls make speakerphone use a pleasure. USB port to charge mobile devices. Aux jack with included audio cable connects to most audio devices so you can enjoy your favorite music while getting ready. The bright LEDs and audio work independently while operating on the included AC adaptor.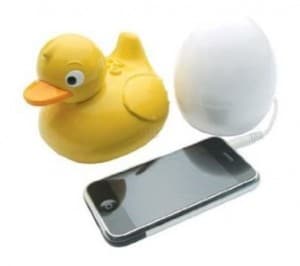 IDuck – Waterproof Radio and Wireless Speaker
Fill up the bath, switch on, lie back, enjoy…. Your music collection will be streamed wirelessly from your mp3 player, mobile phone, or any other audio source via the egg shaped transmitter. The cute little waterproof duck will cleverly play all your music in the bath, without the need for wires. When you're tired of listening to your music there is also an onboard radio. Features wireless FM transmittion via an egg shaped transmitter; all you need do is plug in the 3.5mm connector into your music player, and away you go.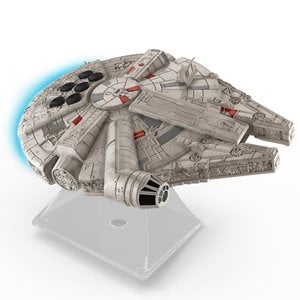 Star Wars Millennium Falcon Bluetooth Speaker
The ship that made the Kessel run in less than 12 parsecs is back! Han Solo and Chewbacca's famous ship is back and ready to blast Tie Fighters and your music. Delivering powerful sound via Bluetooth this will make the life of any party whether Star Wars themed or not. Powered by a lithium-ion battery it could out run a Star Destroyer. Lights up when in use and can answer and end calls via speakerphone so you can stay right where you are and enjoy your music.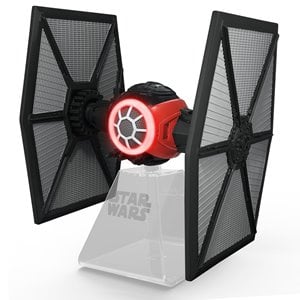 Star Wars Tie Fighter Bluetooth Speaker
Wirelessly stream audio anywhere up to 30 Feet. Connects with all Bluetooth tablets and smartphones. Has Aux line-in jack to play audio form devices equipped with a 3.5mm headphone jack.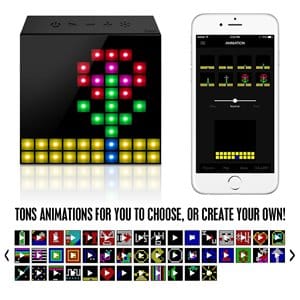 DIVOOM AURABOX Bluetooth 4.0 SMART LED Speaker with APP Control for Pixel Art Creation and Animation and Social Media Notification
Advanced instant notification system; social media, and incoming calls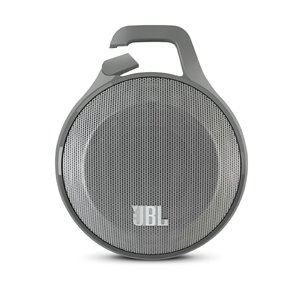 JBL Clip Portable Bluetooth Speaker With Mic
Ultra-compact high-performance audio Stream Bluetooth music and calls wirelessly and accurately Ready-to-wear audio with integrated carabiner 5-hour rechargeable battery life.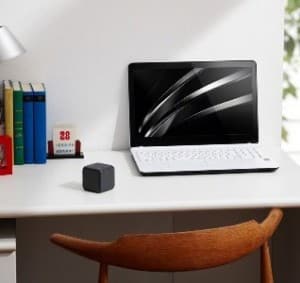 Sony SRSX11 Ultra-Portable Bluetooth Speaker
Introducing featherweight sound with heavyweight punch that's always ready for the moment. Easily connect compatible Bluetooth devices using NFC and wirelessly stream rich sound or hands-free calls with up to 12 hours of battery life. Easily double your audio enjoyment with enhanced stereo sound, simply by pairing a second unit.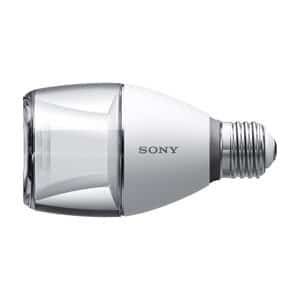 New experience light bulb becomes speaker Dining and living room, just to replace the bulb and LSPX-100E26J of lighting fixtures, such as the bedroom, such as troublesome wiring you can enjoy, such as without the need music. The miniaturized to the size equivalent to a normal LED bulbs, and by employing a simple body design, also penetration naturally interior of the room. If used as a ceiling lighting, music pours from the top along with the light, you can enjoy a new sensation.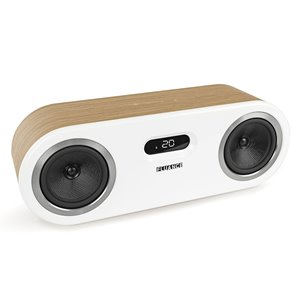 Fluance Fi50 Two-Way High Performance Wireless Bluetooth Premium Wood Speaker System
Transport the concert into your home with the Fluance Fi50 High Performance Bluetooth Wood Speaker System. The Fi50 combines Fluance sound quality and wireless Bluetooth connectivity together into one powerful and elegant audio system. With superb sound radiation and rich timbre, this system is ideal for any audiophile and can handle even the highest volume levels with outstanding clarity. The Fi50 provides a pure listening experience that recreates the performance the way the artist intended.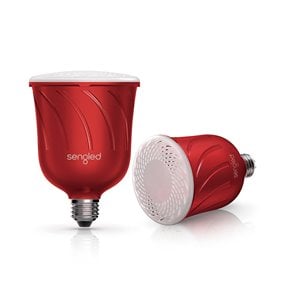 Sengled Pulse Dimmable LED Light with JBL Wireless Bluetooth Speakers
Be the master of any mood with app-controlled speaker bulbs. Simply twist the Pulse Master bulb and Satellite bulb (included) into any 5-6" recessed cans or other standard light fixture to fill the room with high-quality JBL audio and dimmable soft white light.
These Bluetooth speaker bulbs are ideal for streaming background music into your kitchen, living room, or other gathering spaces; and are a fuss-free solution for hard-to-wire places such as cabins or rentals. Pair to a Bluetooth-enabled iOS/Android device for customized dimming, brightness and volume control.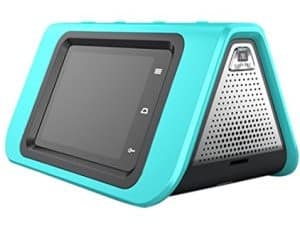 Drifter Waterproof Smart Speaker
Bring your music along with Drifter, the rugged waterproof speaker that can download & stream music without your phone. Drifter comes with a built in operating system that allows you to connect to wifi and stream music from the web's most popular platforms. Download that music on to the device right from Spotify, Beats, Apple Music, and others, to take it with you wherever in even the most extreme conditions.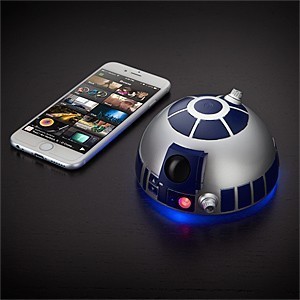 Star Wars R2-D2 Bluetooth Speakerphone
R2-D2 has all sorts of surprises inside him. He's got plans and a message from Princess Leia, Luke's lightsaber, rocket jets, and a real mean streak (hey, he flat out kills another droid in an episode of Clone Wars). He also has a bunch of these speakers inside, so he always has a gift ready for new people he meets.
Recliner with Built-In Bluetooth Speakers
Slender, rounded track arm with outer pocket and speakers. Tall back with padded headrest and decorative button tufting. Plush seat cushion over high legrest. Power recliner. Pocket for magazines.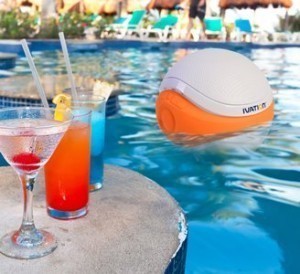 Waterproof Bluetooth Swimming Pool Floating Speaker
Imagine spending the perfect summer day in the sun: Feet dangling in cool swimming pool waters, cocktail in hand, and Deep Purple's 'Smoke on the Water' emanating from the Ivation Waterproof Bluetooth Swimming Pool Floating Speaker. A host of advanced features makes our PoolPower such a great accessory to a fun, relaxed day: The latest Bluetooth 3.0 technology ensures uninterrupted streaming from most any device from up to 33 feet away Fully waterproof seals all around the enclosure keep speaker, controls, batteries and lights completely dry and water safe Flotation properties keep the ball about 35% above water at all times, allowing the speaker to fire straight up without any sound barriers Incredibly cool blue mood lighting sets the aqua ambience and makes the ball easy to locate when swimming at night The PoolPower amplifier is powered by 6 AA batteries (not included) and cranks out a splashing 5 watts of crystal-clear sound.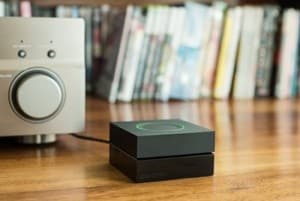 Gramofon – WiFi Music Player for your Speakers (Featuring Spotify)
Gramofon is a Wi-Fi device that allows you to play music via Wi-Fi from the internet directly onto your sound system. Plug it to your speakers and connect it to the internet and you are set.
No need to buy new speakers.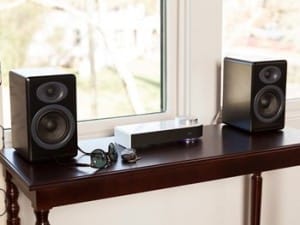 Griffin Twenty Bluetooth Digital Audio Amplifier for Household Speakers
Twenty is a digital amplifier for your speakers that receives Bluetooth or optical audio streaming from your phone, tablet or computer.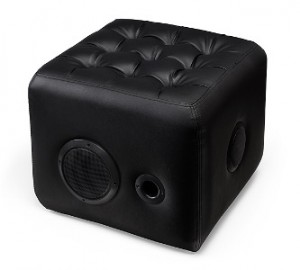 Ottoman with Built-In Bluetooth Speakers
The Sound Lounge is a stylish ottoman with an integrated Bluetooth receiver, which combines big, wireless sound with a timeless look. Take a seat or kick up your feet, and stream music using your Bluetooth-enabled smartphone, tablet, or computer. Its ported subwoofer and side stereo speakers deliver a rich, defined low-end and fill any room with multidimensional sound. Plus, you can connect up to four Sound Lounges via the aux inputs and outputs for even more versatility. The Sound Lounge even has a zippered storage space underneath (to keep your hidden stuff hidden). Suleiman the Magnificent would have loved the Sound Lounge! (That's an Ottoman Empire joke for those of you keeping score).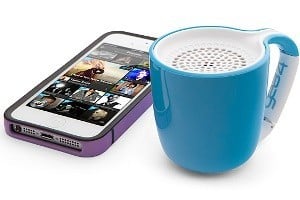 Cup of Mojo Bluetooth Speaker
Available in many stunning colors that are fun and bold, the Cup of Mojo Bluetooth Speaker is the perfect accompaniment to any smartphone, tablet, computer, or anything else with Bluetooth. Enjoy the loud, clear, acoustics whether you're at home, by the BBQ, in the park, or in your local coffee shop (possibly annoying many other patrons). Clip the Cup of Mojo Bluetooth Speaker anywhere with the integrated handle carabiner clip, and you'll always have your tunes when you need them most (especially, during afternoon tea).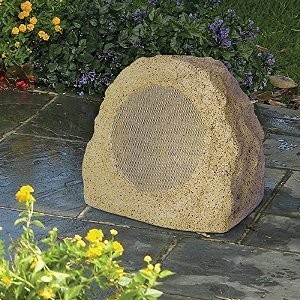 ION Rock Speaker Bluetooth Outdoor Wireless Garden and Patio Speaker
These compact, attractive speakers go anywhere because they're powered by a built-in long-lasting rechargeable battery and they don't attract any attention because they look like natural rocks. They're IPX4 water-resistant and work off a wireless signal from your Bluetooth device to play continuous music that will delight everyone.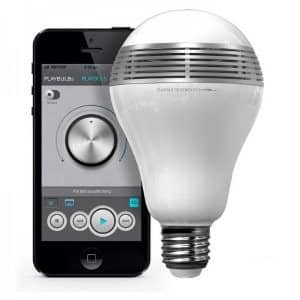 PLAYBULB Bluetooth Wireless Smart LED Speaker Light Bulb
PlayBulb is a fresh new Bluetooth® Smart LED speaker light allowing you to combine your light with music and control via app from your mobile device. Bluetooth Smart enabled wireless light and speaker is ideal for student dorms, apartments or around the house. Own it, live your life with fewer limits.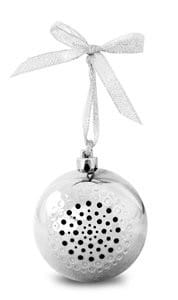 Life Made Tree Tunes Christmas Ornament Bluetooth Speaker
Enhance your holiday season and enjoy your favorite tunes with the Tree Tunes Bluetooth Ornament Speaker–all while it shines and blends with other ornaments from your Christmas tree. With a 30 foot wireless range you can play your music while also celebrating the holiday with your family. This speaker connects to any Bluetooth enabled device and also comes with a 10 foot charging cable and hanging hook. Make this holiday season special and let your Christmas tree sing.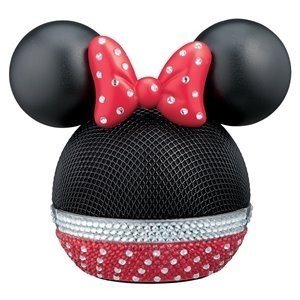 eKids Minnie Mouse Bluetooth Speaker
This simply sparkling Minnie Fashion Bluetooth Speaker looks and sounds great anywhere. The crisp sound is perfect for your music, games or apps. An auto-pairing and linking feature makes Bluetooth setup simple and fast. The built-in lithium-ion battery is rechargeable, so you can enjoy music on the go without having to worry about batteries. Recharge your speakers with the included 2-in-1 audio/charging cable. Add sparkle and shine to your house with Minnie Mouse!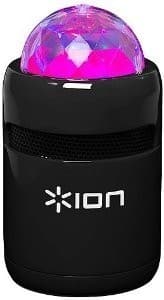 ION Party Starter Portable Bluetooth Speaker With Built-In Light Show
Party Starter is a powerful full-range speaker with colorful beat-sync'd lighting that makes any place into a party space. Plus, it's wireless! Connect wirelessly to Party Starter with any Bluetooth music player or smart device, crank up the volume, and let the light show begin.

SoundSOUL Fountain Dancing Bluetooth Speakers
Party Starter is a powerful full-range speaker with colorful beat-sync'd lighting that makes any place into a party space. Plus, it's wireless! Connect wirelessly to Party Starter with any Bluetooth music player or smart device, crank up the volume, and let the light show begin.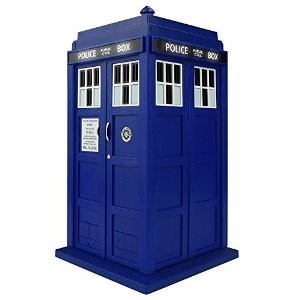 Dr Who Tardis Bluetooth Speaker
Great for Dad Birthday Gifts Anniv. Gadgets Merch Toy Geek Nerd Collectibles.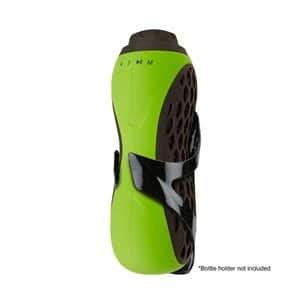 iwerkz Bottle Blaster Bluetooth Bike Speaker
Rock those trails with the iwerkz Bottle Blaster Bluetooth Speaker. Perfect for biking, hiking, camping, fishing, road trips – wherever you roam this speaker goes with you. Water resistant, with a rugged casing, the Bottle Blaster is built for adventures. Designed to fit inside a standard bike water bottle holder, this speaker also fits into most backpack water bottle pouches. The soft-touch case not only feels and looks great, but was designed to grip and sit securely in your water bottle holder as you ride and bounce through nature. The Bluetooth controls allow you to control your music even when your phone is safely tucked away, while the top volume control knob makes cranking your music a simple task while riding. Unlike other toy speakers, the Bottle Blaster is a truly stellar portable speaker. With two separate 3w high-quality speakers your music sounds great even when you're away from your home audio system. Soak up the jams while you soak up nature with the iwerkz Bottle Blaster Bluetooth Speaker!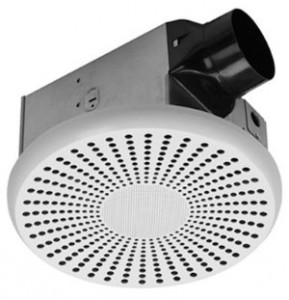 Homewerks Bath Fan With Bluetooth Speaker
Bath Fan & speaker in 1, 90 cfm will provide greater air movement along with 1.5 sones makes the Fan quite, warm full speaker that contacts to most Bluetooth enabled smartphones, tablets & laptops, strong clear signal up to 30′ away.
Unrivaled JBL sound with two high–performance drivers and a built–in bass port for clear, room–filling sound. The name "JBL" carries with it a reputation for quality sound with lifelike clarity and detail. Two 40mm drivers and a custom–tuned bass port provide room–filling sound with the high–fidelity sound reproduction you'd expect from a JBL product. Unrivaled JBL sound with two high–performance drivers and a built–in bass port for clear, room–filling sound. The name "JBL" carries with it a reputation for quality sound with lifelike clarity and detail. Two 40mm drivers and a custom–tuned bass port provide room–filling sound with the high–fidelity sound reproduction you'd expect from a JBL product. Built–in audio and visual experience with programmable LED lights that pulse to your music – wherever you want it to be. Not only is it great to be free to take your music with you – wherever you want it to go but to provide it – wirelessly – in a portable design that also livens up any get–together with a Multi–LED light show?

BOOM Swimmer Waterproof Wireless Bluetooth Speaker
WATERPROOFThe SWIMMER is IPX7 Rated, meaning it can be immersed in a meter of water for 30 minutes with the tail on. Feel free to take it with you in the pool, the ocean, or even the shower. Soak it.FLEXIBLE TAILOn the back of the SWIMMER is a R4A tail, that can be looped, twisted or snaked for endless mounting possibilities. Adapt it.SUCTION CUPSimply unscrew the SWIMMERs tail and attach the suction cup to any flat surface for upgraded bass. Bump it.LITHIUM ION BATTERY2 hour charge time gives you 8 hours of playback at maximum volume, or 16 hours at half volume.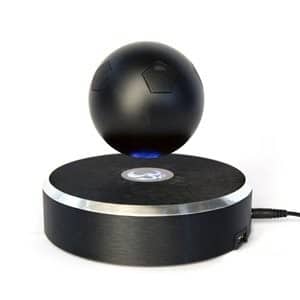 OM/ONE Levitating Bluetooth Speaker
In a world filled with speakers that look and sound the same, OM/ONE is a paradigm shift. Designed by a team of world class industrial designers and audio engineers, OM/ONE is as functional as it is beautiful.

Philips StarMaker Wireless Bluetooth Portable Speaker & Wireless Karaoke Mic for iPad
With the Philips AEA7100 Bluetooth Speaker and Wireless Microphone, you can put on your own concert using your iPad or simply stream and enjoy your music wirelessly with the Bluetooth speaker. This versatile wireless microphone and Bluetooth speaker set comes with the StarMaker app to keep you in sync with the music beat. It also includes free hit songs to get you started, a battle mode to compete with friends and family, and the option to share your recordings via Facebook, Twitter, and email.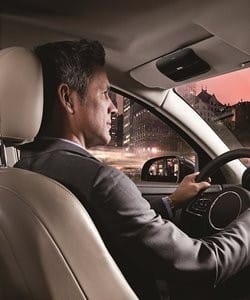 Jabra FREEWAY Bluetooth Speakerphone
One of the first in-car speakerphones to have 3 speakers coupled with Virtual Surround Sound. Sound so clear, you'll think you're talking to a passenger in the car. Also great for playing your favorite music. Prefer your car's sound system? Just use the FM transmitter to send music and calls directly to your car radio. Dual-mic technology filters out everything but your voice. Background noises and honking cars disappear, so the other side hears you loud and clear.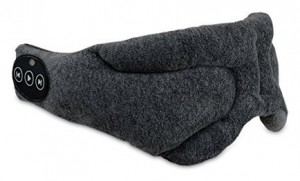 Bluetooth Music and Phone Sleep Mask
The Sleep Tunez is the sleep mask with built-in wireless speakers that allow you to listen to music while falling asleep or traveling without disturbing others. The speakers connect to a smartphone or any Bluetooth device up to 50′ away, enabling you to fall asleep to a preferred music collection. Three buttons on the side of the mask adjust the volume, select the next or previous song, turn the unit on or off or answer your phone calls. The sleep mask is made from smooth microfiber lined with soft foam that is impervious to light and comfortable against the eyes. A microphone built into the unit's control module enables you to answer incoming calls.
>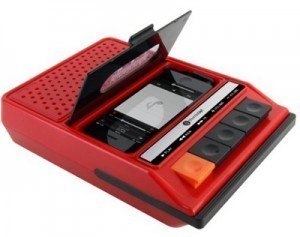 Thumbs Up UK iRecorder Retro Speaker for iPhone
This retro tape recorder is actually a working speaker for your iPhone! Miss the days of leggings, fluro and leather jackets? Of course you don't – they have all come back with a vengeance. However, you might be missing your old tape recorder!! As technology improves, music boxes are getting smaller and smaller -but where is the opportunity to express yourself with your choice of ghetto blaster. Now you don't have to give up your iPhone to be retro cool -the iRecorder is an old-school style speaker for your phone! It comes with real working buttons, a USB charging socket and a pull out carry handle. Pump up the volume!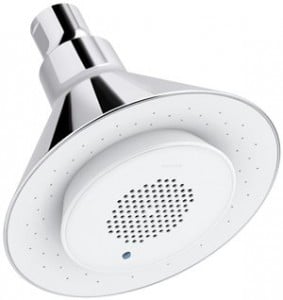 KOHLER Moxie Showerhead and Wireless Speaker
Sync your device enabled with Bluetooth technology with the wireless speaker from up to 32 feet away.-Speaker plays wirelessly in or out of the shower, use it in the kitchen or take it to the beach.-Docking securely into place, the magnetic speaker pops in and out of the showerhead for easy recharging.-Built-in lithium-ion battery provides 7 hours of uninterrupted play.
Edifier Tick Tock Bluetooth Alarm Clock
Waking up has never been made easier. Tick Tock Air, one of Edifier's Tick Tock series allows for any Bluetooth enabled device with alarm capabilities. The retro designed alarm clock features a front firing speaker and two 360 degree omni-directional tweeters allow for multi-directional rich sound that can be controlled with ease using the navigation, input selection and volume control buttons located on the top of the clock. Tick Tock Air also come with an auxiliary input jack and FM radio for other media applications.
This is the only portable Bluetooth speaker that plugs in flush with a wall outlet for unobtrusive music listening. Two prongs built into the back of the speaker plug directly into an outlet, providing a smartphone-sized speaker that eliminates the need to run cables or take up space on a shelf. The speaker streams audio from any Bluetooth device up to 25′ away, allowing you to listen to music while your device is in another room.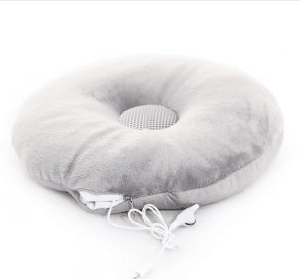 Speaker Pillow for iPhones and iPads
This pillow is a unique combination of comfort and sound without headphones so you can easily drift off to sleep while enjoying your favorite music or soothing sounds.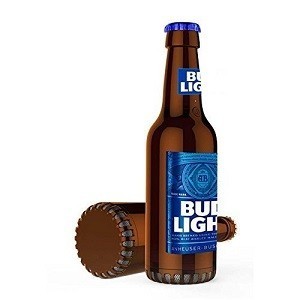 Bud Light Bluetooth Bottle Speaker
The Bud Light Bottle speaker is created to look just like your glass Beer. With its unique design, the Bottle has the height and weight of an actually BudLight glass Bottle. Now you can connect your device to this unique speaker via Bluetooth, never bother with long tangled wires! Just charge up and take your Bottle speaker wherever you can think of. Whether its the beach, pool, picnic, or just hanging with the friends, bring life to the party with the one of a kind Bud Light Bottle speaker.
Note: Some of these links may be affiliate links. For a list of the programs I belong to, please visit my disclosures page