Today's showcase features a number of kitchen gadgets  and devices that are sure to change the way you cook forever…
Few areas of the home have been as impacted by digital home revolution we are now all experiencing as the kitchen. Established brands, tech giants and creative startups are all focused pretty heavily on creating kitchen devices that help make our cooking and eating more efficient and convenient.
From refrigerators to spoons to garbage cans, nothing in the kitchen is off-limits from the internet of things. It seems like everyday someone is figuring out how to address a kitchen challenge with technology or add wifi smarts to an otherwise traditional kitchen tool. I've scoured the internet and bring you my collection of the most creative digital kitchen gadgets I could find.
Kitchen Gadgets and Devices
(Click on each image for more product details including purchasing information)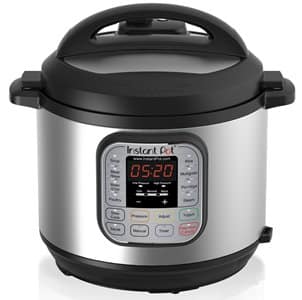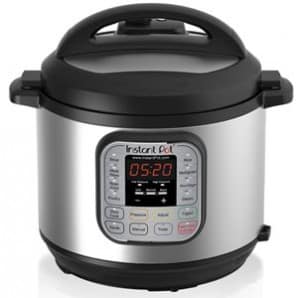 Instant Pot is a smart Electric Pressure Cooker designed by Canadians aiming to be Safe, Convenient and Dependable. It speeds up cooking by 2~6 times using up to 70% less energy and, above all, produces nutritious healthy food in a convenient and consistent fashion. Instant Pot Duo is a 7-in-1 programmable cooker, it replaces 7 kitchen appliances as it has the functions of a pressure cooker, slow cooker, rice cooker, steamer, sauté, yogurt maker & warmer. 14 built-in smart programs cook your favorite dishes with the press of a button. A 24-hour timer allows for delayed cooking. Automatic keep-warm holds the temperature of the food until you serve it. Instant Pot generates almost no noise and leaks no steam. Instant Pot is carefully designed to eliminate many common errors that could cause harm or spoil food. It passed the stringent UL certification giving you uncompromised safety and peace of mind and protects you with 10 proven safety mechanisms and patented technologies.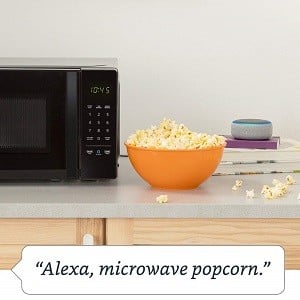 AmazonBasics Microwave simplifies cooking by letting you microwave using your voice and an Echo device. Just say, "Alexa, reheat one cup of coffee," and Alexa will start reheating with the appropriate power and time settings. Quick-cook presets mean there's no need to guess cook times or heat levels when you're defrosting peas or microwaving a potato. Plus, Alexa is always getting smarter and adding new presets
Note: Some of these links may be affiliate links. For a list of the programs I belong to, please visit my disclosures page.