Today's showcase features a number of kitchen devices, accessories and gadgets that are sure to change the way you cook forever…
Few areas of the home have been as impacted by digital home revolution we are now all experiencing as the kitchen. Established brands, tech giants and creative startups are all focused pretty heavily on creating kitchen devices that help make our cooking and eating more efficient and convenient.
From refrigerators to spoons to garbage cans, nothing in the kitchen is off-limits from the internet of things. It seems like everyday someone is figuring out how to address a kitchen challenge with technology or add wifi smarts to an otherwise traditional kitchen tool. I've scoured the internet and bring you my collection of the most creative digital kitchen gadgets I could find.
Kitchen Devices, Accessories and Gadgets
(Click on each image for more product details including purchasing information)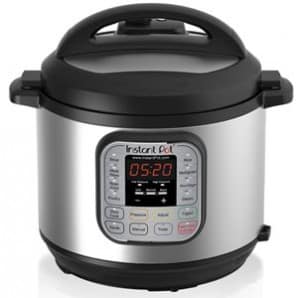 Instant Pot 7-in-1 Programmable Pressure Cooker
Instant Pot is a smart Electric Pressure Cooker designed by Canadians aiming to be Safe, Convenient and Dependable. It speeds up cooking by 2~6 times using up to 70% less energy and, above all, produces nutritious healthy food in a convenient and consistent fashion. Instant Pot Duo is a 7-in-1 programmable cooker, it replaces 7 kitchen appliances as it has the functions of a pressure cooker, slow cooker, rice cooker, steamer, sauté, yogurt maker & warmer. 14 built-in smart programs cook your favorite dishes with the press of a button. A 24-hour timer allows for delayed cooking. Automatic keep-warm holds the temperature of the food until you serve it. Instant Pot generates almost no noise and leaks no steam. Instant Pot is carefully designed to eliminate many common errors that could cause harm or spoil food. It passed the stringent UL certification giving you uncompromised safety and peace of mind and protects you with 10 proven safety mechanisms and patented technologies.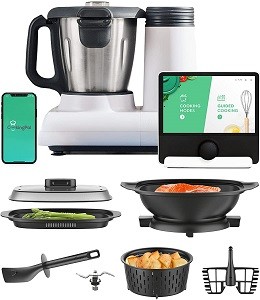 Multo By CookingPal, Smart Compact Countertop Multi-Functional Food Processor With Guided Recipes
Multo is the ultimate, easy-to-use, all-in-one smart kitchen appliance controlled by a dedicated tablet we call "Smart Kitchen Hub". It comes with all accessories you need for over 10 cooking functions and a growing catalog of photo and video-guided recipes updated every week.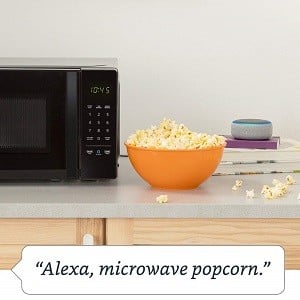 AmazonBasics Microwave, 0.7 Cu. Ft, 700W, Works with Alexa
AmazonBasics Microwave simplifies cooking by letting you microwave using your voice and an Echo device. Just say, "Alexa, reheat one cup of coffee," and Alexa will start reheating with the appropriate power and time settings. Quick-cook presets mean there's no need to guess cook times or heat levels when you're defrosting peas or microwaving a potato. Plus, Alexa is always getting smarter and adding new presets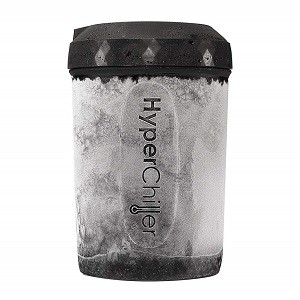 HyperChiller V2 Iced Coffee Maker
The HyperChiller® is the invention of an iced coffee lover, who tried making ice coffee at home with cold brew and pour over ice recipes. After deciding neither of these methods were convenient or easy, he went back to spending time and money everyday buying ice coffee from the coffee shop. Then one day in late 2014 when using his cocktail shaker at home to make a drink, the idea of for the HyperChiller popped into his head.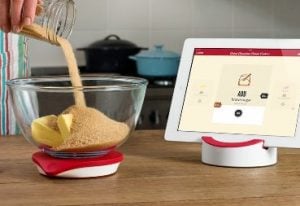 Drop Kitchen Non-Slip Silicone Connected Kitchen Scale and Interactive Recipe App
Together, the Drop Kitchen Connected Scale and Recipe App are an unbeatable combination that help anyone to bake beautiful and delicious creations, regardless of experience.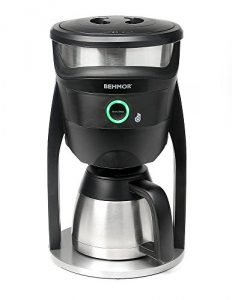 Behmor Connected Customizable Temperature Control Coffee Maker, Compatible with Alexa
Behmor's Connected Coffee Maker enables the user to bring out a coffee's true flavors via brew settings not found on any other coffee maker and controlled easily via a mobile phone app. Enjoy coffee's amazing flavors easily and repeatable, saved and programmable for when you want to enjoy coffee. The Behmor app allows you to easily adjust the brewing temperature, pre-soak time, or select a brew profile and start brewing. The app keeps you informed of the progress of your coffee and texts you when coffee is ready to drink. A button on the front of the brewer allows for brewing without the app based on your favorite brewing profile. In addition to custom brewing control, the Behmor Connected is engineered for optimum coffee extraction and flavor with pulsed water flow from an oversized showerhead onto a flat bottom grounds basket that will fully saturate the coffee grounds. The Behmor Connected utilizes a 1.2 liter double walled thermal carafe to maintain the coffee's temperature. The coffee flavor and ease of settings via a mobile app will have you enjoying coffee easily at home like never before.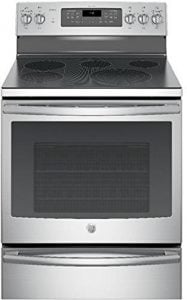 GE Profile Freestanding Range with Wi-Fi
30″ Freestanding Range by GE Profile comes with 5.3 cu. ft. Capacity and Wi-Fi Connectivity. It also features Self-clean, heavy-duty oven racks, Induction Technology, and Fifth Element Warming Zone. Available at AppliancesConnection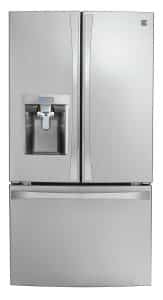 Kenmore Smart 24 cu. ft. French Door Bottom-Mount Refrigerator with Amazon Alexa
Make sure your fresh and frozen favorites are always at hand with the Kenmore Smart 75043 24 cu. ft. French Door Bottom-Mount Refrigerator. Never worry about overcooling foods or leaving the freezer door open again with the easy convenience of the Kenmore Smart app. The Kenmore Smart refrigerator lets you control and monitor operation from anywhere with just your smart phone. Start cranking out extra ice for an impromptu party. Get an alert if someone forgets to close the door. Activate features like Accela Ice and Max Air Filter, plus adjust temperature from anywhere. Monitor temperature, filter life, and door open/close status, and also get alerts with any needs. Built-in diagnostics help prevent unnecessary service by making maintenance easier. The Smart features also provide filter/temperature alerts and airflow control to ensure food and water stay fresher.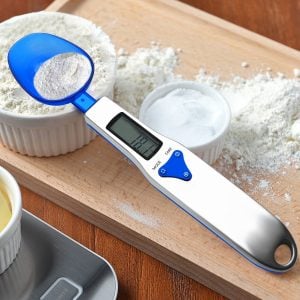 TOPOM Digital Scale Spoon LCD Display Kitchen Spoon Scale with 3 Detachable Weighing Spoons
The electronic measuring spoon with sleek LCD display models, which is clear and easy to read; The digital spoon scale is a versatile kitchen device displaying readings in 4 different units(g, oz, gn, ct)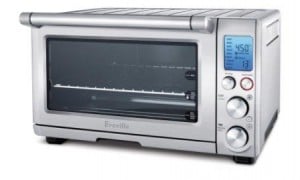 Breville Smart Oven 1800-Watt Convection Toaster Oven
The Breville Smart Oven began with the simple fact that different foods require different methods of heating: some, like baked goods, need to be cooked evenly; others, like meats, need to be seared on top. Most toaster ovens fail to distribute heat in a consistent way throughout their interiors, let alone change heat distribution to suit the different foods being prepared. This is how the Breville Smart Oven stands apart: whatever the food, it adjusts its heat distribution for perfect results.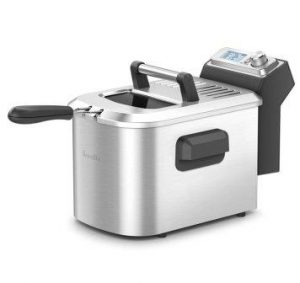 The Breville BDF500XL Smart Fryer 4 Quart Deep Fryer is the first deep fryer with technology that adjusts time and temperature to suit what you're cooking with 7 preset functions. Some foods such as French Fries need to be fried at a higher temperature for longer. While calamari requires a lower temperature for a shorter time. Simply select what you are cooking and this smart appliance will deliver the right temperature at just the right time. The Smart Fryer also includes a twice-fried function for restaurant quality French Fries and makes adjustments for fresh or frozen ingredients. And the custom setting allows you to program your favorite dish.
Breville the Smart Waffle Batter
Good waffle batters start with sticky ingredients. How do you make crispy golden waffles without the mess ? The wide wrap around moat catches and cooks overflow for easy cleanup. Browning control for customized waffle cooking from light and fluffy to crispy golden brown.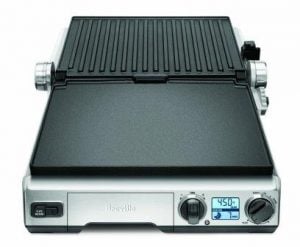 Outdoor grilling has found a new home on your countertop. Better heat control and recovery with embedded elements, removable plates. Open the grill all the way for BBQ mode. The art of indoor grilling re-envisioned with intelligence, fast response and easy cleaning.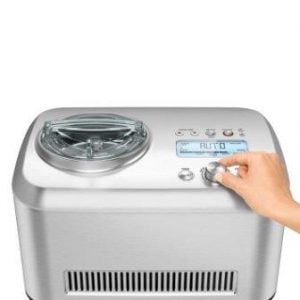 Breville Smart Scoop Ice Cream Maker
The BCI600XL Smart Scoop is Breville's easy to use ice cream maker with automatic hardness settings. It's the first ice cream maker that automatically senses the hardness of the mixture based on your selection and keeps it ready until it's time to serve. The Breville BCI600XL Smart Scoop is made of BPA free materials, features a child lock, and when your dessert is ready will sound an alert beep or one of three musical tunes.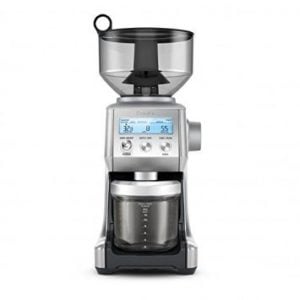 Breville Smart Coffee Grinder Pro
With 60 unique settings, this programmable conical burr grinder maximizes the potential of any brew. Choose between 'cups' for French Press or Filter and 'shots' for Espresso to get the right dose for the coffee you're brewing. Grind directly into a portafilter or an air-tight container.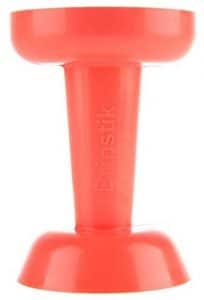 Dripstik No Mess Ice Cream Cone
Great for Birthday Parties or Traveling! Keeps kids' clothes clean by catching the sticky drips from ice cream cones or any frozen treat on a stick. THREE products in one: One end holds frozen treats on a stick. Flip the Dripstik over and the other end holds ice cream cones in almost any size and variety. Also makes frozen Popsicle treats! Fill the reservoir with juice, insert the stick attachment, freeze then enjoy! Saves parents time from cleaning up colorful puddles from forgotten desserts. Makes an easy birthday party favor! Serve ice cream without stressing about guests making a mess, then simply send the Dripstik home with them. Perfect for road trips. Indulge your children with stops at ice cream shacks without worrying about the upholstery. Let them get the cone instead of a cup and spoon. Helps disabled or elderly persons, letting them enjoy ice cream with self-sufficiency. Durable, soft plastic is long-lasting and easy-care — simply pop into the dishwasher!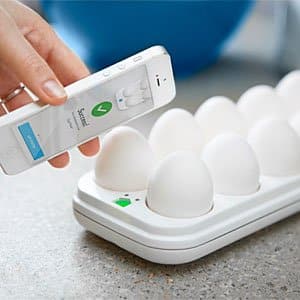 Eggminder Internet Connected Egg Tray
Quirky and GE comes the Wink Egg Minder Smart Egg Tray that adds a new level of intelligence to your everyday lives and the kitchen. The Egg Minder features a built-in Wi-Fi chip to allow it to sync up to your smart device via the Wink app. Once paired with your smartphone or tablet you can now open the app from anywhere to view how many eggs you have which can be incredibly handy on impromptu grocery shopping trips or if you simply just don't think to check on your egg count before heading out the door. This alone is very convenient but the Egg Minder can still do more. In the actual egg crate next to each egg is an LED light that will alert you to which egg of the bunch is the oldest and should be used next and when that egg is removed from the Egg Minder the next oldest will be indicated and so on. The Egg Minder will also communicate with you through various push-notifications to alert you to when an egg has gone bad, an egg is close to going bad, and even set the Egg Minder to notify you when you are running low on eggs. The Wink app will allow you to choose at what amount of eggs left you want to be notified since a family of five is more likely to run out of eggs quicker than someone living on their own. Up to 14 eggs can be stored in the Egg Minder at one time and to keep the eggs safe while in your refrigerator it also comes with a protective covering. It is powered by two AA batteries (included) and is compatible iOS 6 and above, iPhone 4 and above, and Android OS 2.2 and higher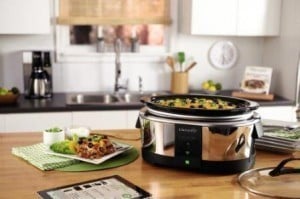 Belkin WeMo Wifi-Enabled Smart Crockpot
Adjust cooking time- temperature- shift to warm or turn off using the Free WeMo App from your smart device Free WeMo App available for Apple(iOS 7 and higher) and Android(4.0 and higher) devices Connect from anywhere with 3G / 4G / Wi-F 6-quart capacity- cool-touch handles and built-in cord storage Dishwasher-safe stoneware and glass lid.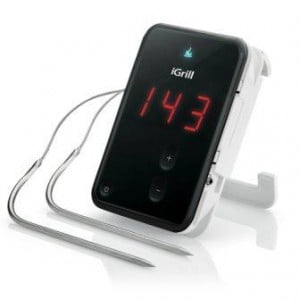 Whether you're an award winning pit-master or a novice backyard griller, the iGrill2 Bluetooth Smart Grilling Thermometer makes grilling and smoking easier, more convenient and a whole lot smarter. With a 150 foot Bluetooth Smart range, you can get back to your guests and keep a close watch on the temperature progression of your meat from your mobile device, using the free iDevices Connected app. You'll receive an alert once the meat is cooked to perfection. This iGrill2 is packaged with four Pro Meat probes so you can monitor multiple pieces of meat at once. You'll never want to cook any other way, and with the iGrill2, you won't have to. Now, you can grill and smoke meats with the precision you've always dreamed of.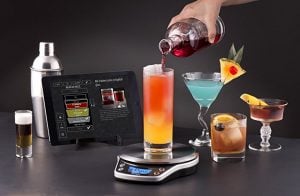 Perfect Drink PRO Smart Scale + Recipe App – Mix Perfect Cocktails at Home
Meet your personal at-home bartender, Perfect Drink PRO! This smart bartending system allows anyone to make world-class cocktails at home. Connect the smart scale to the interactive recipe app on your device, then just choose from one of 400+ recipes and start pouring! Follow the onscreen instructions and watch as the virtual glass fills up in real time. Perfect Drink senses the perfect pour, while the app tells you when to stop and even shows you how to fix your drink if you over pour. Perfect Drink makes it easy to adjust the serving size for a single cocktail or serving a crowd. The virtual cabinet feature allows you to keep track of the drink ingredients in your cabinet and suggests the drinks you can make based on what you have on hand. Your house is about to become the next hot spot for cocktails – no bartender tipping required!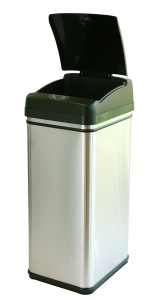 iTouchless Deodorizer Touch-Free 13-Gallon Automatic Stainless-Steel Trash Can
Don't just mask smelly garbage odors with fragrances and messy baking soda; eliminate them. The upgraded DZT13 is now equipped with a Carbon Filter Gate (CFG) that uses activated carbon to effectively eliminate and neutralize the toughest odors. Smelly and oversized garbage doesn't stand a chance with the upgraded 13 gallon Touchless Trash Can. Its extra wide opening (11.75 diagonal) allows disposal of larger debris and comes equipped with the most advanced infrared sensor technology on the market; opening the lid automatically when you approach within 6 inches, and closing it when you walk away. Thanks to the automatic lid closing system, the built-in carbon filter can work its magic; eliminating and neutralize nasty odors effectively. The pre-installed Carbon Filter Gate (CFG) has a 3-dimensional surface area, maximizing the deodorizer's odor-absorption capabilities. The deodorizer is non-scented and environmental friendly, making it safe for use around children and pets, providing you with a cleaner and fresher home.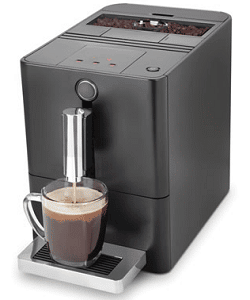 45 Second Bean To Cup Barista Espresso Machine
This is the espresso machine that automatically grinds, tamps, and brews rich espresso with a caramel-colored crema in 45 seconds. Unlike slow heating boiler machines, this model's thermoblock heating system instantly heats water to the perfect temperature and produces 15 bar of pressure to extract robust, complex espresso. Unlike conventional espresso machines that store ground coffee in a chamber where it loses flavor, this machine grinds beans only for the espresso you are about to drink, creating the freshest possible flavor. Users can select from two strengths of coffee and three drink sizes and the device automatically adjusts the amount of coffee and water to make ristretto (a short espresso), espresso, or coffee. The burr grinder enables you to calibrate the fineness of each grind, the unit holds up to 1/4-lb. of beans, and the 37-oz. water reservoir removes for easy refilling.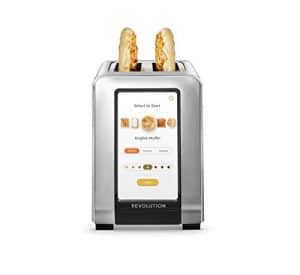 Revolution Cooking R180 High-Speed 2-Slice Stainless Steel Smart Toaster
Proprietary InstaGlo heating system with large color touchscreen controls toasts fast, evenly and consistently every time. Say goodbye to slow toast, burnt toast, toast that gets stuck, and toast you have to toast again.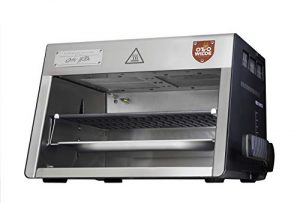 Enjoy steakhouse caliber steaks literally anywhere with the Otto Steak Grill. 1,500°F intense grilling heat for perfectly cooked meat.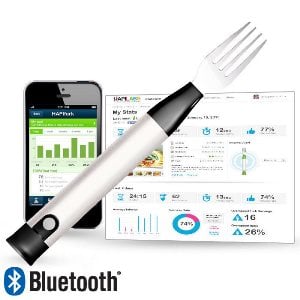 HAPIfork Bluetooth®-Enabled Smart Fork
HAPIfork Bluetooth-Enabled Smart Fork. The smart fork that coaches you into healthier eating habits. The HAPIfork is the world's first smart fork. It's an electronic fork that lights up and vibrates when you are eating too fast. As it takes 15-20 minutes to feel satisfied, by simply slowing down your pace while eating, you will consume fewer calories. Pair with your smartphone or tablet over Bluetooth to see your eating stats in real time. Download the HAPIfork app for iOS or Android and connect it to your device via Bluetooth to check: How long it took to eat your meal The number of "fork servings" (each time food is brought to the mouth) per minute A timer to help you pace your fork servings Actual intervals between fork servings Your success rate and overspeed ratio Upload your eating data for analysis and coaching. This data is then uploaded via USB to your Online Dashboard on HAPI.com to track your progress. Here, you can also follow an online coaching program to help improve your eating behavior. With the Online Dashboard at HAPI.com and mobile app, you can: View and manage all the data from your devices Set your workout objectives, track your progress Share your HAPI moments online with your friends.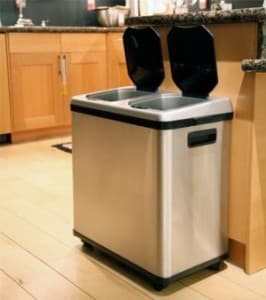 iTouchless 16 Gallon Dual-Compartment Stainless Steel Sensor Activated Recycle Bin
Separate recycling and trash with ease with the Touchless Trash Can Recycler. Two 8 Gallon / 30 Liter inner buckets separate trash and recyclables. Both separate compartments feature automatic, sensor-activated touchless lids. Just place your hand near the lid and it will open automatically – no touching needed! Avoid touch-contact with the illness-causing germs and bacteria that live on trash cans. The brushed stainless steel trash can body is fingerprint-proof, smudge-resistant, and easy to clean. The high-quality ABS plastic lid is durable, yet lightweight. The can features four caster wheels, making it simple to move the can when you want.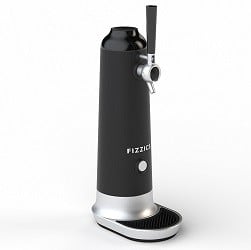 The Fizzics Waytap allows beer aficionados and novices alike to pour expert draft quality beer by reviving any can or bottle beer to brewery fresh draft. Engineered using the Fizzics Technology to unlock the full taste of authentic draft beer, enhancing its aroma and delivering the freshest, full-body flavor possible.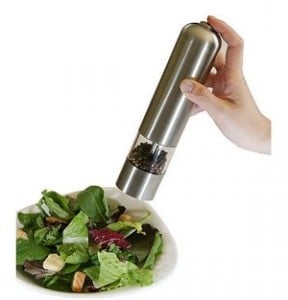 iTouchless Automatic Stainless Steel Pepper Mill and Salt Grinder
At the press of a button, add freshly ground spices to your dish. Fully automated and equipped with premium parts, these mills are gorgeous, easy to use and are built to last.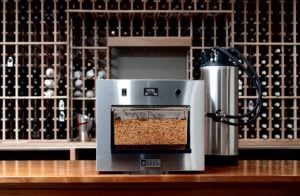 Picobrew all-grain beer brewing appliance
The world's first, fully automatic all-grain beer brewing appliance. Heavy duty construction and precision technology create consistently delicious craft beer.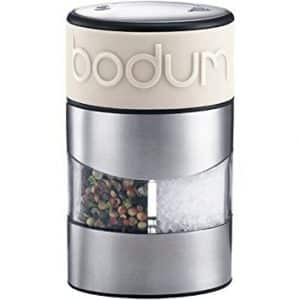 Bodum Twin Dual Salt and Pepper Grinder
The Bodum twin combo salt and pepper grinder spices up kitchen counters and dinner tables alike. With one easy turn of the colorful silicone band that serves as a non-slip handle, the twin switches between salt and pepper. Its powerful ceramic gears make this manual grinder extremely easy to use, especially because of clear compartments showing when the grinder needs to be refilled. The new twin comes in eight beautiful colors and does not require batteries to operate.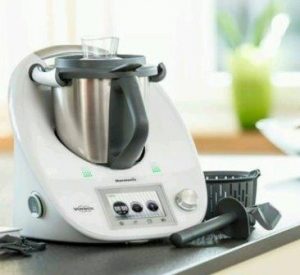 Thermomix from Vorwerk is a unique all-in-one kitchen appliance that will change the way you cook by helping to unlock your full culinary potential while saving you time and effort. It´s compact design takes up only slightly more surface area on the worktop than an A4-sized sheet of paper, but packs enormous power, versatility and innovation, taking on numerous jobs in the kitchen. Used all over the world by millions of satisfied home cooks and top chefs alike, Thermomix is an unique, cutting-edge appliance that brings professional-style cooking to any home and kitchen, making meals siMple and fun. The colour Touchscreen display and control dial mean it is a breeze to proframme the Thermomix, wich effortlessly performs the functions of virtually every kitchen divide you´ll ever need, including: – Mixing – Blending – Weighing – Steaming – Stirring – Whipping – Emulsifying – Grinding – Controlled Heating – Cooking – Chopping – Kneading.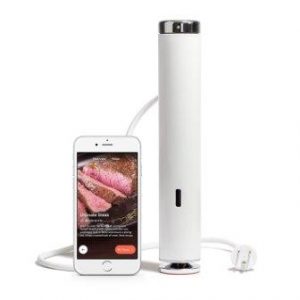 Joule is the smallest, most powerful sous vide tool available. It heats water faster than any other immersion circulator or precision cooker and holds the temperature with absolute accuracy to ensure perfect results every time. Controlled exclusively by a groundbreaking app that empowers sous vide veterans and novices alike, Joule gives you the freedom to cook from anywhere.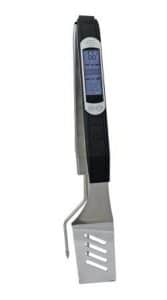 Flame King Hybrid BBQ Temperature Tongs
Tired of using and cleaning multiple utensils every time you barbecue? The new Hybrid TempTongs combines two of the most important tools used in barbecuing; Barbecue Tongs and a Temperature Fork. The large and convertible design of the stainless steel spatula makes the meat easy to grab and flip. The built in temperature tines are designed for assisting in measuring the "doneness" of the meat being grilled. Select the meat type you are grilling; Beef, Veal, Lamb, Pork, Chicken or Turkey. Set the taste option preference; Rare, Medium-Rare, Medium or Well-done. The display will read the appropriate internal temperature of the meat type and "doneness" you have selected. Squeeze the tines into the meat to read the actual internal temperature of the meat. Once the appropriate temperature is reached the alarm will beep indicating that the meat is done to perfection. Product Features: Meat-types with various taste options, Stainless Steel Temperature sensors measures the internal temperature of the meat, Alarm sounds when your meat is ready, Built-in backlight for Barbecuing when it's dark (2 AAA batteries required. Batteries not included). TempTong. Digital thermometer. BBQ tong. Large LCD display. All in one.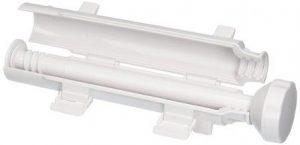 Camp Chef Sushezi Roller Kit – Sushi Rolls Made Easy
With easy-to-follow instructions, Sushezi creates perfectly formed sushi quickly and reliably with no guesswork and no trial and error. Using your own choice of imaginative fillings will make you a sushi expert and have your guests coming back for more. The Sushezi can also be used for a variety of dessert items. Walnut rolls, fudge rolls, cake rolls, and biscuit cookies are only a few of the possibilities!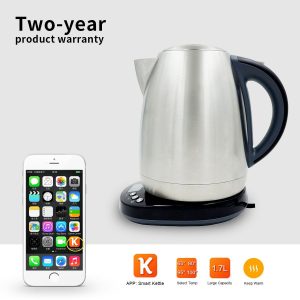 AIMOX Smart Wifi Stainless Steel Electric Kettle through Smartphone Remote On/Off Switch and Temperature Control
Operate your remote control kettle via smart device ( iOS and Android ) with a downloadable app from your phone app store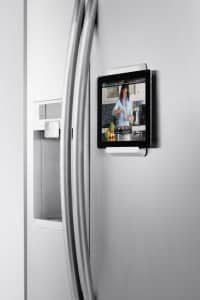 Feature It On the Fridge The Fridge Mount lets you conveniently position your iPod 2 in the kitchen. The minimalist design stylishly keeps the iPod 2 safe and secure. No Tools Needed No tools or hardware are needed and no permanent installation is required. Supplied Maximum-strength 3M Command Strips snap the iPod 2 firmly in place and attach securely to a fridge, cabinet or wall without damaging surfaces when removed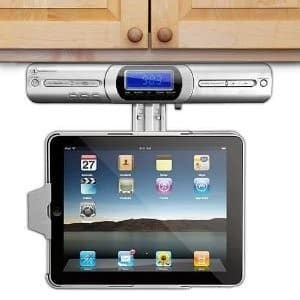 Under-Cabinet iPad Dock, Speakers and Radio
With Innovative Technology's iPad under-Cabinet Dock, you can mount, charge and play your iPad conveniently under your cabinets! Great for everything from having a recipe at hand but out of the way to looking up tips online about do-it-yourself kitchen quick fixes, this under-cabinet dock also features AM/FM radio, a digital clock, alarm and countdown timer and horizontal or vertical orientation with tilt and swivel adjustment! Also compatible with iPod and iPhone, the dock includes a full-function remote.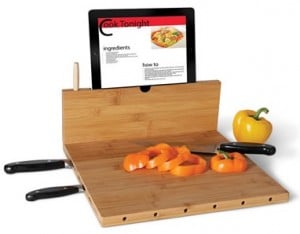 Bring the power and convenience of the iPad into the kitchen with CTA Digital's Bamboo Cutting Board with Stand for iPad and Knife Storage. Easily view recipes and watch how-to videos while cooking or simply enjoy apps and music from your iPad as you prepare delicious meals. This durable and handsome cutting board is made of naturally strong and antibacterial bamboo, perfect for chopping, mincing and slicing everything you need. It features a unique multi-use bamboo stand that can either be attached to the top or the side of the cutting board.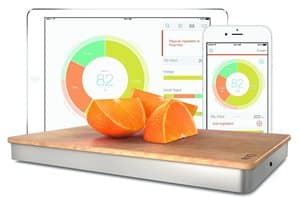 Prep Pad + Countertop Prep Pad is the smart food scale that gives real-time nutritional insight into your food through a customized Balance goal and beautiful visualizations of calories, carbs, protein, and more. Meet your kitchen nutritionist,skip the fads, get the facts. Get an accurate nutritional breakdown of the meals you make at home with the simple-but smart-food scale, Prep Pad, and its partner app, Countertop. Set nutritional goals, make and log your meals, and track your progress to health.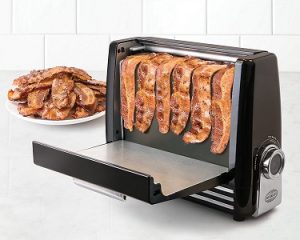 Introducing a healthier way to cook bacon to delicious perfection! Easily cook up to 6-strips of lean thin cut bacon in just minutes – no need to flip! Simply adjust the illuminated dial timer to your desired cooking preference, and allow the unique vertical cooking method to drain away fat and grease for fast, healthy cooking.
From robust espresso to flavorful coffee and creamy cappuccino, even hot cocoa or tea, enjoy cafe-quality beverages at home with the Espresseria EA8250J4 fully automatic from KRUPS. The compact machine takes up minimal counter space, and its fully automatic system means anyone can enjoy the perfect cup—amateurs and coffee connoisseurs alike. With 1450 watts of power, the machine's built-in metal conical burr grinder quickly and evenly grinds whole coffee beans right before brewing to capture the freshest flavor, and its grind setting can be adjusted as desired—finer for espresso and coarser for coffee are the settings that work best. The machine's large sealed hopper keeps beans fresh and holds enough to prepare several drinks in a row, while its user-friendly control panel with an intuitive LCD screen and ergonomic knob allows for simple navigation through every step of the process. To ensure the perfect shot of espresso, the Espresseria's patented compact thermoblock heating technology, 15-bar high-pressure pump, and hydraulic automated tamping system provide perfect tamping, precise extraction, and consistently hot results.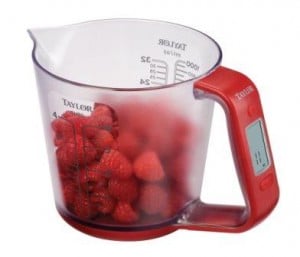 Digital Measuring Cup and Scale
The Taylor Digital Measuring Cup and Scale is an essential tool for any modern kitchen. A combination measuring cup and digital scale, this unique measuring tool has an easy-to-read LCD screen built into the handle for at-a-glance measurements. Automatically converts 5 preset ingredients (flour, sugar, milk, water and oil) from ounces (weight) to cups (volume). Additional features include a tare/add function, a low battery warning and an auto off function. Hand wash only; was with warm, soapy water and allow to air dry.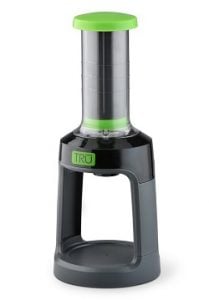 Tru KP-1000 Single Serve K-Cup Coffee Press
The K-Press Coffee Maker from Tru utilizes Single Serve Capsules without the need for a power cord! Simply heat your water, place a mug underneath, insert a coffee capsule and press down on the piston. The hot water will be forced through the coffee capsule and the result is a fresh cup of coffee to go! The press cylinder is equipped with fill lines for 6, 8 and 10-ounce servings and disassembles completely for easy cleaning. The coffee maker can store up to three k-cups.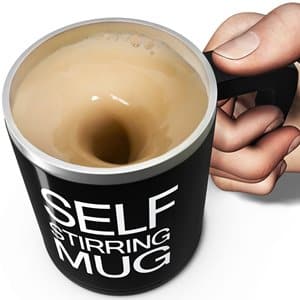 iCooker® – Self-Stirring Coffee Mug
Stainless steel stirring Coffee mug do you know someone who drinks 40 Cups of tea a day? well this is the perfect gift for them. Take the strain out of stirring with the plain lazy self-stirring mug. No need to grab a teaspoon and stir, simply press the button and all the hard work is done for you. It's the ultimate idle drinking accessory!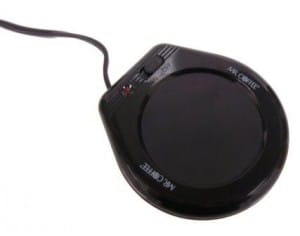 Keep your favorite mug of coffee, tea or cocoa hot when you want it. Convenient on/off switch with on light indicator. Extended cord length to use almost anywhere. This will be your favorite gadget!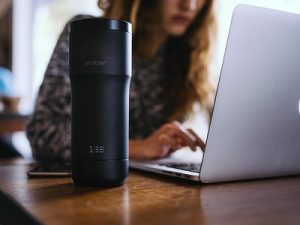 The world's most advanced temperature control mug for enjoying your favorite hot beverage exactly the way you like it. The Ember mug rapidly heats or cools your drink to the temperature you choose. Experience the pleasure of drinking your coffee or tea in its perfect state, from the first sip to the last drop.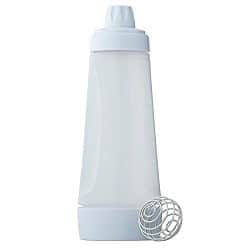 Whiskware Pancake Batter Mixer
The Whiskware Batter Mixer uses a patented mixing system to deliver smooth batters in seconds. Add your ingredients, drop in the BlenderBall, and shake. The surgical-grade, stainless steel ball whips around inside the bottle as you shake to blend the ingredients. No batteries, no cord, no hassle.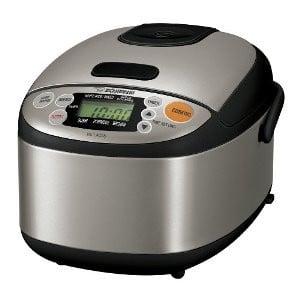 Zojirushi 3-Cup Rice Cooker and Warmer
Make the most perfect, tasty rice every time with the Zojirushi Fuzzy Logic Rice Cooker and Warmer. The 3-cup capacity makes 6 cups of cooked rice, ideal for singles, couples, and small families.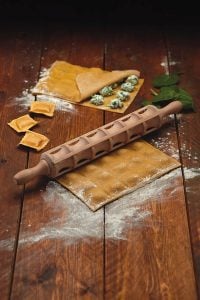 Eppicotispai beechwood rolling pin to make your fresh homemade ravioli. Make ravioli in the traditional way: spread your favorite filling over a layer of dough, top with a secondary layer of rolled dough and use your rolling pin to cut and seal layers. Rolling pin has 44 square ravioli of 1-1/2-inch by 1-1/8-inch on 4 sides.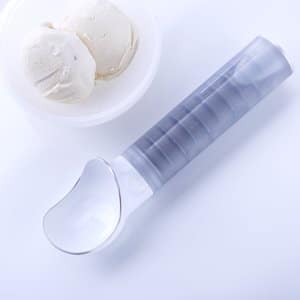 Easiest and fastest scoop in the world. No more having to dip the ice cream scoop in hot water or having to scrape out ice cream that is stuck to the scoop itself. The revolutionary ScoopTHAT! utilizes heat transfer principles to draw heat from a non-electric and self-replenishing biodegradable reservoir. THAT! perfect scoop of ice cream has never been so easy to make!.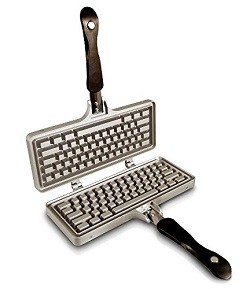 Shift + breakfast! The Keyboard Waffle Iron is designed from the waffle-out. It features a unique wide format plate that creates a delicious Belgian-style waffle in the shape of your beloved computer keyboard. We've also added a comfortable curved handle for easy flipping. All of this in a simple and sleek design that compliments your kitchen. Just add heat, batter, and toppings! – actual waffle size: 10″ x 3.5″Esc + convention whether on your kitchen stove, backyard bbq, or outdoor camping grill, you can make great waffles just about anywhere! The Keyboard Waffle Iron's slim and "wireless" design makes for easy toting to your next brunch, tailgate, or qwerty club meeting. Join us online and share your photos in the growing world of keyboard waffle-dom! ctrl + cravings with the free digital recipe book, you'll have the power to make amazing waffles that will reboot your spirit and import a gigabyte of flavors to your body's hard drive!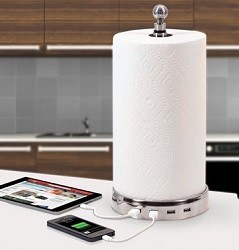 TowlTunes 1.1: USB Paper Towel Charger with Bluetooth Speakers
TowlTunes 1.1 now includes a front blue LED on the base to show when the unit is on or off. With all the same features as the Towlhub, but with two built in 3 watt speakers on a raised base for optimal sound. Connect via Bluetooth up to 25 feet away. Now you can charge your phone or tablet and listen to music at the same time! Stream your favorite tunes from Pandora, iTunes, Beats music, etc.
Star Wars Lightsaber Flatware Set
Unleash the mighty power of Darth Vader's lightsaber… to eat your dinner! Modelled on the Darth Vader's iconic weapon of choice, this collection of unique utensils takes dining to the dark side! This set includes a Fork, Knife and Spoon. All made of plastic and stainless steel.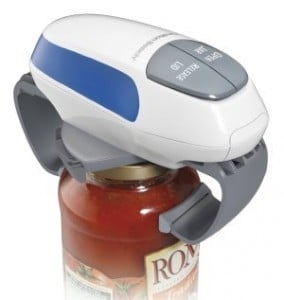 Hamilton Beach Open Ease Automatic Jar Opener
With the OpenEase Automatic Jar Opener, dealing with a stuck lid while trying to make dinner for the family will never be frustrating again. The press of a button activates its powerful twisting action, tightening around the lid and loosening it. It's that simple! Press again to release the lid. When it's time to put it away, the OpenEase Jar Opener is compact enough to fit in a drawer, so it's always ready when you need it most.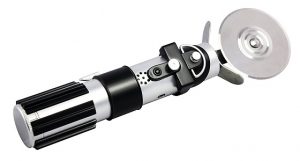 Star Wars Lightsaber Pizza Cutter
Unleash the mighty power of Lord Vader's lightsaber to cut your pizza! Modelled after Darth Vader's iconic weapon, this fun and functional kitchen utensil is a must have for any Star Wars fan or collector! The Star Wars Darth Vader Lightsaber Pizza Cutter is made of plastic with a stainless steel blade and features Original Darth Vader lightsaber sounds which are activated as the pizza is cut!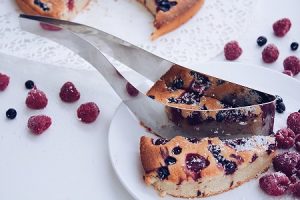 The Magisso Cake Server is the perfect thing to have on your table for the holidays, parties, and any time you feel like having dessert. The one piece, sleek design gives your kitchen or dining room the look of modern sophistication. You can choose from stylish Stainless Steel Silver or a number of both fun and neutral colors for your home. Serving desserts, especially those with layers is a chore. Your cake almost always winds up on its side with the layers coming apart.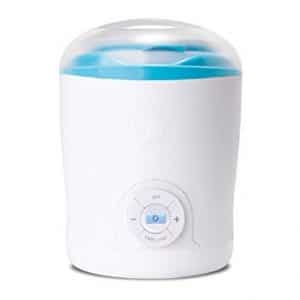 If you love the creamy, satisfying texture of Greek yogurt, the Dash Greek Yogurt Maker will be your new go-to kitchen tool. Get all of the probiotic benefits of Greek yogurt without the additives or the steep cost of store bought brands. Just use any type of milk and a little bit of store-bought yogurt to get started. A comprehensive Recipe Guide is included along with a Quick Start dial for easy reference. You will also gain access to our rapidly growing database of recipes! Make custom flavors, healthy gourmet treats — and save money on store-bought Greek yogurt!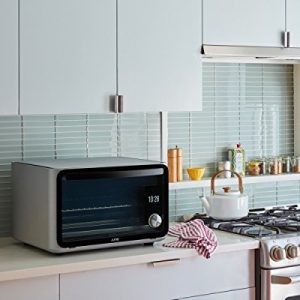 No more hovering when cooking dinner, the June Oven uses sensors and artificial intelligence to recognize, monitor and cook food to your liking. You can depend on June to cook your food, giving you back time in your day.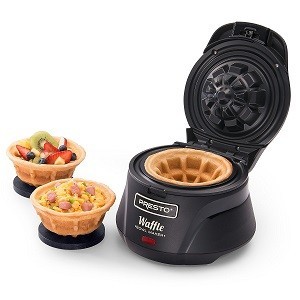 Presto 03500 Belgian Bowl Waffle Maker
The Presto Belgian Waffle Bowl Maker is a delightfully different kind of waffle bowl. It makes a 4-inch waffle that's thick, fluffy and tender because it's a real waffle! Fill it with your favorite toppers: butter and syrup or fresh fruit and yogurt. Make hearty breakfasts by filling it with scrambled eggs, ham, sausage, hash browns and more. No special batter is needed. Use store-bought waffle mixes or homemade. Recipes for traditional waffles and more are included. Make breakfast exciting, dessert extraordinary…and take lunch to a new level with chicken waffle tacos. There's endless filling possibilities!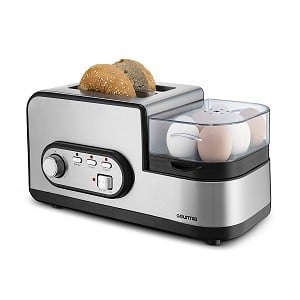 Gourmia Breakfast Cooking Station
Unless they have a Gourmia GBF470 3 in 1 Breakfast Station that is. This wonder machine will let you cook up an entire hearty breakfast in literally MINUTES- without the hassle and mess of pots and pans!Like your toast dark and crunchy? Light and soft? Just drop your bagel, roll, or english muffin into the wide dual slots and choose any of the 7 browning options. While your bread is getting nice and toasty, fry up a cheesy scramble or crisp some bacon on the integrated frying surface! Or slide in any of the attached trays for perfect egg poaching, boiling, and veggie steaming.Toss out those rusty old pots and harmful microwaves-This single compact Breakfast Station can do it ALL.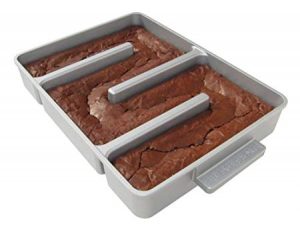 Nonstick Edge Only Brownie Pan
Love brownies? So do we. Who doesn't right? We think the best ones have moist centers, and lots of chewy edges. This pan is THE original, still made in the USA, Edge Brownie Pan. A pan that was designed to be the best brownie baking pan ever conceived. This patented pan adds two chewy edges to every brownie it bakes.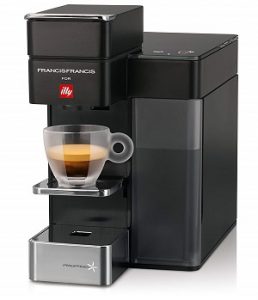 Illy Y5 Espresso & Coffee Machine, Bluetooth, Amazon Dash Replenishment Enabled
This connected illy Y5 iperEspresso capsule machine is enabled with Amazon Dash Replenishment Service (DRS) which means it will automatically reorder capsules from Amazon when you are running low on coffee. Just download the 'My illy Machine' app and sign up for DRS to manage your capsule orders.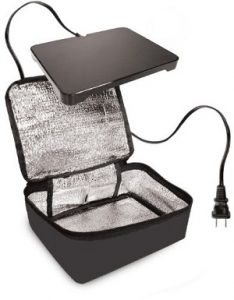 HotLogic Mini Personal Portable Oven
Revolutionizing the hot meal experience! The patented Hot Logic Mini is a personal portable oven great for the office, the job site, the campsite or anywhere you have an outlet. Now you can enjoy fresh-cooked hot meals, reheated meals or perfectly cooked prepackaged meals anywhere. The Hot Logic Mini slowly and evenly heats your meal to preserve moisture and enhance flavor. No super-hot overcooked edges, no frozen centers and no worries about sharing a dirty microwave.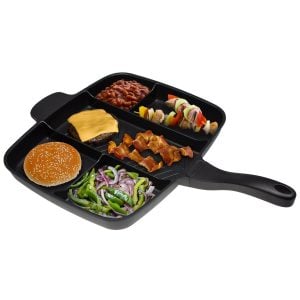 Master Pan Non-Stick Divided Grill/Fry/Oven Meal Skillet, 15″
Why use 5 pans to make a great meal when you only need one? Cook up to five different foods all at once on one burner with the Master Pan! Prepare a complete breakfast, big burger meal, full fajitas, or a healthy salmon dinner with veggies. The possible food combinations are endless! Plus, when you're finished you'll have just one pan to clean. Cook faster, clean less, and still enjoy great meals! – Multi-sectional design – cook 5 foods at once! – 100% die cast aluminum, energy efficient base – Heavy gauge bottom distributes heat flow evenly – Double layer of Whitford's XYLAN PLUS coating – Easy to clean, stain resistant, dishwasher safe – 15-20% hotter in center section for grilling meats – Safe non-stick, PTFE, No PFOAs or Heavy Metals – Bakelite handle is oven safe to 350 Degree F for 1 hour.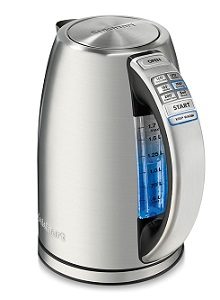 Cuisinart Perfect Temp Cordless Programmable Kettle, Stainless Steel
Protect your tea from over brewing with the PerfecTemp Cordless Electric Kettle and its six preset temperatures optimized for every variety of tea. The 1500-watt cordless kettle quickly brings water to the exact heat and keep it at temperature for 30 minutes, so you don't have to wait for your second cup! And for those who enjoy coffee, this Cuisinart teakettle also features a French Press preset to bring out the full flavors of your coffee grinds every time.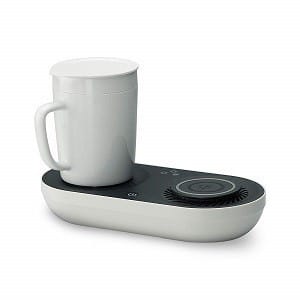 Nomodo Wireless Qi-Certified Fast Charger with Mug Warmer and Drink Cooler
The perfect desk accessory for all your needs. Eliminate the need for extra charging cables cluttering your space. Charge your Qi enabled devices quickly on the charging dock and watch your battery go from zero to hero. Some like it hot, some like it cold. No matter your preference, your beverage will be the perfect temperature with the heating/cooling technology.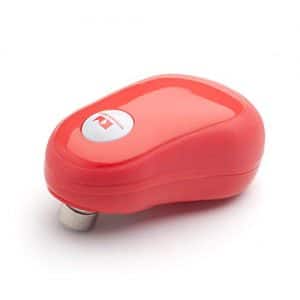 Kitchen Mama One Touch Electric Can Opener
Get rid of trouble opening cans. It's time to give your hands something extra when you cook! Open cans effortlessly at the press of a button! Let the ease of opening cans begin today!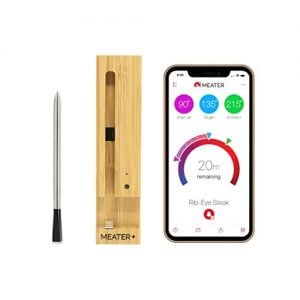 MEATER Plus Smart Wireless Meat Thermometer
165ft Long Range Model: 100% WIRE-FREE that's perfect for outdoor cooking. The first truly wireless smart meat thermometer. Monitor your cook using the FREE app available for iOS (10.3 and later) / Android (5.0 and later) smart phones and tablets.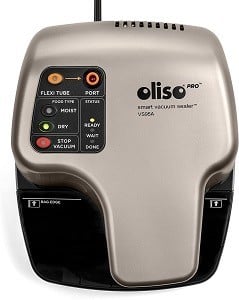 Oliso Pro VS95A Smart Vacuum Sealer for Food Storage
The Oliso Pro Smart Vacuum Sealer is powerful enough for commercial use, yet compact enough to easily fit on your kitchen counter or in any drawer. The revolutionary PUNCH-&-SEAL technology combined with the heavy-duty multi-layer constructed bags keeps food fresh 5X longer, reduces food waste, and saves you hundreds of dollars a year on groceries. The Oliso Pro Smart Vacuum Sealer also features a no-touch start system, which allows you to just insert a VAC-SNAP bag and the vacuum sealer does the rest. Works great for microwaving, simmering and sous vide cooking. Advanced functions include a moist mode liquid detection feature, which allows for greater precision when sealing wet foods or liquids. Dry mode allows you to seal dry goods, such as herbs and spices. Stop & seal mode works great for soft/fragile foods and the flexi tube attachment seals bottles and jars with ease.
As with all of my Gadget posts, I will be periodically adding to this post. Kitchen gadgets are pretty much improving daily, so keep checking back for more ideas.
Note: Some of these links may be affiliate links. For a list of the programs I belong to, please visit my disclosures page.