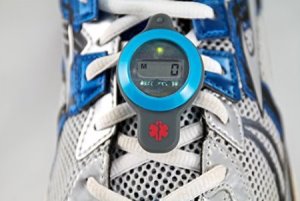 While much of the workout gadgetry-related attention has been focused on wearables lately, there are a number of really awesome fitness gadgets being created that don't go on your wrist. As summer is now upon us, we can all probably use an extra workout or two to get in tiptop beach/pool shape.
Here are a few of the more interesting and creative fitness gadgets I was able to dig up (wearables and beyond). As always, I will be updating this post semi-regularly as I stumble on more gadgets. Be sure to keep up with any additions by following my corresponding Pinterest board.
Fitness Gadgets
Click on any image to bring up more information about the product, including how to buy it.
Wilson X Connected Basketball

Have nerves of steel? Think you're clutch when it counts? Find out with Wilson X: the connected basketball and app that puts you in the center of the action. With action-packed game modes, Wilson X brings a new level of intensity to the game while tracking your makes and misses to keep tabs on how well you play when it's crunch time.
Fitbit Aria WiFi Smart Scale

Totally different from your dad's old needle scale, the Fitbit Aria WiFi Smart Scale uses advanced technology to track weight, lean mass, body fat percentage, and body mass index, allowing you to see all the numbers you need to start living a healthier lifestyle.
iwerkz Bottle Blaster Bluetooth Bike Speaker

Rock those trails with the iwerkz Bottle Blaster Bluetooth Speaker. Perfect for biking, hiking, camping, fishing, road trips – wherever you roam this speaker goes with you. Water resistant, with a rugged casing, the Bottle Blaster is built for adventures. Designed to fit inside a standard bike water bottle holder, this speaker also fits into most backpack water bottle pouches. The soft-touch case not only feels and looks great, but was designed to grip and sit securely in your water bottle holder as you ride and bounce through nature. The Bluetooth controls allow you to control your music even when your phone is safely tucked away, while the top volume control knob makes cranking your music a simple task while riding. Unlike other toy speakers, the Bottle Blaster is a truly stellar portable speaker. With two separate 3w high-quality speakers your music sounds great even when you're away from your home audio system. Soak up the jams while you soak up nature with the iwerkz Bottle Blaster Bluetooth Speaker!
Wahoo TICKR X Workout Tracker with Memory for iPhone & Android

The TICKR X is the ultimate workout wearable that captures both motion and intensity to give you the most effective workout. Pair it with the Wahoo 7 Minute Workout app for a high-intensity circuit workout and automatic rep counting, or pair it with the Wahoo RunFit app for personalized heart rate training, cross-training, and additional high intensity strength training. Its built-in memory gives you the freedom to train without a phone – it captures heart rate, calorie burn, and duration from your workouts and syncs them to your phone later. TICKR X is compatible with most popular fitness apps, making it an incredibly versatile workout tracker for all of your activities.
HAPIfork Bluetooth®-Enabled Smart Fork

HAPIfork Bluetooth-Enabled Smart Fork. The smart fork that coaches you into healthier eating habits. The HAPIfork is the world's first smart fork. It's an electronic fork that lights up and vibrates when you are eating too fast. As it takes 15-20 minutes to feel satisfied, by simply slowing down your pace while eating, you will consume fewer calories. Pair with your smartphone or tablet over Bluetooth to see your eating stats in real time. Download the HAPIfork app for iOS or Android and connect it to your device via Bluetooth to check: How long it took to eat your meal The number of "fork servings" (each time food is brought to the mouth) per minute A timer to help you pace your fork servings Actual intervals between fork servings Your success rate and overspeed ratio Upload your eating data for analysis and coaching. This data is then uploaded via USB to your Online Dashboard on HAPI.com to track your progress. Here, you can also follow an online coaching program to help improve your eating behavior. With the Online Dashboard at HAPI.com and mobile app, you can: View and manage all the data from your devices Set your workout objectives, track your progress Share your HAPI moments online with your friends.
Dexshell Trekking Waterproof Socks

DexShell waterproof socks are developed for caual outdoor activities in cold wet weathers where you need to keep your feet dry. This new generation of waterproof socks is constructed using DexShell Best-In-Class lamination and composition technology thus improving on the existing bulky construction of classic waterproof socks.
Jabra – Sport Coach Wireless Earbud Headset

Make every workout count with Jabra Sport Coach Wireless, the world's first wireless cross training solution with in-ear audio coaching and integrated Track Fit motion sensor. This portable in-ear training coach will be there to help you plan, track, coach, motivate and ultimately push you to perform – all while listening to your favorite workout music and being freed from wires and cables, allowing you to focus on your workout without distraction.
Belkin Sport-Fit Plus Armband for iPhone

The high-performance Sport-Fit Plus iPhone Armband doesn't just protect your phone while you're exercising -it's also incredibly comfortable to wear. The secure fit and slim design stays out of your way, so you forget you're even wearing it. Now you can concentrate on your workout, not your device.
Sportline HydraCoach Intelligent Water Bottle

Known as the world's first interactive water bottle, the HydraCoach looks just like other water bottles, but with one notable difference–a built-in hydration monitor. This patented technology lets users program their own personal hydration needs into the integrated computer and track their daily water consumption sip by sip. It's the best possible way to achieve optimal hydration whether sitting at work or running on the treadmill. Among the measurable details are total amount consumed, total elapsed time since the computer started, average hourly and daily consumption, percent of daily goal, and total sips. And technophobes needn't fret, as all you have to do to calculate your personal hydration goal is enter your weight. Other features include a built-in clock and calendar, an easy-to-clean polycarbonate shell, a soft silicone mouth piece, and a finger ring.
Bluetooth App-Controlled Wearable Massager

The riches of life are in the thrills. With blueMotion, the only limit to the thrill is imagination. This Bluetooth enabled, wearable massager maximizes your pleasure while delivering the ultimate in discretion. Whether you have a partner in crime or enjoy going solo, blueMotion has the power to tantalize and titillate–anytime, anywhere, and with any iPhone or Android device. The blueMotion app enables over the Internet control, pre-set patterns, touch control, tap and record, motion control and audio record functions. Body friendly materials, Phthalate free. Rechargeable battery for up to 1 hour of pleasure with 5 integrated manual mode patterns.
Note: Some of these links may be affiliate links. For a list of the programs I belong to, please visit my disclosures page.

Last updated: