Christmas Statistics and Facts (2023)
Last Updated on: March 31st, 2023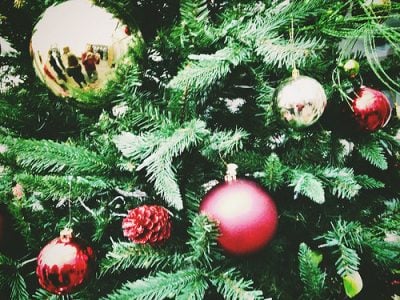 Here are a few of the most interesting Christmas statistics and facts I was able to dig up in my internet travels. As always, be sure to check back in the future as I will be updating this post as new and updated stats become available.
With Christmas just around the corner, I am sure you are all running around buying and wrapping presents, cooking and traveling all over creation. I am in the same boat, but I thought it may be interesting to take a quick break and reflect on the holiday itself. For a holiday we spend so much time thinking about all year, there is still much we don't know about it.
Post Contents
Christmas History
Date of the first Christmas: December 25, 336 in Rome
Year the first Christmas card was sent: 1611
From 1647-1660, Christmas was banned in England by the Puritans
Year that mistletoe was first associated with Christmas: The 18th century
First time Christmas was a bank holiday: 1834 in the UK
First US State to recognize Christmas: Alabama in 1836
Year of the first commercial Christmas card: 1843
Year Christmas became a US Federal holiday: 1870
Year the candy cane was first associated with Christmas: 1874
Christmas Facts and Stats
Percentage of Americans that celebrate Christmas:
---
Average amount Americans spend on holiday gifts:
---
Percentage of Americans that send Christmas cards:
---
Percentage of Americans that see Christmas as a religious holiday:
---
Number of Christmas cards purchased annually:1.6 billion
---
Amount it would cost if you purchased everything in the 12 Days of Christmas:
---
Poinsettias are originally from Mexico and were first brought to the US in 1825 by Joel Poinsett.
---
Christmas Tree History
First recorded Christmas Tree: 1576 in Turckheim, Alsace
Year the Christmas tree was introduced in the UK: 1832
Year the Christmas tree was introduced in the US: 1850
Year of the first known electrically-lit Christmas tree: 1882
Year of the first lit US National Christmas Tree: 1923
Year of the first Rockefeller Center Christmas Tree: 1933
Christmas Tree Facts and Stats
Number of real Christmas trees sold in the US annually:
---
Number of Christmas tree farms in the US:
---
Number of Christmas trees growing in the us:
---
Percentage of Americans that put up a Christmas tree:
---
Largest exporter of Christmas trees in the world:
---
Amount of land in the US that is dedicated to growing Christmas trees:
---
Santa Claus History
When and Where did Saint Nicholas live: 4th century in Turkey
First appearance of Father Christmas: 16th century
Year "A Visit from St. Nicholas" (Twas the Night Before Christmas) was first published: 1823
Year that the name 'Kris Kringle' was popularized: 1845
First use of the name "Santa Claus" in the American press: 1773
First appearance of Santa Claus in a Christmas parade: 1890
Year that the editorial "Yes, Virginia, there is a Santa Claus" was first published: 1897
First appearance of Rudolph the Red-Nosed Reindeer: 1939
Year that NORAD began tracking Santa Claus: 1955
When was Mrs Claus popularized? 1950's and 60's
---
Rudolph the Red Nosed Reindeer History
Rudolph's first appearance: 1939 in a Robert May book.
Year that Johnny Marks' Rudolph the Red Nosed Reindeer song, sung by Gene Autry, was released: 1949
Publication of Rudolph sequel Rudolph the Red Nosed Reindeer Shines Again: 1954
Year the Johnny Marks song Run Rudolph Run, sung by Chuck Berry, was released: 1958
Year the Rudolph Little Golden Book was released: 1958
Year the Rankin/Bass claymation Rudolph television special first aired: 1964 on NBC

Subsequent Rankin/Bass Specials: Rudolph's Shiny New Year (1976) and Christmas in July (1979)

Year Rudolph first appears on a US postage stamp: 2014
Classic Christmas Movies With Release Dates:
Babes in Toyland – 1934; 1961 (Disney version)
Scrooge – 1935, 1951, 1970
A Christmas Carol – 1938, 1971, 2009
Holiday Inn – 1943
The Bells of St Mary's – 1945
It's a Wonderful Life – 1946
Miracle on 34th Street – 1947
White Christmas – 1954
Rudolph the Red Nosed Reindeer – 1964
A Charlie Brown Christmas – 1965
How the Grinch Stole Christmas – 1966
The Little Drummer Boy – 1968
Frosty the Snowman – 1969
Santa Claus is Comin' to Town – 1970
The Year Without Santa Claus – 1974
Emmet Otter's Jug-Band Christmas – 1977
A Christmas Story – 1983
Mickey's Christmas Carol – 1983
Die Hard – 1988
Scrooged – 1988
National Lampoon's Christmas Vacation – 1989
Home Alone – 1990
Home Alons 2: Lost in New York – 1992
The Muppet Christmas Carol – 1992
The Nightmare Before Christmas – 1993
The Nutcracker – 1993
The Santa Clause – 1994
Dr Suess' How the Grinch Stole Christmas – 2000
Elf – 2003
The Polar Express – 2004
The Holiday – 2006
The Grinch – 2018
Classic Modern Christmas Songs:
Santa Claus is Coming to Town – 1934
Winter Wonderland – 1934
Carol of the Bells – 1936
Rudolph the Red Nosed Reindeer – 1939
White Christmas – 1940
The Little Drummer Boy – 1941
The Christmas Song – 1944
Have Yourself a Merry Little Christmas – 1944
Let it Snow! Let it Snow! Let it Snow! – 1945
Here Comes Santa Claus – 1947
Sleigh Ride – 1948
Baby It's Cold Outside – 1948
Happy Holiday – 1948
All I want for Christmas Is My Two Front Teeth – 1948
Frosty the Snowman – 1950
Silver Bells – 1950
The Man With the Bag – 1950
It's Beginning to Look a Lot Like Christmas – 1951
I Saw Mommy Kissing Santa Claus – 1952
Santa Baby – 1953
Up on the House Top – 1953
I want a Hippopotamus for Christmas – 1953
There's No Place Like Home for the Holidays- 1954
Jingle Bell Rock – 1957
Blue Christmas – 1957
The Chipmunk Song (Alvin and the Chipmunks) – 1958
Rockin' Around the Christmas Tree – 1958
Run Rudolph Run – 1958
Must be Santa – 1960
Dominick the Donkey – 1960
Do You Hear What I Hear – 1962
It's the Most Wonderful Time of the Year – 1963
Christmas (Baby Please Come Home) – 1963
A Holly Jolly Christmas – 1964
Little Saint Nick – 1964
Silver & Gold – 1964
Christmas Time is Here (Charlie Brown) – 1965
My Favorite Things – 1965
You're a Mean One, Mr Grinch – 1966
We Need a Little Christmas – 1966
Snoopy's Christmas – 1967
Feliz Navidad – 1970
Happy Christmas (War is Over) – 1971
Step Into Christmas – 1973
Please Come Home for Christmas – 1978
Grandma Got Run Over By a Reindeer – 1979
Wonderful Christmastime – 1979
Same Old Lang Syne – 1980
Last Christmas – 1984
Do they Know its Christmas? – 1984
Christmas in Hollis – 1987
All I Want for Christmas is You – 1994
12 Pains of Christmas – 1994
My Only Wish This Year – 2000
Where Are you Christmas? – 2000
Believe – 2004
Please note that some of these numbers are easier to find than others. Most of these fun facts come from internet reports and may not be official tallies. No information contained on DMR should be relied upon to make investment decisions. Basically, this is the best I can find and I don't guarantee anything to be 100%.
Related Categories:
Related Tags: