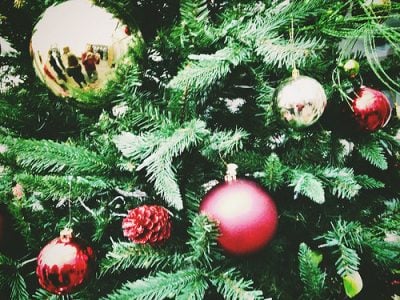 Here are all the Christmas facts, stats and history I was able to uncover including Christmas history, movies, songs, trees, Santa Claus, Rudolph and more…
With Christmas just around the corner, I am sure you are all running around buying and wrapping presents, cooking and traveling all over creation. I am in the same boat, but I thought it may be interesting to take a quick break and reflect on the holiday itself. For a holiday we spend so much time thinking about all year, there is still much we don't know about it.
Here are a few Christmas facts and stats I was able to uncover that you may not have known about Christmas. Enjoy!
Post Contents
Christmas History
Date of the first Christmas: December 25, 336 in Rome
Year the first Christmas card was sent: 1611
From 1647-1660, Christmas was banned in England by the Puritans
Year that mistletoe was first associated with Christmas: The 18th century
First time Christmas was a bank holiday: 1834 in the UK
First US State to recognize Christmas: Alabama in 1836
Year of the first commercial Christmas card: 1843
Year Christmas became a US Federal holiday: 1870
Year the candy cane was first associated with Christmas: 1874
Christmas Facts and Stats
Percentage of Americans that celebrate Christmas:
---
Average amount Americans spend on holiday gifts:
---
Percentage of Americans that send Christmas cards:
Percentage of Americans that see Christmas as a religious holiday:
---
Number of Christmas cards purchased annually:1.6 billion
---
Amount it would cost if you purchased everything in the 12 Days of Christmas:
Poinsettias are originally from Mexico and were first brought to the US in 1825 by Joel Poinsett.
---
Christmas Tree History
First recorded Christmas Tree: 1576 in Turckheim, Alsace
Year the Christmas tree was introduced in the UK: 1832
Year the Christmas tree was introduced in the US: 1850
Year of the first known electrically-lit Christmas tree: 1882
Year of the first lit US National Christmas Tree: 1923
Year of the first Rockefeller Center Christmas Tree: 1933
Christmas Tree Facts and Stats
Number of real Christmas trees sold in the US annually:
---
Number of Christmas tree farms in the US:
---
Number of Christmas trees growing in the us:
---
Percentage of Americans that put up a Christmas tree:
---
Largest exporter of Christmas trees in the world:
---
Santa Claus History
When and Where did Saint Nicholas live: 4th century in Turkey
First appearance of Father Christmas: 16th century
Year "A Visit from St. Nicholas" (Twas the Night Before Christmas) was first published: 1823
Year that the name 'Kris Kringle' was popularized: 1845
First use of the name "Santa Claus" in the American press: 1773
First appearance of Santa Claus in a Christmas parade: 1890
Year that the editorial "Yes, Virginia, there is a Santa Claus" was first published: 1897
First appearance of Rudolph the Red-Nosed Reindeer: 1939
Year that NORAD began tracking Santa Claus: 1955
When was Mrs Claus popularized? 1950's and 60's
---
Rudolph the Red Nosed Reindeer History
Rudolph's first appearance: 1939 in a Robert May book.
Year that Johnny Marks' Rudolph the Red Nosed Reindeer song, sung by Gene Autry, was released: 1949
Publication of Rudolph sequel Rudolph the Red Nosed Reindeer Shines Again: 1954
Year the Johnny Marks song Run Rudolph Run, sung by Chuck Berry, was released: 1958
Year the Rudolph Little Golden Book was released: 1958
Year the Rankin/Bass claymation Rudolph television special first aired: 1964 on NBC

Subsequent Rankin/Bass Specials: Rudolph's Shiny New Year (1976) and Christmas in July (1979)

Year Rudolph first appears on a US postage stamp: 2014
Classic Christmas Movies With Release Dates:
Babes in Toyland – 1934; 1961 (Disney version)
Scrooge – 1935, 1951, 1970
A Christmas Carol – 1938, 1971, 2009
Holiday Inn – 1943
The Bells of St Mary's – 1945
It's a Wonderful Life – 1946
Miracle on 34th Street – 1947
White Christmas – 1954
Rudolph the Red Nosed Reindeer – 1964
A Charlie Brown Christmas – 1965
How the Grinch Stole Christmas – 1966
The Little Drummer Boy – 1968
Frosty the Snowman – 1969
Santa Claus is Comin' to Town – 1970
The Year Without Santa Claus – 1974
Emmet Otter's Jug-Band Christmas – 1977
A Christmas Story – 1983
Mickey's Christmas Carol – 1983
Die Hard – 1988
Scrooged – 1988
National Lampoon's Christmas Vacation – 1989
Home Alone – 1990
The Muppet Christmas Carol – 1992
The Nightmare Before Christmas – 1993
The Nutcracker – 1993
The Santa Clause – 1994
Dr Suess' How the Grinch Stole Christmas – 2000
Elf – 2003
The Polar Express – 2004
Classic Modern Christmas Songs:
Santa Claus is Coming to Town – 1934
Winter Wonderland – 1934
Carol of the Bells – 1936
Rudolph the Red Nosed Reindeer – 1939
White Christmas – 1940
The Little Drummer Boy – 1941
The Christmas Song – 1944
Have Yourself a Merry Little Christmas – 1944
Let it Snow! Let it Snow! Let it Snow! – 1945
Here Comes Santa Claus – 1947
Sleigh Ride – 1948
Baby It's Cold Outside – 1948
Happy Holiday – 1948
All I want for Christmas Is My Two Front Teeth – 1948
Frosty the Snowman – 1950
Silver Bells – 1950
The Man With the Bag – 1950
It's Beginning to Look a Lot Like Christmas – 1951
I Saw Mommy Kissing Santa Claus – 1952
Santa Baby – 1953
Up on the House Top – 1953
I want a Hippopotamus for Christmas – 1953
There's No Place Like Home for the Holidays- 1954
Jingle Bell Rock – 1957
Blue Christmas – 1957
The Chipmunk Song (Alvin and the Chipmunks) – 1958
Rockin' Around the Christmas Tree – 1958
Run Rudolph Run – 1958
Must be Santa – 1960
Dominick the Donkey – 1960
Do You Hear What I Hear – 1962
It's the Most Wonderful Time of the Year – 1963
Christmas (Baby Please Come Home) – 1963
A Holly Jolly Christmas – 1964
Little Saint Nick – 1964
Silver & Gold – 1964
Christmas Time is Here (Charlie Brown) – 1965
My Favorite Things – 1965
You're a Mean One, Mr Grinch – 1966
We Need a Little Christmas – 1966
Snoopy's Christmas – 1967
Feliz Navidad – 1970
Happy Christmas (War is Over) – 1971
Step Into Christmas – 1973
Please Come Home for Christmas – 1978
Grandma Got Run Over By a Reindeer – 1979
Wonderful Christmastime – 1979
Same Old Lang Syne – 1980
Last Christmas – 1984
Do they Know its Christmas? – 1984
Christmas in Hollis – 1987
All I Want for Christmas is You – 1994
12 Pains of Christmas – 1994
My Only Wish This Year – 2000
Where Are you Christmas? – 2000
Believe – 2004