Here are some of the more interesting bathroom gadgets I have been able to dig up in my internet travels. As always, I will be adding to and updating this post regularly, so be sure to check back often.
You would think that this brave new world of the Internet of Things, creative Kickstarter projects and Bluetooth everything, wouldn't have much to offer for the bathroom. You'd be wrong. Creative minds have been rethinking bathroom activities for years and have come up with quite a few amazing gadgets.
Innovative Bathroom Gadgets
(Click on each image for more product details including purchasing information)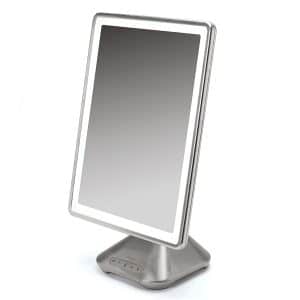 Look your best while enjoying your favorite music anywhere you like. The iCVBT10 distortion free mirror is ideal for the best beauty routine and detailed grooming. Bright accent LEDs with high and low settings provide natural looking light for a look that's right in any situation. Stream audio wirelessly via Bluetooth from your mobile device. iCVBT10 Built-in mic, digital voice echo cancellation and answer and end controls make speakerphone use a pleasure. Siri & Google Now support iCVBT2 to enjoy voice control features like playlists, weather, news and other requests. 1 Amp USB port to charge mobile devices. The bright LEDs and audio work independently while operating on the included AC adapter. Rechargeable Lithium Ion battery so it can be used on the go.
This under sink cabinet that surrounds a pedestal sink to provide extra storage and organization.
This is the device that whitens and brushes your teeth at the same time. It fits into your mouth like a standard whitening tray and employs an integrated blue light to whiten your smile and kill bacteria along with vibrating micro scrubbers that clean teeth and massage the gums. The stimulating blue light activates the whitening ingredients in the included foaming toothpaste; helping to whiten teeth up to seven shades lighter after daily treatments for five to 10 days. The mouthpiece's sonic bristles vibrate to perform the rigorous cleaning dentists recommend for healthy teeth and gums. The whitening and brushing functions can also be operated independently. With a built-in two-minute timer. Includes foaming toothpaste, charging station, and AC adapter. Safe for use on braces, dentures, crowns, and implants.
Note: Some of these bathroom gadget links may be affiliate links. For a list of the programs I belong to, please visit my disclosures page.