Here are some of the more interesting bathroom gadgets I have been able to dig up in my internet travels. As always, I will be adding to and updating this post regularly, so be sure to check back often.
You would think that this brave new world of the Internet of Things, creative Kickstarter projects and Bluetooth everything, wouldn't have much to offer for the bathroom. You'd be wrong. Creative minds have been rethinking bathroom activities for years and have come up with quite a few amazing gadgets.
Innovative Bathroom Gadgets
(Click on each image for more product details including purchasing information)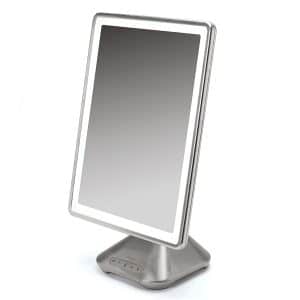 iHome Portable, Adjustable Vanity Mirror with Bluetooth Audio, Hands-Free Speakerphone, LED Lighting, Siri & Google Voice Assistant USB Charging, LED Lighting
Look your best while enjoying your favorite music anywhere you like. The iCVBT10 distortion free mirror is ideal for the best beauty routine and detailed grooming. Bright accent LEDs with high and low settings provide natural looking light for a look that's right in any situation. Stream audio wirelessly via Bluetooth from your mobile device. iCVBT10 Built-in mic, digital voice echo cancellation and answer and end controls make speakerphone use a pleasure. Siri & Google Now support iCVBT2 to enjoy voice control features like playlists, weather, news and other requests. 1 Amp USB port to charge mobile devices. The bright LEDs and audio work independently while operating on the included AC adapter. Rechargeable Lithium Ion battery so it can be used on the go.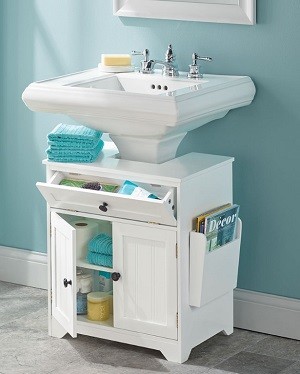 This under sink cabinet that surrounds a pedestal sink to provide extra storage and organization.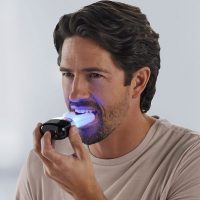 Whitening And Brushing Mouthpiece
This is the device that whitens and brushes your teeth at the same time. It fits into your mouth like a standard whitening tray and employs an integrated blue light to whiten your smile and kill bacteria along with vibrating micro scrubbers that clean teeth and massage the gums. The stimulating blue light activates the whitening ingredients in the included foaming toothpaste; helping to whiten teeth up to seven shades lighter after daily treatments for five to 10 days. The mouthpiece's sonic bristles vibrate to perform the rigorous cleaning dentists recommend for healthy teeth and gums. The whitening and brushing functions can also be operated independently. With a built-in two-minute timer. Includes foaming toothpaste, charging station, and AC adapter. Safe for use on braces, dentures, crowns, and implants.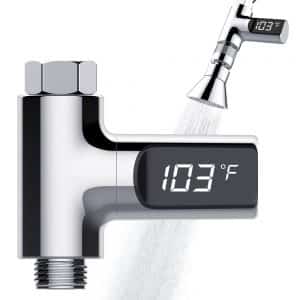 Tecboss LED Digital Shower Thermometer Real Time Water Temperature Monitor
The Tecboss LED Digital Shower Thermometer is an inspiring and surprising technology, to give people a real time monitor of the shower temperature. It is self powered, and mainly comprises a hydro power generator, a thermal sensor, and a digital LED display. With this device, you can easily monitor the real time water temperature, and take a more enjoyable shower.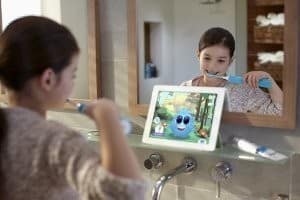 Philips Sonicare for Kids Bluetooth Connected Sonic Electric Toothbrush
The only rechargeable toothbrush for kids enabled with BluetoothR wireless technology, which connects directly to the app, making brushing fun while educating kids how to brush properly on their own. Check your app store to confirm compatibility. (Apple, the Apple logo and iTunes are trademarks of Apple Inc., registered in the U.S. and other countries. App Store is a service mark of Apple Inc. Other trademarks and trade names are those of their respective owners.) IOS compatibility – iPhone 4S or higher, iPad 3rd Gen or higher, with iOS7 operational system. Android compatibility – Android phones, Bluetooth 4.0 enabled tablets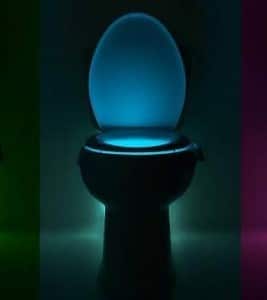 IllumiBowl Toilet Night Light (Motion Activated)
IllumiBowl (As Seen On Shark Tank) is a motion-activated night light for your toilet. It fits on the rim of any toilet & turns itself on & illuminates the inner bowl any time you walk into the bathroom at night.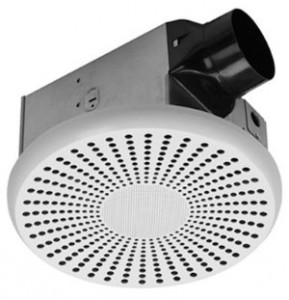 Homewerks Bath Fan With Bluetooth Speaker
Bath Fan & speaker in 1, 90 cfm will provide greater air movement along with 1.5 sones makes the Fan quite, warm full speaker that contacts to most Bluetooth enabled smartphones, tablets & laptops, strong clear signal up to 30′ away.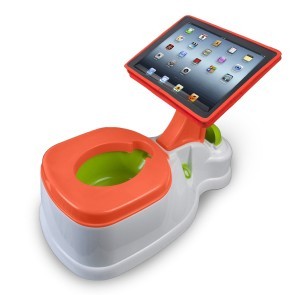 Parents can give children a comfortable and fun place to learn to use the potty with the child-friendly iPotty from CTA Digital. It features a special stand to securely hold the iPad and safely entertain kids while they play with apps. The adjustable stand can be rotated 360° to switch between horizontal and vertical views and also includes a removable touchscreen cover to guard against messy hands and smudges. Parents will be pleased with how simple it is to keep the iPotty clean and minimize messes, with its removable inner potty bowl, potty seat, and splashguard. A clip-on seat cover can be attached to convert the potty to a child activity seat, so they can safely play apps, read and watch videos on the iPad at any time. The stand can also be adjusted to 3 positions or removed entirely to make extra room and easily store away. So, take a step ahead in potty training, delight children and make the learning experience easy and fun with CTA Digital's iPotty for iPad.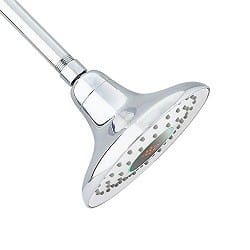 WaterHawk Smart Rain Shower Head with Water Usage and Temperature LED Display
The WaterHawk 6" inch Smart Rain Shower Head with LED display helps you save water and money by monitoring water usage and temperature while showering. The shower is the number two water user in the household accounting for 27% of your water usage and water bill. Yet, there has not been an easy or sensible way to know how much water is used while showering…until now! WaterHawk is powered by the flow of water, no external power supply or batteries are needed for operation. Water usage in Gallons Per Minute and temperature information will alternate on the integrated LED display while showering. So you know right away when your shower is at the perfect temperature the LED ring that surrounds the display quickly indicates the water temp range at a glance. The WaterHawk fits all standard ½" Inch shower arms and installs in seconds.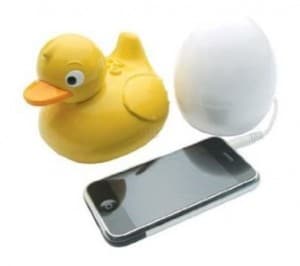 IDuck – Waterproof Radio and Wireless Speaker
Fill up the bath, switch on, lie back, enjoy…. Your music collection will be streamed wirelessly from your mp3 player, mobile phone, or any other audio source via the egg shaped transmitter. The cute little waterproof duck will cleverly play all your music in the bath, without the need for wires. When you're tired of listening to your music there is also an onboard radio. Features wireless FM transmittion via an egg shaped transmitter; all you need do is plug in the 3.5mm connector into your music player, and away you go.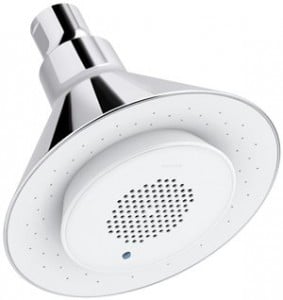 KOHLER Moxie Showerhead and Wireless Speaker
Sync your device enabled with Bluetooth technology with the wireless speaker from up to 32 feet away.-Speaker plays wirelessly in or out of the shower, use it in the kitchen or take it to the beach.-Docking securely into place, the magnetic speaker pops in and out of the showerhead for easy recharging.-Built-in lithium-ion battery provides 7 hours of uninterrupted play.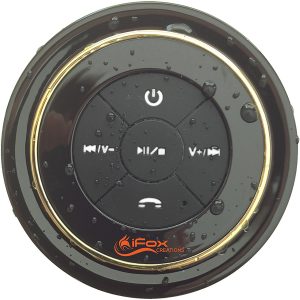 iFox iF012 Bluetooth Shower Speaker
Certified Waterproof – Wireless It Pairs Easily To All Your Bluetooth Devices – Phones, Tablets, Computer, Radio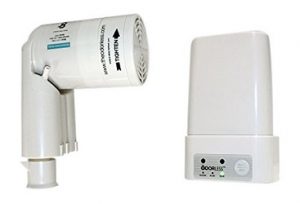 The fan unit, designed similarly to that of a turbine jet engine, is placed inside the toilet tank and pulls the foul air from your toilet bowl via the water holes up through the overflow-vent pipe and forced through and activated carbon filter, leaving clean odorless air.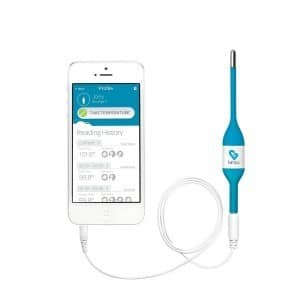 The Kinsa Smart Thermometer connects to your smartphone via the headphone jack and works with a free app (compatible with iPhones and select Android phones – see below). Connecting to the smartphone allows it to do things that no other thermometer can.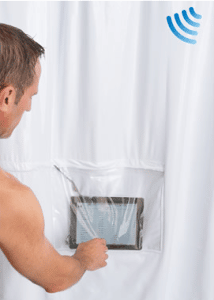 This is the shower curtain with built-in speakers and a waterproof pocket for an iPad, turning a simple shower into a media-rich bathing event. The pocket zips closed from the outside, ensuring it stays safe from moisture, and its integral audio cable connects an iPad, iPhone, Android phone, or MP3 player to two speakers in the upper left and right corners of the curtain.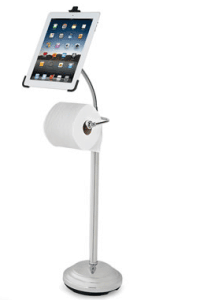 CTA iPad Bathroom Pedestal Stand with Toilet Paper Roll Holder
CTA Digital's Universal Pedestal Stand for 7-13 Inch Tablets provides a more convenient way to comfortably enjoy apps, eBooks, videos and web browsing at home. The bendable gooseneck stand allows you to adjust the tablet to any viewing angle, orientation or position you may need. Insert your tablet into the adjustable holder and find the perfect viewing angle. The elegant chrome pedestal also features a solid heavyweight base that will stay in place and a convenient toilet paper roll holder. Features Include: Bendable 12-inch metal gooseneck tube for multi-directional adjustment Slide adjustable holder rotates 360 degrees Elegant chrome pedestal adds style to your decor Stable heavyweight base with convenient toilet paper roll holder Compatible with 7-13 inch tablets, including iPad Air, iPad Mini, iPad (2017), iPad Pro 12.9, Surface Pro 4, and more Specifications:
Amphiro Monitoring Water & Energy Smart Meter for Shower
Amphiro A1 displays the energy consumption of every shower you take and motivates water conservation and energy savings of 440 kWh/2245gallons/150 dollars per year. Showering is the second largest energy end use in the household – using far more energy than refrigeration, cooking and lighting combined. Reducing hot water consumption is essential even in water-rich countries in order to reduce energy consumption. That way, you can pursue energy efficiency goals or simply get a sense for your personal resource utilization in the shower. The shower meter amphiro a1 seamlessly integrates as a design component between your shower hose and the handheld shower head. You can easily install it with just a few simple moves and without any tools. The device harvests its energy for the display and its electronics from the water flow, it does not need any batteries.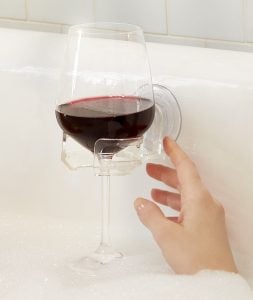 SipCaddy Bath & Shower Portable Suction Cupholder Caddy for Beer & Wine
Attach it to any smooth surface for an instant drink butler for your beer or wine vessel of choice, or for many other household items. It uses the highest quality suction cup available, American made, and rated at 7 lbs strength when applied correctly to a nonporous surface.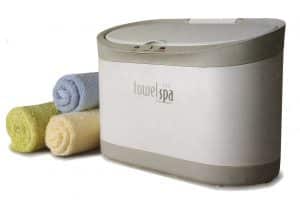 Towel Spa 75000 Jumbo Towel Warmer
Our oversized Towel Spa warms up to two 40 x 70 bath sheets at a time, in less than 5 minutes, to give you a luxurious spa experience at home. Imagine stepping out of the bath or shower and into the cozy embrace of a heated towel. Great on cold days, a bathroom towel warmer starts your day right. Unlike wall-mounted radiant-water models, our freestanding heated Towel Spa can go where you go.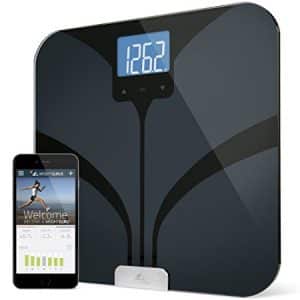 Bluetooth Smart Body Fat Scale by Weight Gurus
The Weight Gurus app is also designed for use with your favorite apps. Unlike other scales that broadcast to all devices in range, our scale syncs each user's results separately and securely through 1:1 pairing. Requires Bluetooth Smart/LE technology (in most recent Android phones, and an iPhone 4S or beyond, running iOS 7.1 or later). App is for iOS & Android only. To sync a weigh-in, the app must be open and your device must be in range. However, you don't need a smartphone to view your results—just to sync them. The scale displays your full results on the screen after each weigh-in, and stores them to sync later if it can't establish a connection to your device. Measures weight, BMI, body fat, lean mass, water weight, & bone mass. Extra-large, backlit LCD screen.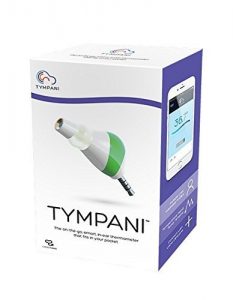 Tympani uses infrared technology to measure the heat generated by the eardrum and surrounding tissue. Tympani accurately reads in-ear temperature in 2 seconds. Useable for all ages, from babies to adults. Designed to prevent being inserted too far into the ear. Measures liquid and surface temperature, allowing you to make sure that baths and bottles are just right.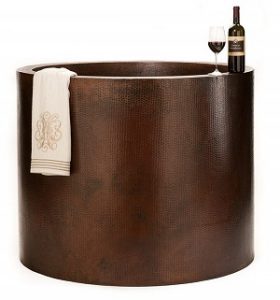 Japanese Style Soaking Hand Hammered Copper Bath Tub
Uncompromising quality, beauty and functionality make up this Premier 45-Inch Round Hammered Copper Japanese Four Style Soaking Tub. Green recyclable products like copper sinks are a must have in today's modern home. This product is sure to impress your guests and satisfaction is always guaranteed. Features round Soaking Tub with Seat. Hammered Copper Surface.
KOHLER Digital Shower Interface
DTV+ is Kohler's most advanced showering system, bringing together four elements – water, steam, lighting, and music to give you a true multi-sensory showering experience. Every element of your experience is completely customizable to your needs and is controlled by this simple touchscreen interface.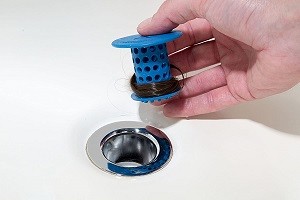 TubShroom The Revolutionary Tub Drain Protector Hair Catcher/Strainer/Snare
A Revolution in Drain Protection: Unlike regular plugs that go over the drain, TubShroom fits inside, neatly collecting hair around it. When it's time to cleanup, simply wipe TubShroom off and GO! No harsh chemicals, no more tangled messes.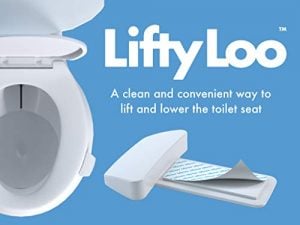 Lifty Loo Antimicrobial Toilet Seat Handle & Lid Lifter
Lifty Loo is a modern, antimicrobial toilet seat handle that provides a convenient way to lift AND lower the toilet seat.

Surprise your family and friends with an unexpected bathroom message – turns an ordinary trip to the bathroom into a laugh filled surprise they'll never forget. Talking Toilet Paper allows you to record (and re-record) a message, music or sound and then have it automatically play back. The recording device is built into a spindle that fits inside a roll of toilet paper (and fits all holders and toilet paper rolls) so that every time the toilet paper "rolls," the recording is played. Simply turn on the unit and press the record button and record up to 6 seconds of sound. The device uses special technology to sense movement of the spindle, which automatically plays back the recording every time the unit moves.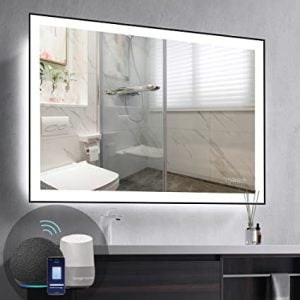 HAUSCHEN HOME 32×40 inch Smart WiFi LED Lighted Bathroom Mirror, Works with Alexa, Echo & Google Home, Voice Control, Wall Mounted Dimmable Black Framed Vanity Anti-Fog Mirror, Horizonal & Vertical
Enjoy the hands-free convenience of controlling the mirror with your voice via Amazon Alexa or Google Assistant. The mirror power switch, color temperature changing switch, brightness switch and anti-fog switch are separate control. Turn on and off the anti-fog according to your needs, safe and energy saving. Anti-fog function help to keep always clear reflection image.
Note: Some of these bathroom gadget links may be affiliate links. For a list of the programs I belong to, please visit my disclosures page.