Nature beckons, and the call of the great outdoors is hard to resist. Whether you're an avid adventurer or a casual camper, having the right gear can make all the difference in creating an unforgettable camping experience. In this article, we've compiled a list of 20 amazing camping gadgets that will enhance your outdoor adventures and elevate your camping game to new heights.
From high-tech tools to ingenious contraptions, these gadgets are designed to make your camping trips more convenient, comfortable, and enjoyable. Say goodbye to traditional camping woes and hello to innovative solutions that will revolutionize the way you explore the wilderness.
Discover portable cooking devices that allow you to whip up delicious meals even in the most remote locations. Unleash the power of solar energy with gadgets that keep your devices charged and your campsite well-lit. Embrace the wonders of modern engineering with compact, lightweight tents and sleeping gear that provide unparalleled comfort without compromising on durability.
Join us as we embark on a journey through the world of camping gadgets, showcasing 20 remarkable tools that you can actually buy. Whether you're a solo backpacker, a family of adventurers, or someone who simply craves a peaceful retreat in nature, these gadgets will enhance your camping experience and help you create lasting memories. Get ready to gear up and explore the great outdoors like never before. Let's dive into the world of amazing camping gadgets!
Innovative Camping Gadgets
(Click on each image for more product details including purchasing information)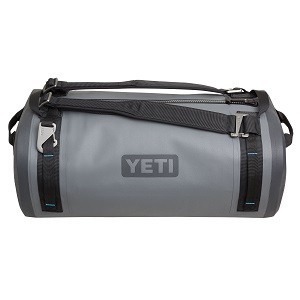 YETI Panga Airtight, Waterproof and Submersible Bags
The Panga Submersible Duffel is our first non-insulated piece of gear that lives up to the standard of being built for the wild. This is the duffel bag designed for extended backcountry stays, fly fishing that takes you to the most remote rivers, and hunts that almost seem too wild to believe. The airtight closure makes this bag absolutely waterproof and keeps moisture (and whatever else you might come across) out. The exterior fabric is tough-as-nails. The straps and accompanying lash points make it easy to haul.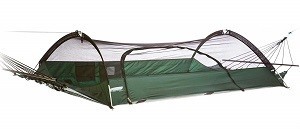 Lawson Hammock Blue Ridge Camping Hammock and Tent 
A unique, hybrid tent-hammock that has been rated #1 on the market by leading publications like Backpacker and Outside. The patented design allows for use suspended, as a hammock, or on the ground, as a tent, greatly increasing camping terrain options that are often limited by the type of shelter you're using. The spreader bar and arch pole system also keep the bed of the hammock flatter and more taut, eliminating much of the uncomfortable "cocoon" and "banana" effect created by most hammocks.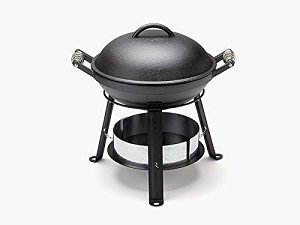 Barebones Cast Iron Grill, All In One Open Fire Cooking
Grill. Wok. Smoker. Skillet. Braiser. Roaster. Deep fryer. Slow cooker. Stock pot. The All-in-One Cast Iron Grill is an outdoor cook's dream. A cast iron base and domed lid, grill grate, baking steel, tripod stand, and coal tray combine in countless configurations to expand your outdoor dining options, and pack down into a single self-contained bundle to minimize what you carry. Features Include: Solid, durable cast iron construction Cast iron body is both cooking surface and grill base Compatible with open fire and coals Works with direct and indirect heat Grate for grilling and steaming Baking steel replaces griddle and skillet Adjustable charcoal tray with wind guard Use with or without tripod stand.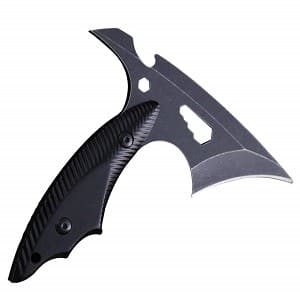 Promithi Camping Axe Multitool 
Small Survival EDC Hand Axe Hatchet Survival Hatchet Axe- Ideal Tool for Survival Outdoor Tactical Use & Hunting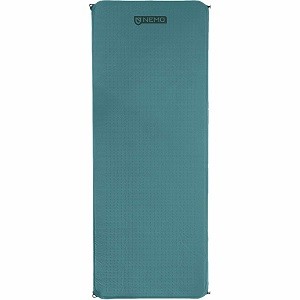 Nemo Roamer Camping Sleeping Pad
For when you want it all – all the plush comfort and expansive size that makes you feel like you're sleeping at home – there's Roamer. Packing to half the size of the competition, yet thicker and lighter, Roamer is the go-anywhere mattress you've been dreaming of. This absolute slab of comfort is self-inflating, yet offers personalized comfort with a micro-adjust valve. The soft, cozy 50D stretch fabric offers a plush, bottomless surface for sleeping, while the durable bottom can be tossed out on gravel, in a tent, in the back of your truck, or on your friend's guest room floor.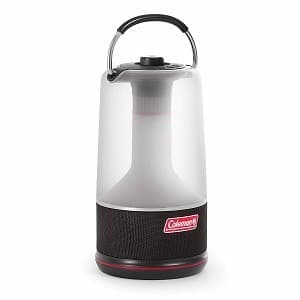 Coleman 360° Sound & Light LED Lantern
The Coleman Sound & Light LED Lantern is perfect for entertaining family and friends during outdoor gatherings. The 2-in-1 device offers a full 360 degrees of light and the wireless capability of a Bluetooth speaker, so you can enjoy your favorite playlist long after sunset. With up to 400 lumens of hands-free light and IPX4 water resistance, the lantern is a crucial component of your camping gear and a great addition to your at-home emergency kit. The rechargeable lithium-ion battery with a USB-compatible charger makes it easy to pack up and go and stay powered along the way.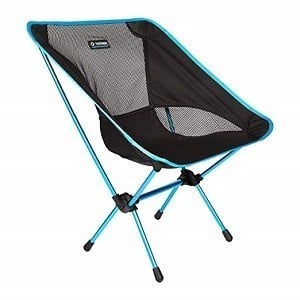 Helinox Chair One Original Lightweight, Compact, Collapsible Camping Chair
The original Helinox Chair One ensures everyone has a seat at the table (and everywhere else). This lightweight, compact camping and backpacking chair packs smaller and weighs less than a bottle of wine. The Helinox Chair One Camping Chair measures 4 x 4.5 x 14 inches packed in its included bag, and weighs 2.10 pounds making it super portable for easy transport.
Compact and easy to move for making pizza on the go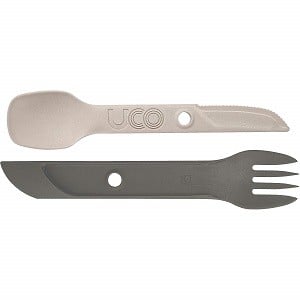 UCO Switch Spork 2-Piece Integrated Camping Utensil Set
The UCO Switch Spork 2-Piece Integrated Camping Utensil Set includes a full-size fork and full-size knife/spoon combo that can be used separately while enjoying a meal, or connected end-to-end for use as an extra-long prep and serving spoon. Ideal for camping, backpacking, scouting, picnics, meals on-the-go, and packed lunches, the spoon/knife nests securely with the fork, and includes a reusable shock-cord tether for attaching the set to a bag or backpack, meal kit, or hanging the utensils to dry.

Sawyer Products Mini Water Filtration System
A lightweight, versatile personal filtration system, the second-generation Sawyer MINI Water Filter fits in the palm of your hand and has a total field weight of just 2 ounces. Perfect for everything from camping with the kids to traveling abroad where tap and bottle water can't be trusted, the tiny MINI provides 0.1 micron absolute filtration for clean drinking water on the go — filtering out bacteria, protozoa, and microplastics.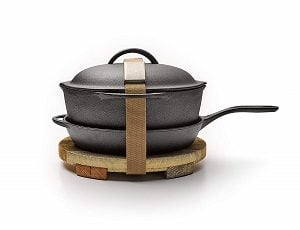 Barebones Cast Iron Kit, 12 Inch Skillet & Crock Pot with Lid, Trivet, Cleaning Mesh
Cooking and caring for cast iron has never been easier with our skillet and crock kit. With a locally mixed oil to season with as well as a stainless steel cleaning mesh, and a handmade serving wood trivet you can immerse yourself in the full experience of cast iron.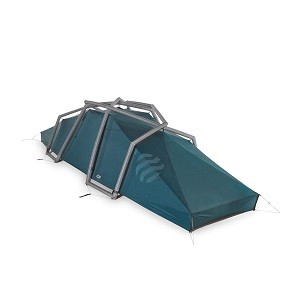 Heimplanet Nias Inflatable Geodesic 6-Person 3-Season Tent
A super-stable 6-person 3-season tent. Heimplanet tents inflate in less than one minute using any standard pump. The Frame, inner tent and outer tent work as a unit and only need to be assembled on the very first setup. Great for expeditions, backpacking, or car camping.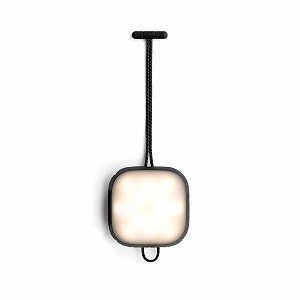 Lander – Cairn XL Lantern 350 Lumen LED Light + 10050 mAh Battery Power Bank 
The Cairn XL is the most powerful in the Cairn family of lanterns and is equally as versatile. It boasts an ultra-bright 350 lumen LED lantern, up to four mobile device charges, up to 250 hours of light time, and Bluetooth connectability. The free Cairn XL app allows you to control power, dimming, color, light alarms, proximity lighting, battery settings and light strobe.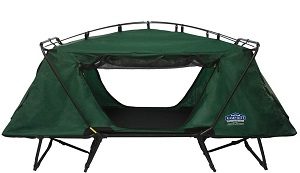 Kamp-Rite Oversize Tent Cot Folding Outdoor Camping Hiking Sleeping Bed
The Kamp-Rite Oversize Tent Cot stands 11" above the ground and brings additional comfort with its expanded sleeping area. The Oversize Tent Cot is wider and longer than the Original Tent Cot and adds a domed top to create more head room and interior space. This off-the-ground sleep shelter ensures superior protection from the elements and delivers a level of comfort and convenience not usually found in traditional, old style camping gear.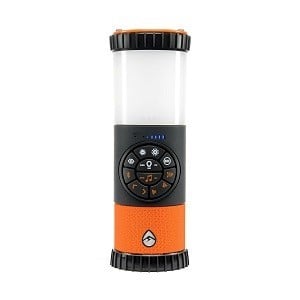 ECOXGEAR 100% Waterproof EcoLantern with High Intensity LED's, Built in 360 Degree Bluetooth Speaker & 4,400 mAh Power Bank
The EcoLantern by ECOXGEAR combines both the music and light needed for great outdoor activities. Either while camping or enjoying a backyard BBQ – the IP67 100% waterproof EcoLantern is functional and fun. It has a loud 360 Degree sound via the wireless 4.1 Bluetooth speaker, bright bi-directional lantern with a 4,400 mAh integrated smartphone power bank. Use at home or take it with you on your adventures; the waterproof and dustproof constructions is built to endure.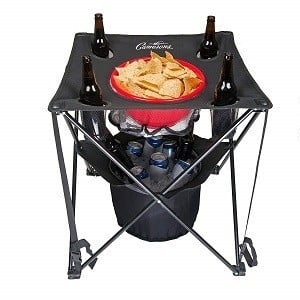 Camerons Products Tailgating Table- Collapsible Folding Camping Table with Insulated Cooler, Food Basket and Travel Bag for Barbecue, Picnic & Tailgate
Camerons Portable Tailgating Table is the perfect companion for your next tailgate, barbecue or picnic. With a zippered, insulated cooler, food holder and 4 cup holders, you can easily bring and enjoy food and cold drinks. Its light, collapsible design mean it's easy to store, and the included travel bag makes it easy to carry.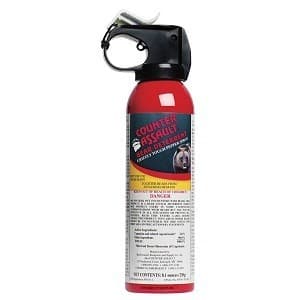 Hottest formula allowed by EPA at 2% capsaicin. Longest spray time and spray distance of 7.2 seconds; 30 ft. for 8.1 oz. And 9.2 seconds; 32 ft. for 10.2 oz. Glow-in-the-dark safety tie. Packaged in tamper-resistant sealed blister pack (w/Holster's only).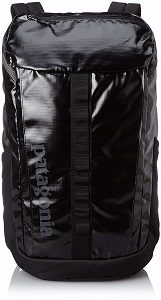 Patagonia Black Hole 25L Waterproof Backpack
Nikon 7576 MONARCH 5 8×42 Binocular
Even with an uncontested heritage of all-conditions optical performance, the all-new MONARCH 5 further elevates its game with improved agility and advanced low light brilliance. By shaving nearly an ounce of weight from its rugged frame, the new MONARCH 5 is more athletic than ever, while the addition of Nikon ED glass lenses puts it in a class of its own for battling darkness with sharp, high-contrast views.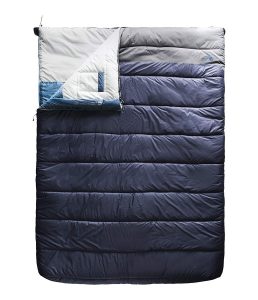 The North Face Dolomite Double 20 Sleeping Bag
Double up and shorten your gear checklist with a cozy, two-person 20ºF rectangular bag that lets you experience the outdoors side by side. Heatseeker Eco insulation offers an efficient warmth-to-weight ratio that's also highly compressible for easy packing. The full-length zippers on each side can be unzipped to allow the bag to lay flat and be used as a large, insulated campground blanket.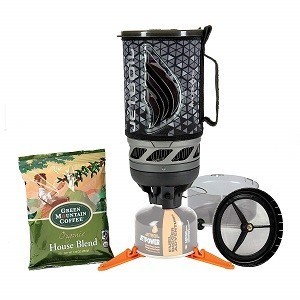 The Flash Java Kit includes a Flash cooking system, the ever popular Coffee Press, as well as a sample of Green Mountain coffee, allowing you to make Java right on the trail. The Flash system lights with the click of a button, and in just over two minutes, provides two cups of boiling water for cocoa, coffee, instant soup or a gourmet freeze-dried meal. Designed to be a safe, the burner secures the igniter, protecting it from bumps along the road. The cooking cup clips onto the burner preventing accidental spills and the fuel canister tripod ensures overall stability. A color-changing heat indicator signals when contents are hot.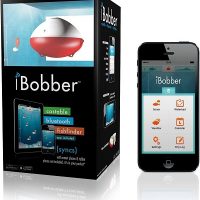 iBobber ReelSonar Wireless Bluetooth Smart Fish Finder
The mobile fish finder and app that you can bring with you wherever you fish. The iBobber was designed with portability and flexibility in mind so anglers of all skill levels and types could take the latest in portable sonar fish finding technology with them on the go. Using an iPhone or Android mobile device anglers can mark fish, map depth contours and underwater structure, save water temp, weather and location, species, photos and hot spots and choose to share on social media directly if desired.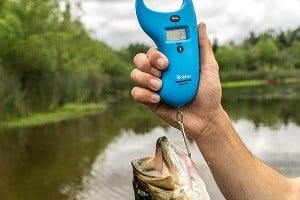 iBobber Bluetooth Digital Fish Scale with Built-in Tape Measure
Note: Some of these links may be affiliate links. For a list of the programs I belong to, please visit my disclosures page.