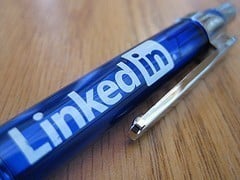 LinkedIn has built up robust business page and group offerings on their network. Here is a comprehensive list of the LinkedIn company page and group statistics and facts that you need to know.
This is an offshoot of my original LinkedIn stat post that was becoming unmanageable with the amount of stats that had been added to it.
LinkedIn Company Page Stats
Total number of LinkedIn company pages:
Last updated 1/15/20
---
Top 5 most-followed LinkedIn pages (source):
TED Conferences
Google
Amazon
LinkedIn
Microsoft
Last updated 8/27/19
---
Percentage of the Forbes Cloud 100 that use LinkedIn Sales Navigator:
Last updated 8/15/18
---
Percentage of U.S. small businesses that use LinkedIn:
Last updated Spring 2015
---
Percentage of B2B marketers that use LinkedIn in new product launches:
Last updated 4/30/15
---
Percentage of companies that have created a LinkedIn page:
Last updated 2/18/15
---
Best Day and Time to post on LinkedIn for engagement:
Last updated 4/3/14
---
Best time to post on LinkedIn for shares:
Last updated 4/3/14
---
Best time to post on LinkedIn for shares:
Last updated 4/3/14
---
Amount of posts it takes to reach 60% of your LinkedIn audience:
Last updated April 2014
---
Number of School and University profiles on LinkedIn:
Last updated 10/11/18
Get the Industry Report
This report is available in an annual industry report. Some of the data in industry reports include:
Users
Demographics
Company pages
Groups
Advertising
Jobs
Mobile
Revenue
Etc.- all in one place
I try to go through each and every stat regularly and update as much as possible, but we all know that some stats are easier to track down than others. As always, every stat is linked to its original source and has the source date listed.
To get your copy of the report, click on the button below to purchase it.
or get it in one of my report bundles:
Report 1: Social Media Companies Report (Includes: Facebook, Instagram, LinkedIn, Messenger, Pinterest, Reddit, TikTok, Twitter, WeChat, WhatsApp and YouTube).