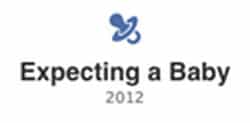 It kind of flew under the radar, but Facebook recently added a timeline option that may be of use to a few of you.
Now, expecting parents can tell the (Facebook) world all at once that they are expecting a little bundle of joy by adding "Expecting a Baby" to their timeline life events.
Adding this new life event is simple:
Goto your Facebook timeline and in the status update area, click on "Life Event"
Click on "Family & Relationships" and then on "Expecting a Baby"
Your new life event will then appear on your timeline and your announcement will show up in the notification section of your Facebook friends' News Feed just above where the birthday announcements appear.
Marketers, this new feature gives you yet another demographic to target through Facebook ads. Retailers that offer baby registries, daycare centers, diaper and formula companies, pickle and peanut butter makers, etc all can now segment a group of Facebook users that is dealing with a unique situation now and also planning for a lifestyle change in a few months. Very useful.
Oh and you may  have noticed that I did not include screenshots of what the announcement looks like on your timeline. I made the tough decision to not freak out all of my Facebook friends by announcing a baby. Its bad enough they all probably think I am nuts because of the bizarre mix of Pages I have to like for this blog post research and projects at work 🙂