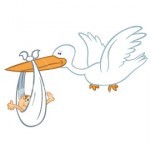 Inside Facebook tips us off today that Facebook has begun allowing parents-to-be to list their expected child as a relative on their profile.
Adding a child is easy- just goto edit profile and the 'friends and family' section and then click on 'add another family member;' Select expected child, type in the child's name and due date and save.
In adding your baby to your profile, you do have the option to select an existing friend; A weird and potentially humorous bug that will undoubtedly result in some fun screencaps on StumbleUpon in the future.
Here is a sample of what the new feature looks like once added (Hint: We are registered at a few places, if you are so inclined 🙂 )