While still relatively unknown in the U.S., the digital heavyweight Yandex.ru is to Russian internet users what Google is to their counterparts in many other parts of the world. Much like Google, Yandex' core product is search, but it's extensions reach far and wide across a spectrum of digital products and services.

Here are a few of the more interesting Yandex statistics I have been able to dig up in my travels. As always, I will be updating this post periodically as I uncover new or updated Yandex statistics.
Get the Full Report
This report is a digital collection of every Yandex statistic I have curated over the years as of the end of January 2017. 40 of them including stats for:
Users
Revenue
Market share
Etc.- all in one place
I try to go through each and every stat regularly and update as much as possible, but we all know that some stats are easier to track down than others. As always, every stat is linked to its original source and has the source date listed.
To get your copy of this stat report, click on the button below to purchase it. I will be updating it as close to quarterly as possible, so be sure to check back regularly for a new version.
or get it in one of my report bundles:
Bundle 1: Search Engine Company report bundle (Google, Baidu, Microsoft, Yandex).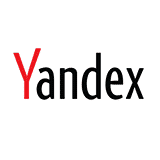 Please note that some of these numbers are easier to find than others. A few of these stats come from Yandex own reports, but some are based on news reports and not official company tallies. Basically, this is the best I can find and I don't guarantee anything to be 100% accurate.
Yandex Facts
Website: yandex.ru
Year Founded: 1997
Founders: Arkady Volozh, Arkady Borkovsky and Ilya Segalovich
Headquarters: Moscow, Russia
CEO: Arkady Volozh
Yandex Statistics
Number of Yandex users:
67 million monthly unique users
Last updated January 2015
---
Number of Yandex users in Russia:
Last updated 1/16/17
---
Number monthly visitors to Yandex.ru:
Last updated October 2015
---
Average monthly users for Yandex Music (music streaming service):
 Last updated October 2015
---
Number of tracks on Yandex Music:
Last updated October 2015
---
Number of users of Yandex Maps:
Last updated October 2015
---
Number of Yandex.Fotki (photo) users:
Last updated 1/30/13
---
Number of monthly Yandex Mail users:
Last updated October 2015
---
Number of Yandex employees:
more than 6,000
Last updated 1/16/17
---
Number of countries Yandex has offices in:
Last updated 12/30/15