Viber is quite possible the largest chat/messaging app to fly completely under the radar here in the United States. Viber made headlines early in 2014 when Japanese ecommerce company Rakuten purchased it for close to a billion dollars, but things have been very quiet for Viber stateside since.
It isn't often that you can find an app with 900 million registered users that you hardly hear anything about. Check out some of these crazy Viber stats that I was able to dig up recently. I get the feeling we will be hearing more about Viber in the future.
Get the Full Report
This Viber report is a digital collection of the most interesting statistics I have curated over the years as of August 2018. 30 of them including stats for:
Users
Geography
and more- all in one place
I try to go through each and every stat regularly and update as much as possible, but we all know that some stats are easier to track down than others. As always, every stat is linked to its original source and has the source date listed.
To get your copy of this stat report, click on the button below to purchase it. I will be updating it as close to quarterly as possible, so be sure to check back regularly for a new version.

or get it in one of my report bundles:
Bundle 1: Messaging app reports (WhatsApp, WeChat, Snapchat, Facebook Messenger, Skype, QQ, Kik, Viber and LINE).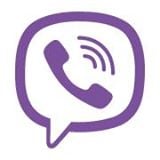 Please note that some of these Viber Stats are easier to find than others. A few of these stats come from Rakuten's own reports, but some are based on news reports and not official company tallies. Basically, this is the best I can find and I don't guarantee anything to be 100% accurate.
Viber Facts
Viber website: viber.com
Year Viber launched: 2010
Viber headquarters: Luxembourg
Viber owner: Rakuten
Viber creators: Talmon Marco

 and 

Igor Magazinnik
What is Viber?
Viber is a calling and messaging app that connects people–no matter who they are, or where they're from. With a free and secure connection, over 1 billion users worldwide communicate with their loved ones through high-quality audio and video calls, messaging, and much more. All Viber calls and chats are protected by built-in end-to-end encryption, so you can be sure that your conversations are always secure. (source)
Viber Stats
How many people use Viber?
---
Amount Rakuten paid to purchase Viber:
---
Number of Viber users in Africa:
Last updated 2/25/16
---
Number of Viber users in Russia:
Last updated 9/22/16
---
Number of countries that Viber is used in:
Last updated 1/7/17
---
Number of Viber employees:
Last updated 2/17/18
---
Number of Viber downloads from the Android Play Store:
Last updated 5/12/16
---
Average number of interactions every minute on Viber:
Last updated 8/2/18
---
Average number of times a Viber user launches the app each day:
Last updated 8/2/18
---
Percentage of Viber users that send stickers on it daily:
Last updated 8/2/18
---
Percentage of Viber users that share photos and videos on it daily:
Last updated 8/2/18