When having a conversation about digital heavyweights, the odds are good that Shazam doesn't come up all that often. Shazam is just one of those apps that we all have and generally take for granted. Since it doesn't have the user-to-user interaction that social networks and messaging apps have, we don't think about just how massive a user base Shazam has.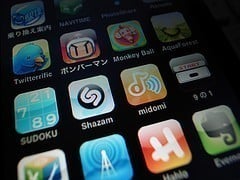 News came out this week that Shazam is adding new features like connectivity to music streaming services and popularity charts. Shazam is also rumored of late to be heading to an IPO. This news got me wondering what kind of usage an app like Shazam gets. What I found was pretty amazing….
Please note that some of these numbers are easier to find than others. A few of these stats come from Shazam's own reports, but some are based on news reports and not official company tallies. Basically, this is the best I can find and I don't guarantee anything to be 100% accurate.
Shazam Statistics
How many Shazam downloads:
Number of monthly active Shazam users:
Last updated 9/30/16
---
Number of verified artists on Shazam:
Last updated 9/29/16
---
Number of cumulative followers for verified artists on Shazam:
Last updated 9/29/16
---
Number of Shazams all time:
Last updated 9/29/16
---
Percentage of Shazam users that have tagged a TV program or commercial:
Last updated 8/20/14
---
Number of digital music downloads that Shazam drives daily:
Last updated 8/20/14
---
Number of times users "Shazam" each day:
Last updated 10/21/17
---
Number of patents Shazam has been granted:
Last updated 8/20/14
---
Total number of Shazam tags:
Last updated 9/24/14
---
Number of times Shazam is downloaded monthly:
Last updated 12/14/14
---
Percentage of all music downloads that come from Shazam:
Last updated 11/9/15
---
Average number of clicks on Shazam advertisers daily:
Last updated 9/29/16
---
Percentage of people that Shazam a TV ad that spend time with the brand on their pages:
Last updated 9/30/16
---
Number of Shazam employees:
Last updated 11/9/15
---
Reported amount of funding Shazam has raised:
Last updated 6/15/16
---
Shazam's reported value:
Last updated 6/15/16
---
Number of countries Shazam has users in:
Last updated 10/21/17
---
Most Shazamed track of 2017:
---
Most Shazamed Category of 2016:
Photo by ryoichitanaka