Here are some of the more interesting Kik Messenger Stats I was able to dig up. As always, be sure to bookmark this page and check back often as I will be updating and adding to this post semi-regularly.
When you think of the global hotbeds of tech activity, you often think of places like California, China and India and Canada usually doesn't immediately come to mind. You might be surprised to read that one of the hottest chat/messaging apps around is actually headquartered in our neighbor to the north in Waterloo, Ontario.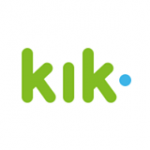 Kik Messenger was one of the earlier (2009) entries in this current wave of chat apps and has quietly amassed 300  million users and a very active base among U.S. teens. While their user total is impressive, it pales in comparison to the massive bases for apps like WhatsApp, WeChat and LINE. That said, Kik Messenger is consistently one of the most searched-for companies in my digital stat directory, often ranking higher than their larger competitors, so I thought it was time to do a stat post specifically for them.
Kik Messenger Facts
Kik Website:  kik.com
Kik Messenger Release Date:  2009
Kik Headquarters:  

Waterloo, Ontario, Canada
What is Kik Messenger?
Kik Interactive, Inc., connects the world through chat. The company is the maker of Kik, a chat platform popular with U.S. teens where people can chat with friends and connect with chat-based services.  (
source
)
Kik Messenger Statistics
How many people use Kik Messenger?
Last updated 12/15/16
---
Number of Kik monthly users:
Percentage of Kik Messenger users that share content daily:
Last updated 11/11/14
---
Average number of new Kik Messenger users being added daily:
Last updated 11/1/9/14
---
Number of Kik Messenger messages that have been sent and received by promoted chats accounts:
Last updated 11/11/14
---
Percentage of US teens that use Kik Messenger:
Last updated 9/5/17
---
Number of countries with Kik Messenger users:
Last updated 12/15/16
---
Average amount of time users spend on Kik:
Last updated 1/28/15
---
Number of bots on Kik:
Last updated 8/3/16
---
Number of approved bots in the Kik Bot Shop:
Last updated 8/3/16
---
Number of messages that have been exchanged with bots on Kik:
Last updated 9/5/17
---
Percentage of Kik bot users that are between the ages of 13-24:
Last updated 8/2/18
Get the Industry Report
This report is available in an annual industry report. Some of the data in industry reports include:
Users
Demographics
Revenue
Growth
Etc.- all in one place
I try to go through each and every stat regularly and update as much as possible, but we all know that some stats are easier to track down than others. As always, every stat is linked to its original source and has the source date listed.
To get your copy of the report, click on the button below to purchase it.
Report 1: Messaging App Company Report (Includes: Apple, Facebook Messenger, Kik, LINE, QQ, Skype, Snapchat, Viber, WeChat and WhatsApp).
Please share this post if you enjoyed it:
---