Etsy was started about 13 years ago, but has come on strong over the past few years as the visual web has come into its own. Etsy has become the go-to ecommerce site for all things handmade and artists and craftspeople from all walks of life have found success selling their products on its platform. Etsy's success has not shown any signs of slowing down, so I decided it was time to dedicate a stat post just to them.
Here are some of the more impressive Etsy statistics and facts I've been able to dig up recently. As always, be sure to check back in the future as I will be updating this post as new and updated stats become available.
Get the Full Report
This report is a digital collection of the most interesting Etsy statistics I have curated over the years as of August 2018. 65 of them including stats for:
Buyers
Sellers
Products
Revenue
Etc.- all in one place
I try to go through each and every stat regularly and update as much as possible, but we all know that some stats are easier to track down than others. As always, every stat is linked to its original source and has the source date listed.
To get your copy of this stat report, click on the button below to purchase it.

or get it in one of my report bundles:
Bundle 1: eCommerce digital reports (Alibaba, Alipay, Amazon, Ebay, Etsy, Flipkart, JD.com, Tmall, Taobao, PayPal and Square).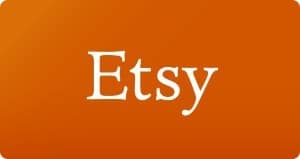 Please note that some of these numbers are easier to find than others. A few of these stats come from Etsy's own reports, but some are based on news reports and not official company tallies. Basically, this is the best I can find and I don't guarantee anything to be 100% accurate.
Etsy Facts
Official website: etsy.com
Year launched: 2005
Location of headquarters: Brooklyn, NY
Who created Etsy: Robert Kalin, Chris Maguire, Haim Schoppik, Jared Tarbell
What is Etsy?
Etsy is the global marketplace for unique and creative goods. It's home to a universe of special, extraordinary items, from unique handcrafted pieces to vintage treasures. (about)
Etsy Statistics and Facts
Number of Etsy members:
Last updated 3/4/15
---
Number of active Etsy buyers:
Last updated 8/6/18
---
 Number of Etsy sellers:
Last updated 8/6/18
---
Number of items listed for sale on Etsy:
Last updated 2/27/18
---
Percentage of Etsy sellers that are women:
Last updated  3/4/15
---
Number of countries Etsy has sellers in:
Last updated 10/8/15
---
Percentage of Etsy visits that come from mobile:
Last updated 2/27/18
---
Percentage of Etsy sales that are made by repeat purchasers:
Last updated 2/24/16
---
Percentage of Etsy sales that come from outside the US:
Last updated 8/6/18
---
Percentage of Etsy GMS that is from mobile devices:
Last updated 8/6/18
---
Etsy gross merchandise sales in 2016:
---
Etsy revenue for 2016:
---
Etsy gross merchandise sales in 2017:
---
Etsy revenue for 2017:
---
---