Here are some of the more impressive JD facts and statistics I've been able to dig up recently. As always, be sure to check back in the future as I will be updating this post as new and updated stats become available.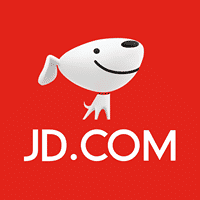 With all the press ecommerce heavyweights Amazon and Alibaba get these days it is understandable if you aren't overly familiar with China's second-largest ecommerce site/platform, Jingdong (known outside of China as JD.com).
Like Alibaba, JD.com went public last year, listing on the NASDAQ in the U.S. and has continue to grow pretty steadily since. JD.com is not on the same level as Amazon and Alibaba just yet, but they are quickly entering the conversation.
JD Facts
What is JD?
JD.com, Inc. (Nasdaq: JD) is China's largest retailer, online or offline, and the world's third largest Internet company by revenue. (source)
JD Statistics
How many people shop on JD.com?
310.5 million annual active customer accounts
Last updated 5/10/19
---
Number of JD.com merchants:
Last updated 1/1/19
---
Number of JD.com warehouses:
Last updated 10/1/18
---
Number of JD.com delivery stations:
Last updated 3/31/15
---
Number of cities that JD.com has warehouses in:
Last updated 11/20/15
---
Number of orders fulfilled by JD.com in 2016:
---
Number of orders fulfilled by JD.com in 2015:
---
JD.com Annual Revenue:
---
Percentage of JD.com orders that come via mobile devices:
Last updated 3/8/17
---
Number of JD employees:
Last updated 10/1/18
---
Amount that JD.com sold during its Single's Day 2018 campaign:
RMB 159.8 billion ($23 billion)
Get the Industry Report
This report is available in an annual industry report. Some of the data in industry reports include:
Users
Demographics
Revenue
Growth
Etc.- all in one place
I try to go through each and every stat regularly and update as much as possible, but we all know that some stats are easier to track down than others. As always, every stat is linked to its original source and has the source date listed.
To get your copy of the report, click on the button below to purchase it.
Report 1: China Digital Companies Report (Alibaba, Alipay, Baidu, Ctrip, JD.com, QQ, YY, Tmall, Taobao, WeChat and Weibo).
Report 2:  eCommerce  Companies Report (Alibaba, Alipay, Amazon, Amazon Prime, Ebay, Etsy, Flipkart, JD.com, Tmall, Taobao, PayPal, Paytm and Square).
Please share this post if you enjoyed it:
---