As Alibaba claims its place as one of the world's leading digital companies, one of its oldest and most important services, Alipay, continues to grow at a very impressive clip. In case you aren't familiar with Alipay, it is an eleven year old online payment service (think: Paypal) that is based in China.
Here are some of the more impressive Alipay statistics I've been able to dig up recently. As always, be sure to check back in the future as I will be updating this post as new and updated stats become available.
Get the Full Report
This Alipay report is a digital collection of the most interesting statistics I have curated so far as of September 2018. 36 of them including stats for:
Users
Revenue
Market Share
Yuebao Stats
Etc.- all in one place
I try to go through each and every stat regularly and update as much as possible, but we all know that some stats are easier to track down than others. As always, every stat is linked to its original source and has the source date listed.
To get your copy of this stat report, click on the button below to purchase it.

or get it in one of my report bundles:
Bundle 1: Alibaba property reports (Alibaba, Alipay, Tmall and Taobao).
Bundle 2: eCommerce digital reports (Alibaba, Alipay, Amazon, Ebay, Etsy, Flipkart, JD.com, Tmall, Taobao, PayPal and Square).
Bundle 3: ePay reports (Paypal, Paytm, Samsung, Apple and Alipay).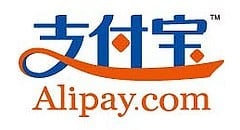 Please note that some of these numbers are easier to find than others. A few of these stats come from Alibaba's own reports, but some are based on news reports and not official company tallies. Basically, this is the best I can find and I don't guarantee anything to be 100% accurate.
Alipay Facts
Website: alipay.com
Year launched: 2004
Headquarters: Shanghai, China
Creator: Jack Ma
Parent company: Ant Financial
What is Alipay?
Alipay is a third party payment & lifestyle platform for a Cashless Society. It has over 520 million active users and is operated by Ant Financial (source)
Alipay Statistics
Total payment volume of Alipay:
 Last updated 5/6/14
---
Number of Alipay registered users:
Last updated 9/3/18
---
Number of Alipay daily active users:
Last updated 12/2/16
---
Number of Alipay monthly active mobile users:
Last updated 5/19/18
---
Number of Alipay transactions (all time):
Last updated 12/15/14
---
Average number of daily Alipay transactions:
175 million transactions per day
Last updated 8/10/16
---
Alipay's share of the China mobile payment market:
Last updated 5/17/17
---
Alipay's share of China's mobile payment provider market (by total transaction value):
Last updated 3/31/17
---
Percentage of Alipay payments that are made on a mobile device:
Last updated 8/10/16
---
Number of Singles Day 2017 transactions on Alipay:
---
Peak amount of Singles Day 2017 transactions on Alipay:
256,000 payment transactions per second
---
Amount of assets managed by Yuebao:
RMB 1.58trillion ($233billion)
Last updated 1/1/18
---
Number of Yuebao investors:
Last updated 12/14/17
---
Reported value of Ant Financial:
Last updated 6/8/18