Here are a few of the most interesting Waze statistics I was able to dig up. As always, be sure to check back in the future as I will be updating this post as new and updated stats become available.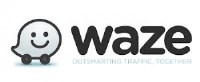 Waze Facts
Website: waze.com
Launch Year: 2007
Founder: Ehud Shabtai
Headquarters: Palo Alto, California
Parent Company: Google
iOS App: App Page
Android App: App Page
---
Waze Statistics
How many people use Waze?
110 million monthly active users
Last updated 10/11/18
---
Number of Waze users in the US:
Last updated 10/11/18
---
Number of countries Waze has users in:
Last updated 6/25/18
---
Number of countries Waze has 20,000+ monthly active users in:
Last updated 6/25/18
---
Average monthly distance driven by Waze users:
Last updated 10/27/18
---
Average time users spend per month in the Waze app:
Last updated 10/27/18
---
Number of volunteer editors that update Waze:
Last updated 10/11/16
Please share this post if you enjoyed it:
---