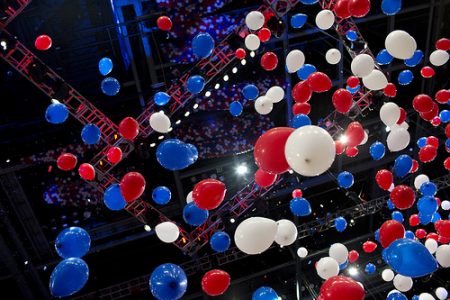 This year's Republican National Convention stands to be one of the most watched and controversial political events in recent memory. With Donald Trump set to receive and accept the GOP Presidential nomination once again, the otherwise boring summer event in Charlotte is sure to be a memorable reality show.
So what is this convention thing all about? and who goes to it? Here are the more interesting Republican National Convention Statistics and Facts I was able to dig up. As always, I will be adding more and updating these periodically as I find new stuff. Be sure to check back regularly.
Please note that some of these numbers are easier to find than others, so some of these are based on news reports and not official party tallies. All stats are linked to their source. In other words: This is the best I can find, but I don't guarantee anything.
Republican National Convention Statistics & Facts
Number of delegates to the Republican National Convention:
---
Number of alternate delegates at the Republican National Convention:
---
Number of delegates a candidate need to win the Republican Presidential nomination:
---
Location of the 2020 GOP National Convention:
---
Percentage of a state's delegates that can vote for whomever they want on the second ballot:
---
Percentage of a state's delegates that can vote for whomever they want on the third ballot:
---
Year of first GOP National Convention:
---
Location of first GOP National Convention:
---
Presidential nominee at the first Republican National Convention:
---
Estimated number of media credentialed for the 2016 GOP National Convention:
---
Last time a Republican candidate was nominated after going to the convention without enough delegates to win the nomination outright:
---
Estimated number of viewers for day 1 of the 2016 Republican Convention:
---
Estimated number of viewers for day 2 of the 2016 Republican Convention:
---
Estimated number of viewers for day 3 of the 2016 Republican Convention:
---
Estimated number of viewers for day 4 of the 2016 Republican Convention:
---
Estimated number of viewers for day 1 of the 2012 Republican Convention:
0 (It was canceled due to hurricane Isaac)
---
Estimated number of viewers for day 2 of the 2012 Republican Convention:
---
Estimated number of viewers for day 3 of the 2012 Republican Convention:
---
Estimated number of viewers for day 4 of the 2012 Republican Convention:
---
Recent Republican National Convention News: