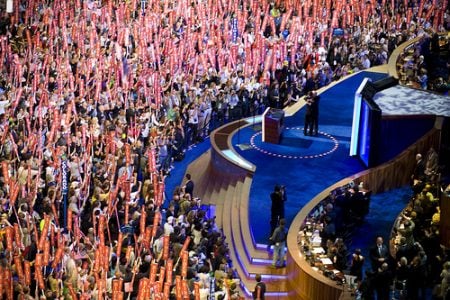 While not likely to be as event-filled as its GOP counterpart, the 2020 Democratic National Convention will still has its share of memorable moments.
So how much do you actually know about party conventions? Here are the more interesting Democratic National Convention Statistics and Facts I was able to dig up. As always, I will be adding more and updating these periodically as I find new stuff. Be sure to check back regularly.
Please note that some of these numbers are easier to find than others, so some of these are based on news reports and not official party tallies. All stats are linked to their source. In other words: This is the best I can find, but I don't guarantee anything.
Democratic National Convention Statistics & Facts
Number of delegates to the National Convention:
---
Number of superdelegates at the Democratic National Convention:
approx 719 superdelegates in 2016
---
Number of delegates a candidate need to win the Democratic Presidential nomination:
---
Location of the 2020 National Convention:
---
Year of first National Convention:
---
Location of first National Convention:
---
Presidential nominee at the first National Convention:
---
Number of multi-ballot National Conventions that have taken place since 1936:
---
Short term economic impact that Tampa experienced in 2012 from hosting the Democratic National Convention:
---
Number of people who watched day 1 on the 2016 Democratic National Convention:
---
Number of people who watched day 1 on the 2012 Democratic National Convention:
---
Number of people who watched day 2 on the 2016 Democratic National Convention:
---
Number of people who watched day 2 on the 2012 Democratic National Convention:
---
Number of people who watched day 3 on the 2016 Democratic National Convention:
---
Number of people who watched day 3 on the 2012 Democratic National Convention:
Recent Democratic National Convention News: