With a great deal of my stat posts over the years spotlighting social networks and ecommerce platforms, it is time to switch a little of the focus to digital services and what better a place to explore than cloud storage services. This has been an area of significant growth over recent years with quite a bit of room still to grow.
The first cloud storage stat post is for one of the largest services out there: Dropbox. Dropbox has been growing exponentially since its launch in 2007 and continues to impress seven years later. Here are a few of the more interesting Dropbox statistics I was able to dig up. As always, this list will surely grow over time, so be sure to check back regularly.
Get the Full Report
This Dropbox report is a digital collection of the most interesting statistics I have curated over the years as of September 2018. 33 of them including stats for:
Users
Customers
Activity
Revenue
Etc.- all in one place
or get it in one of my report bundles:
Bundle 1: Cloud Storage Company Reports (Box, Dropbox and Amazon Web Services).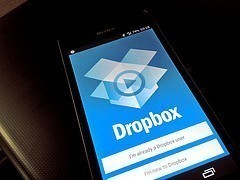 Please note that some of these numbers are easier to find than others. A few of these stats come from Dropbox's own reports, but some are based on news reports and not official company tallies. Basically, this is the best I can find and I don't guarantee anything to be 100% accurate.
Dropbox Facts
Dropbox Statistics
How many people use Dropbox?
---
Total pieces of content uploaded to Dropbox:
Last updated 2/23/18
---
Number of teams using Dropbox Business:
Last updated 9/1/18
---
Number of files uploaded daily to Dropbox:
Last updated 3/8/16
---
Number of Dropbox Android app installs:
Last updated 1/25/16
---
Number of sharing connections that have been created on Dropbox:
Last updated 3/8/16
---
Number of new shared folders and links created every hour on Dropbox:
Last updated 6/24/15
---
Number of file edits made on Dropbox every second:
Last updated 6/24/15
---
Number of Microsoft Office files stored on DropBox:
Last updated 6/24/15
---
Number of DropBox paying customers:
Last updated 8/9/18
---
Number of languages that DropBox supports:
Last updated 9/1/18
---
Dropbox 2017 revenue:
---
Percentage of Fortune 500 companies that pay for Dropbox:
Last updated 2/28/18
---
Photo by download.net.pl