Chinese New Year Statistics and Facts (2023)
Last Updated on: March 31st, 2023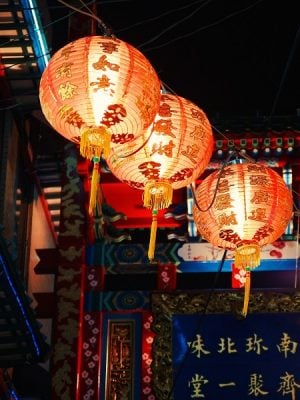 Here are a few of the most interesting Chinese New Year statistics and facts I was able to dig up in my internet travels. As always, be sure to check back in the future as I will be updating this post as new and updated stats become available.
Chinese New Year, also known as the Spring Festival or Lunar New Year, is the most important traditional festival in China and many other Asian countries. It is celebrated on the first day of the Chinese lunar calendar, which usually falls between late January and mid-February.
Chinese New Year is a time for families to gather and celebrate together, and is marked by many traditions and customs. One of the most important traditions is the reunion dinner, where families gather to share a large feast on New Year's Eve. Other customs include cleaning the house to sweep away bad luck, decorating with red lanterns and other auspicious decorations, and giving red envelopes filled with money to children and unmarried adults as a symbol of good luck.
Each year in the Chinese zodiac is represented by one of twelve animals, and the animal for the year is believed to influence the fortunes and personalities of people born in that year. The Chinese New Year is celebrated with many other traditions such as lion and dragon dances, fireworks, and the exchange of gifts.
The Chinese New Year is not only celebrated in China, but also in many other Asian countries with large Chinese populations, such as Taiwan, Singapore, Malaysia, and Hong Kong. It is a time for people to reflect on the past year, set new goals, and hope for good fortune and prosperity in the coming year.
Chinese New Year Facts
When is Chinese New Year 2023?
Sunday, January 22, 2023
---
Chinese New Year is also called Spring Festival and/or Luna New Year.
---
China's 2023Spring Festival public holiday:
January 21-27, 2023
---
Zodiac animal for 2019:
Pig
---
Zodiac animal for 2020:
Rat
---
Zodiac animal for 2021:
Ox
---
Zodiac animal for 2022:
Water Tiger
---
Zodiac animal for 2023:
Rabbit
---
How is the beginning of the new year chosen?
The new year begins with the new moon that appears between January 21 and February 20th each year.
---
According to legend, Chinese New Year began with villagers trying to scare off a monster, called Nian, with firecrackers and the color red.
---
Chinese New Year launches the biggest human migration in the world each year.
---
Those who celebrate Chinese New Year are not allowed to shower on New Year's Day and 'wash away the good luck.'
---
Please note that some of these numbers are easier to find than others. Most of these fun facts come from internet reports and may not be official tallies. No information contained on DMR should be relied upon to make investment decisions. Basically, this is the best I can find and I don't guarantee anything to be 100%.
Related Categories:
Related Tags: