Here are a few of the most interesting Best Buy facts and statistics I was able to dig up. As always, be sure to check back in the future as I will be updating this post as new and updated stats become available.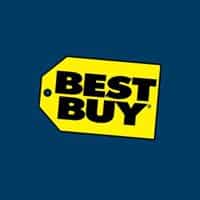 Please note that some of these Best Buy stats are easier to find than others, so some of these are based on news reports and not official company tallies. All stats are linked to their source unless it was sent to me directly from the company. No stat listed on DMR should be considered in making any type of investment decision. In other words: This is the best I can find, but I don't guarantee anything.
Best Buy Facts
Website: bestbuy.com
Launch Year: 1966 (as Sound of Music)
Headquarters: Richfield, MN
Founder: Richard Schulze
What is Best Buy?
Best Buy is a leading provider of technology products, services and solutions. The company offers expert service at an unbeatable price more than 1.5 billion times a year to the consumers, small business owners and educators who visit our stores, engage with Geek Squad Agents or use BestBuy.com or the Best Buy app. The company has operations in the U.S. where more than 70 percent of the population lives within 15 minutes of a Best Buy store, as well as in Canada and Mexico, where Best Buy has a physical and online presence. (source)
Best Buy Statistics
Total Number of Best Buy stores in North America:
Last updated 3/18/18
---
Number of countries Best Buy has stores in:
3 countries (US, Canada,  Mexico)
Last updated 8/31/17
---
Best Buy revenue for FY 2018 (calendar 2017):
---
Best Buy revenue for FY 2017 (calendar 2016):
---
Best Buy revenue for FY 2016 (calendar 2015):
---
Best Buy revenue for FY 2015 (calendar 2014):
---
Best Buy revenue for FY 2014 (calendar 2013):
---
Best Buy revenue for FY 2013 (calendar 2012):
---
Number of Best Buy employees:
---
Key Best Buy Competitors:
Last updated 3/18/18
Please share this post if you enjoyed it:
---