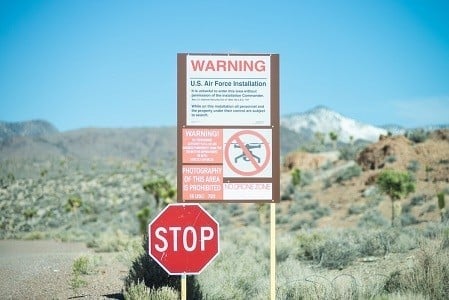 Here are the more interesting Area 51 facts and statistics I was able to dig up to get you up to speed. As always, I will be adding more and updating these periodically as I find new stuff. Be sure to check back regularly.
Please note that some of these Area 51 facts are easier to find than others, so some of these are based on news reports and not official government tallies. All stats are linked to their source.  In other words: This is the best I can find, but I don't guarantee anything.
Area 51 Facts, Statistics and History
What is Area 51?
Are 51 is  a restricted US Air Force facility located in Lincoln County, Nevada. Its high level of security and unknown purpose have lead to a plethora of theories and suspicions over the years.
Area 51 official names: Homey Airport and Groom Lake
Area 51 nicknames: Paradise Ranch and Dreamland
Year the USAF purchased Area 51: 1955
Year the US government formally recognized Area 51 as a military base: 2013
Original purpose of Area 51: To test U-2s
Number of people that pledged to 'storm' Area 51 in September 2019: 600,000
---