Area 51 Statistics and Facts (2023)
Last Updated on: March 31st, 2023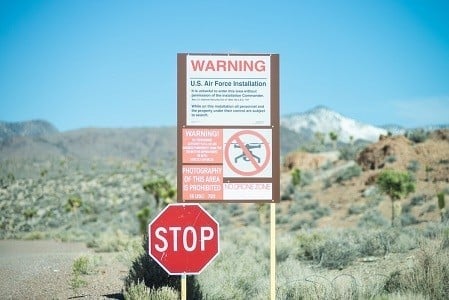 Here are a few of the most interesting Area 51 statistics and facts I was able to dig up in my internet travels. As always, be sure to check back in the future as I will be updating this post as new and updated stats become available.
Area 51 is a top-secret military facility located in the remote Nevada desert. The base has long been shrouded in mystery and speculation, with many rumors and conspiracy theories circulating about what really goes on inside. But what are the facts about Area 51, and what do we really know about this secretive base?
In this article, we'll explore the latest Area 51 facts, including the history and purpose of the base. Whether you're a skeptic or a believer in the mysteries of Area 51, this article will provide you with a comprehensive and informative look at the facts behind this enigmatic military base. So, let's dive in and explore the secrets of Area 51.
Area 51 Facts, Statistics and History
The true name of the base is actually "Groom Lake" and "Area 51" is just a nickname that has stuck.
The base was originally used as a testing site for the U-2 spy plane during the Cold War, and later for the development of the stealth fighter.
The existence of Area 51 was not officially acknowledged by the US government until 2013, when the CIA released declassified documents confirming its existence.
The base is surrounded by a perimeter that stretches 26 miles and is patrolled by armed guards.
The airspace above Area 51 is restricted, and any aircraft entering the airspace without permission can be shot down.
The base has been the subject of many conspiracy theories, including claims of extraterrestrial activity and secret government experiments.
Some people believe that the US government is hiding a crashed UFO and its alien occupants at Area 51.
The base has been featured in many movies, TV shows, and video games, including Independence Day, The X-Files, and Call of Duty: Black Ops.
The area around Area 51 is a popular destination for UFO enthusiasts and conspiracy theorists, who gather to watch the skies for any signs of extraterrestrial activity.
In recent years, the US government has declassified some of the activities that have taken place at Area 51, but many aspects of the base remain shrouded in secrecy and mystery.
So there you have it. Hopefully you now know 10 more things about Area 51 than you did 10 minutes ago.
Please note that some of these numbers are easier to find than others. Most of these fun facts come from internet reports and may not be official tallies. No information contained on DMR should be relied upon to make investment decisions. Basically, this is the best I can find and I don't guarantee anything to be 100%.
Related Categories:
Related Tags: