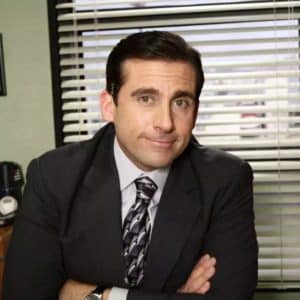 "The Office" is a popular American television show that aired on NBC from 2005 to 2013. The show follows the daily lives of employees working at Dunder Mifflin, a fictional paper company in Scranton, Pennsylvania. While the show is well-known and loved by many fans, there are still many interesting facts and details that are not widely known. Here are 10 things you didn't know about "The Office:"
Fun Facts About The Office
The show was originally meant to be a direct adaptation of the UK version of "The Office," but the creators decided to take a more unique approach and create their own storylines.
The role of Michael Scott, the bumbling and often cringe-worthy boss of Dunder Mifflin, was written specifically for Steve Carell. The producers had originally considered casting Paul Giamatti for the role.
John Krasinski, who played the character of Jim Halpert, was actually a finalist for the role of Dwight Schrute, which eventually went to Rainn Wilson.
The character of Creed Bratton, played by actor Creed Bratton, was originally only supposed to appear in a few episodes. However, the producers liked his character so much that they decided to keep him on as a regular.
"The Office" was filmed using a mockumentary style, which means that the characters often speak directly to the camera and address the audience. This was a unique approach for a television show at the time.
The show's theme song, "The Office Theme," was written by composer Jay Ferguson in just a few hours. He was given a rough cut of the show and was asked to come up with a catchy tune that would fit the show's mockumentary style.
"The Office" had a number of celebrity guest stars throughout its run, including Amy Adams, Idris Elba, and James Spader. However, the most famous guest star was probably Steve Carell's wife, Nancy Carell, who played the character of Carol Stills.
The show's set was designed to look like a real office, with desks, computers, and office equipment that were all fully functional. This attention to detail helped to create a more realistic and immersive environment for the actors.
"The Office" was known for its use of improvised scenes and dialogue. Many of the show's funniest moments were the result of the actors improvising their lines and reactions to situations.
The show's popularity led to the creation of a number of spin-off shows, including "The Office: An American Workplace," a documentary-style series that followed the lives of employees at various workplaces around the country.
"The Office" is a beloved television show that has captured the hearts of millions of fans around the world. From its unique mockumentary style to its memorable characters and improvised scenes, the show has a rich history and many fascinating details that are not widely known. Whether you're a die-hard fan or just a casual viewer, these 10 fun facts are sure to deepen your appreciation for this iconic show.