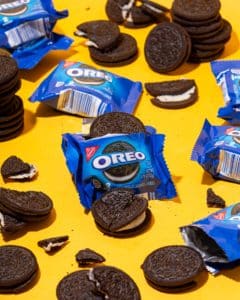 Oreos are one of the most iconic and beloved cookies in the world, and for good reason. With their signature chocolate wafers and creamy filling, Oreos have been satisfying sweet tooths for over a century. But despite their popularity, there are still many things that people don't know about this classic cookie. Here are 10 things you didn't know about Oreos.
Fun Facts About Oreos
Oreos were first introduced in 1912 by the National Biscuit Company (Nabisco). They were initially marketed as a premium cookie and sold for 25 cents per pound.
The name "Oreo" is believed to have been derived from the French word "Or," which means gold, and the Greek word "reo," which means mountain. The original design of the cookie featured a wreath of laurel leaves and the word "OREO" in the center.
The modern design of the Oreo cookie, with its signature pattern of chocolate wafers and cream filling, was introduced in 1952. This design has remained largely unchanged ever since.
Oreos are the best-selling cookie in the United States, with over 450 billion cookies sold since their introduction. They are also sold in over 100 countries worldwide.
The Oreo filling is made using a combination of powdered sugar, vegetable oil, and vanilla flavoring. The exact recipe is a closely guarded secret, but it is known to contain no dairy products.
Oreos have been featured in many different food products over the years, including ice cream, candy bars, and even breakfast cereal. The Oreo McFlurry, introduced by McDonald's in 1997, has become one of the chain's most popular desserts.
In 2012, Oreo celebrated its 100th anniversary by releasing a limited edition Birthday Cake flavor. This flavor featured a filling that tasted like vanilla cake with rainbow sprinkles.
The Oreo cookie has become a cultural icon, and has been featured in movies, television shows, and even video games. The classic "twist, lick, and dunk" method of eating Oreos has become a well-known ritual among fans of the cookie.
The Oreo cookie has also inspired many different recipes and desserts, including Oreo cheesecake, Oreo truffles, and Oreo milkshakes. Some bakeries even specialize in creating elaborate Oreo-themed cakes and desserts.
In 2013, Oreo made headlines when it released a limited edition cookie with a rainbow-colored filling in support of LGBTQ+ rights. The cookie, which was only available online, sold out within hours and sparked a conversation about corporate support for social causes.
Oreos are much more than just a cookie. They are a cultural icon, a beloved treat, and a symbol of American ingenuity and innovation. Whether you enjoy them by themselves, in a milkshake, or in a fancy dessert, Oreos are sure to bring a smile to your face. So the next time you twist, lick, and dunk an Oreo, remember these fun facts about one of the world's most beloved cookies.