Hurricane Statistics and Facts (2023)
Last Updated on: March 31st, 2023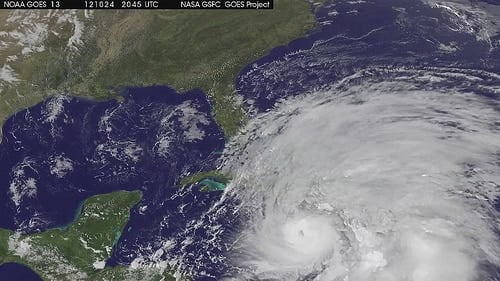 Here are a few of the most interesting Hurricane statistics and facts I was able to dig up in my internet travels. As always, be sure to check back in the future as I will be updating this post as new and updated stats become available.
Hurricanes are one of the most destructive natural disasters that can strike coastal regions around the world. These powerful storms can cause widespread damage to homes, businesses, and infrastructure, as well as pose a significant risk to human life. As such, it is essential to understand the statistics and patterns associated with hurricanes to prepare for their impact and minimize their effects.
In this blog post, we'll explore the statistics behind hurricanes, including their frequency, intensity, and patterns of occurrence. We'll take a look at the historical data on hurricanes and examine how climate change is affecting the frequency and intensity of these storms.
Hurricane Facts
The North Atlantic Hurricane Season starts on June 1st, lasts until November 30th and averages 12.1 Tropical Cyclones per season.
---
November is the only month when every tropical cyclone basin is active and there is a possibility for a tropical cyclone across the globe.
---
The practice of giving tropical storms human names internationally began in 1954; since then, 80 Atlantic Hurricane names have been retired.
---
The deadliest Topical Cyclone on record was the Bhola Cyclone which killed 300,000 people in Bangladesh in 1970.
---
The deadliest North Atlantic Hurricane on record was the Great Hurricane of 1780, which killed 22,000 people in the Lesser Antilles.
---
The deadliest hurricane in the U.S. was Galveston, which killed 8,000 people in 1900.
---
The costliest hurricane on record was Hurricane Miami, causing $164 billion (2010 value) in damage in 1926.
---
The hurricane with the strongest sustained wind speed on record was Hurricane Patricia, which saw 216 mph sustained winds in 2015.
---
The longest-lasting Tropical Cyclone on record was Hurricane John, which lasted 31 days in 1994.
---
88% of tropical storm and hurricane-related deaths in the U.S. are from water (27% from flooding; 49% from storm surge).
---
Here is a quick rundown of how Tropical Cyclones are classified:
Tropical Depression: Maximum sustained winds of 38 mph (33 knots) or less.
Tropical Storm: Maximum sustained winds of 39 to 73 mph (34 to 63 knots).
Hurricane/Typhoon (western North Pacific)/Cyclones (Indian Ocean and South Pacific): Maximum sustained winds of 74 mph (64 knots) or higher.
Major Hurricane: Maximum sustained winds of 111 mph (96 knots) or higher (Category 3, 4 or 5)
---
Please note that some of these numbers are easier to find than others. Most of these fun facts come from internet reports and may not be official tallies. No information contained on DMR should be relied upon to make investment decisions. Basically, this is the best I can find and I don't guarantee anything to be 100%.
Related Categories:
Related Tags: