Banjo Stats and Facts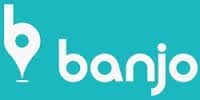 About:
(source): Banjo is the fun way to explore what's happening anywhere in the world right now.  We're real time discovery across social networks.
Explore places, activities and adventures around the world
Connect with people you never knew before
Find something new every time you explore
Banjo takes you beyond your network and live into what is happening anywhere you want to go. Whether you want to visit a specific event or you're curious to experience someplace new,  it's the next best thing to being there.